One of the most historic and spiritual cities in Anatolia is without a doubt is Konya, which has been home to many civilizations. Today, it is one of the main agricultural and cultural cities in Turkey. As the center of Mevlevi Sufi order, the city, with its Sufi philosophy, is visited by tens of thousands of tourists each year. Spread over a big plain, in this city you can spend pleasurable time with its modern centers, wide boulevards and nostalgic tram as much as its historical texture. While you can reach it from many cities in Anatolia by high-speed train, it also has a modern airport.
The Mevlana dervish lodge in Konya is a feature that makes it unique. In my opinion, it is one of the energy centers of the world with all its spirituality. The dervish lodge, with the tombs of Mevlana Jalal ad-Din Rumi and Shams-i Tabriz, education rooms, kitchen and the mosque has deep history. Visit Konya to feel the Mevlevi spirituality with "Come! Come Again Whoever You Are!" philosophy that has spread around the world. Once you leave the dervish lodge, stop by the old market and buy some wooden spoons, coffee, white Konya candy and fragrances, and some whirling dervish knickknacks or handcrafted plates from souvenir shops. If you want to see the whirling dervish show, you must buy a ticket in advance. Do not leave Konya without seeing this divine show.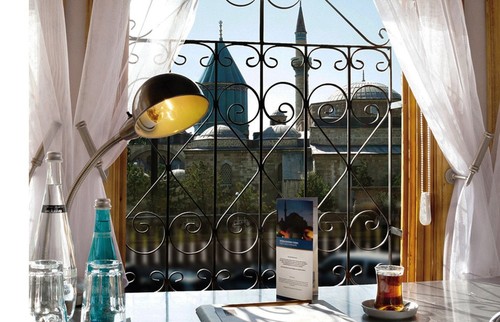 Hich Hotel's rooms mirror Konya with bow windows, bed stands with iron engraving, wooden floors and plain designs.
Konya cuisine is quite rich. Its most famous dish is "etli ekmek," meat on a thin crust. Similar to pizza, etli ekmek is made with ground beef and butter. It is very thin, and in my opinion, is very healthy. The best place to eat etli ekmek is Havzan. For a beverage, try the ayran served in copper cups. My other suggestion from traditional Konya cuisine is "tirit." Add paprika and butter sauce on top of this dish, which has yogurt and bread underneath pieces of meat. I also suggest the desert that is a kind of baklava with super thin slices called "bıçak arası." An option that is a bit lighter is "hoşmerim" made from flour, sugar and cream and quite different from the halva we know. I think it is more delicious.
The hotel I suggest is the Hich Hotel, its name taken from the "nothingness" philosophy of the Mevlevi order, and located right across from Rumi's tomb in a central location. The hotel was an old mansion restored by its owner, Serkan Vanlı. Each of the 13 rooms in the boutique hotel have a different concept. The lobby is covered with colorful ceramics, there is a terrace overlooking Rumi's tomb and a nostalgic restaurant used during the winter. In particular, the restaurant's stone ceiling, the antique piano and the paintings on the walls will take you on a nostalgic tour. In this section, which is the hotel's breakfast area, you can eat gourmet dishes in the afternoons and evenings in a homey atmosphere. If you do not stay at the Hich Hotel, stop by the restaurant at least. When you go to the upper floor of the hotel, don't forget to glance over the decorative pool full of fish. This area with records by Turkish and American singers and historical books bought from the used book bazaar is great. You can also watch old American movies projected onto a screen on a wall.
The rooms mirror Konya with bow windows, bed stands with iron engraving, wooden floors and plain designs. Colors are plain. Everything reflects the modesty and serenity of Mevlevi culture. The gramophones in the rooms and old books and paintings, on the other hand, are signs that you are staying in a boutique hotel. The fragrances Hich Hotel produces under its name bring a different energy to the rooms. Manager and owner Vanlı is a real tourism lover and a real gentleman. Stay at the Hich Hotel when in Konya. At least stop by even if you don't stay there and sip a cup of coffee in a nostalgic atmosphere.

Tips of the week

Top 3 hotel of the week
- Hich Hotel / Konya
- Argos / Cappadocia
- Sumahan Hotel / Çengelköy
Top 3 restaurant of the week
- Isokyo / Zincirlikuyu
- L'assiette / Levent
- Müstesna / Nişantaşı
Top 3 people to follow
- Ender Saraç / Doctor
- Evrencan Gündüz / Musician
- Yasemin Artut / Designer