Taking note of some things that you should be aware of and know, even before arriving in Turkey, can make your travel in the country a purely joyous adventure, as you will avoid the painstaking trouble of learning the hard way, through experience. Here are 10 of the most important things you should know before or upon arrival to Turkey.
1. Transport to and from airport
Taxis are not your sole option when leaving the airport – or getting to the airport. Shuttlebus service is available throughout the country. It is a bus service that basically runs to and from the airport to and from certain central locations in the city – and for much lower rates than a cab ride.
2. Telephone: Communication
Although cellphones brought into the country need to be registered for prolonged use before being blocked, you can use your phone without registration for 120 days – after which it will be blocked. However, if your phone does get blocked, you don't need to be concerned as you can get back to using it once you return to your country. There are a few cellphone operators at the airport where you can quickly sign up for a pre-paid line.
3. Istanbul Card: Getting around Istanbul
The Istanbul Card is a Radio-frequency ID card for public transportation fare payment around Istanbul. Pre-paid and easily rechargeable, it is an asset for those wanting to travel around Istanbul without having to splurge on cab fees or having to buy a token each time they want to use public transport around the city. Valid on buses, metros, ferries, funiculars and tramways, you can apply for an Istanbul Card online or at one of the major transit stations. Visit the official website for further information and to apply. To buy an Istanbul Card you will need to pay a non-refundable issue fee of TL 10.
4. Museum Pass: Visiting museums
If you plan to go museum hopping, then you will want to get your hands on the Museum Pass. Previously offered to residents only, now, foreigners can also benefit from the Museum Pass that gives free entrance to museums in the city you are visiting for TL 85 and you can use it for five days. In Istanbul, the Museum Pass will get you into Hagia Sophia Museum, Topkapı Palace Museum and Harem Apartments, Istanbul Archaeological Museums, Istanbul Mosaic Museum, Museum of Turkish and Islamic Arts, Museum for the History of Science and Technology in Islam, Chora Museum, Galata Mevlevi House Museum, Yıldız Palace, Rumeli Hisar Museum and Fethiye Museum without having to pay any extra fee. The validity period begins with your first museum visit, allowing each card to be used at each museum once only. For more details, click to the Museum Pass website.
5. Money matters and currency exchange
The currency in Turkey is the Turkish lira, TL. Once you land in Turkey you can exchange your money at one of the currency exchange booths at the airport. However, you might want to hold onto most of your cash and exchange only as much as you need in the meantime as you can get more competitive rates in more central and touristic locations. Banks and gold jewelers are also other locations where you can exchange foreign currency.
Also, you can use your credit or debit card at most venues where payment by EFTPOS is available. Using ATMs is another safer and easier option to withdraw cash throughout the country. However, make sure you inform your bank that you will be traveling so that your account is not blocked for suspicious activity, inconveniencing you. Something else to keep in mind though is the commission rates the bank might charge you for using a foreign ATM. Contact your bank for details on charges for withdrawing money from ATMs abroad.
6. Dress sense
Although Turkey is a Muslim-majority country, with a little more than the female population wearing the headscarf, people are free to dress as they please. If you plan to head more toward the east of the country, keep in mind that the eastern region is a little more conservative compared to the west of Turkey. Also, when visiting a mosque you will be required to cover your hair, shoulders and legs and take off your shoes as the mosques are fully carpeted and need to be kept clean and hygienic for prayers. You need not worry at Sultanahmet (Blue) Mosque, one of the most popular and touristic mosques in the country, because there are often items to cover available on premises.
7. The food experience
Food is one of the highlights when traveling in Turkey. Yet, there are certain things you need to take note of before starting to eat your way through the country. You will find that accommodations include a complimentary Turkish breakfast – usually open buffet. A typical "Turkish breakfast" consists of tomatoes, cucumbers, a vast range of cheeses, olives, breads, boiled eggs, fried sujuk, pastries with cheese or potato filling, yogurt, jams, fruits and omelets. However, as a Muslim-majority country, do not expect to find bacon.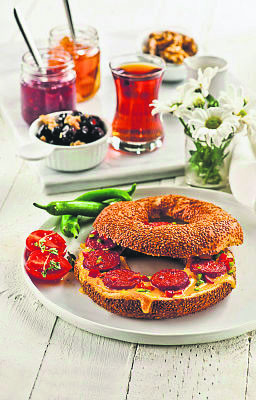 Simit, the Turkish sesame bagel, the fresh fish sandwiches are some of the more budget food options that one must try, but be a little more careful if you want to try the kokoreç (pronounced co-co-rech), a street food specific to Turkey, made of char-grilled seasoned sheep's intestines. It might be a little upsetting for those with a weak stomach.
When dining in a restaurant, always check the bill to make sure you have been charged correctly and if you are happy with the service, the expected tip is usually no more than 10 percent of the bill total.
8. Squat toilets and toilet paper
While it is possible to find the "standard" – Western – toilets in most public places such as restaurants, shopping malls and museums throughout the country, you are bound to come across quite a few squat toilets. In cases you have no other option but to use a "squat," you might want to empty out your pockets or secure them in advance. Although it is common to find toilet paper in most public toilets, it is best to be prepared and keep a roll of toilet paper, a pack of tissues or wet wipes with you at all times. The squat toilets either have a flush like the standard toilets or some older ones have a tap running on the side to clean – both yourself and the toilet bowl.
9. Car hire
As long as you have a passport and driver's license, hiring a car is a piece of cake. Your own country's driver's license is usually adequate, so you shouldn't need an international driving permit. However, still check with your car hire company to make sure that it's ok. Be careful to stick to the parking rules and follow signs to avoid hefty fines and avoid dealing with having the car towed.
10. Shopping: Tax refund
The prices of goods sold in Turkey include 18 percent tax. If you are a non-resident of Turkey and stay in the country less than six months, you can get a tax refund on all purchases over TL 108. So keep your receipts and claim the refund at the airport when leaving Turkey.