One of Turkey's secret treasures, Isparta has come to the fore for tourism in recent years. Located in the Lake District of the northwestern Mediterranean region, the city is known as Turkey's rose garden and renowned for its lavender fields. Isparta has also been home to many civilizations throughout history. Traces of the civilizations that the city once hosted can still be explored today. The city also offers historic attractions such as Eğirdir, Kovada and Gölcük lakes, Kovada and Kızıldağı national parks and many other pristine sites. Yalvaç, a center for belief tourism, and Eğirdir, where mountaineering, trekking, windsurfing, paragliding and camping are popular, also offer alternative activities for visitors.
Mount Davraz is a major ski resort and offers other outdoor activities, including hiking, spelunking and mountain climbing. It is also possible to go rafting and participate in other river sports in the city's canyons. Isparta's famous rose harvest, which takes place from May to June, is now accompanied by lavender harvest. To see the fields, many tourists journey to the villages of Kuşçular, Kuyucak, Ardıçlı and Aydoğmuş from both Turkey and around the world, with the largest numbers visiting in July. Located in Turkey's biggest lavender producing district, Keçiborlu, Lavender Valley boasts large fields that mirror the Provence villages of France. Those who visit the city during the rose harvest can explore the fields and gather beautiful blooms with the locals. They can also visit the factories where the roses are processed.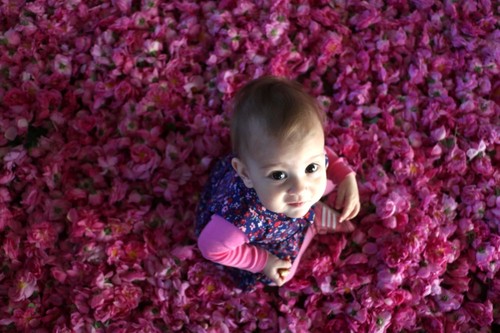 A 35-million-year history
Symbols of affection, love and spirituality, roses have been used as potent symbols throughout history, attracting the adoration of mankind in every period and indispensable for kings, sultans and rulers. In Turkish history, especially in Divan literature, they symbolize spirituality, sanctity and love. In the miniature of Mehmed the Conqueror made by Muralist Sinan, the sketch of the sultan smelling a rose shows that it is the symbol of power on the one hand and elegance on the other. With its 35-million-year history, this flower has been the subject of legends since ancient times because of its beautiful scent and nutritional value, while poems and hymns have also been written in its name. Historians believe rose oil and rose water were first produced in India and Iran and spread from there to Anatolia, Europe, North Africa and East Asia. Rose gardens were highly valued by Phoenicians, Greeks and Romans. The first known use of pressed rose water was in 3500 B.C. and later distilled in 50 B.C.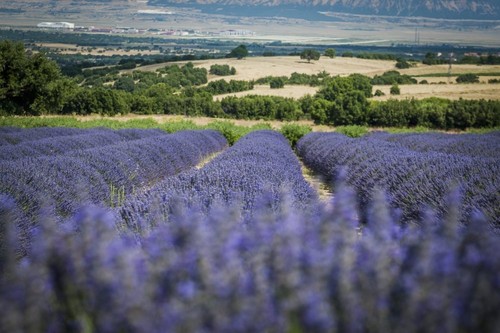 Lavender Valley of Isparta, which is the biggest lavender producer in Turkey boasts large fields that resemble the villages Provence, France.
The will of İsmail Efendi
The history of rose breeding in Isparta does not date back to ancient times. The son of Meydanbeyoğlu Mehmet İzzet who came from the Yalvaç district and settled in Isparta, İsmail Efendi's role in the history of roses is quite significant. İsmail Efendi was a well-educated trader. He developed weaving in the region with the looms he set up around Isparta and Burdur. When he learned that a land registry officer who had come from Bulgaria's Kazanlak region to Denizli was able to obtain oil from rose petals in 1889, he began to exchange letters with this person to learn about rose breeding. At the time, Isparta's soils were infertile and dry. With perseverance, he planted flowers on 30 acres but after three years of intensive labor, right around when saplings were almost mature, frost, snow, wind and rain wiped out his whole crop. Determined, İsmail Efendi's effort finally produced blossoms in his fourth year of farming but he was still unable to produce rose oil. As a result, all of his effort was unable to turn profit once again. At this point, there were even rumors about his mental health, but he did not give up on raising roses. He finally figured out his mistakes, gathered more information and got better products the following year. The next spring, the rose breeder's garden was filled with huge rose trees. The beautiful garden and roses soon became legendary. The blooms were so plentiful that it took hundreds of people over a month to harvest them. He was also able to produce fine rose oil and water thanks to his dedicated research on the subject.
He was finally rewarded for his years of patience, perseverance and diligence and began to turn a profit from the business. With the money he earned, his 30 acres of garden grew to 100. The people of Isparta also learned from Ismail Efendi that the land was suitable for breeding roses. When they saw that they could profit from the blooms, they began to plant roses as well. With the help of İsmail Efendi, the name Isparta began to be associated with the flowers. The modern rose oil factory, established in 1935 per order of Mustafa Kemal Atatürk during his visit to Isparta, led to the industrialization of the area's rose oil business.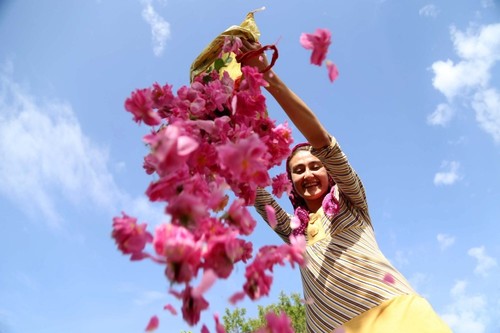 Isparta's famous rose harvest takes place from May to June and people coming from all over Turkey and world can join the harvest and related events in the city.
Precious species: Rosa Damascena Mill
Around 1,350 rose species have been identified around the world. Although 24 species are native to Turkey, only Rosa Damascena Mill is used to make rose oil. Despite the wide variety, the Trigintipetala hybrid grown in Bulgaria, Turkey, Morocco, Egypt, Iran, Syria, India and the Caucasus is preferred for making rose oil. Rosa Damascena Mill is also known as Isparta Rose, Pink Oil Rose, Oil Rose, Gum Rose and Damask Rose. This pink flower has a strong scent. Rose oil is an indispensable product in both medicine and cosmetics.
Processed as rose water, rose wax and rose oil, roses have been mentioned in virtually every medical book ever written for treating headaches, fevers, fainting, stomach aches, blood clots and other illnesses. Naturally produced rose water is used as an organic aroma in food and desserts and as a beauty cleanser thanks to its nourishing and tightening effects on skin. Rose-based extracts are used in shampoos as well as hand and body lotions. Likewise, many products, such as rose jam and Turkish delight, have graced tables since the Ottoman era.