Pamukkale is a gift of nature to humankind and we earthlings were quick to discover this jewel. With its natural wonders and rooted history, Pamukkale has been drawing tourists for centuries and now, tourists have the chance to discover this town from a birds-eye view with a hot air balloon.
Tourists who join the tours in Pamukkale in the southwestern province of Denizli with hot air balloons have the opportunity to watch the sunrise in the balloon basket along with enjoying the perfect view of white travertines and ancient cities.
The white heaven of Pamukkale, which attracts the attention of tourists with its world-famous white travertines, hot springs and ancient cities, hosts hundreds of guests every year.
Tourists who go to Pamukkale, which is a UNESCO World Heritage Site, from their hotels by bus cannot hide their admiration for the snow-white colored travertines. The hot air balloon tours are also popular among tourists.
International tourists who want to watch the sunrise and see the unique aerial view of Pamukkale have to reserve their places for the balloons days in advance to enjoy this experience.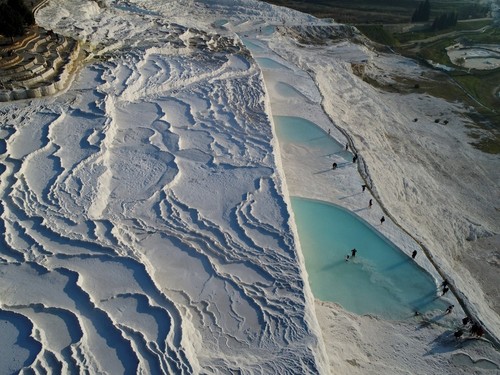 After arriving at the launch area, tourists can observe the preparations for their flight. They are then loaded onto the basket attached to the hot air balloon and experience exciting moments, often taking selfies as they are in the air.
The majority of tourists visiting Pamukkale experiencing the hot air balloons are from Korea, Japan and China.
Nevzat Köse, who is the general director of a balloon company, told Anadolu Agency (AA) that they have been continuing the balloon tours for two years.
Noting they contribute to the introduction of Denizli and receive support from authorities in this context, Köse said, "After I conducted this project in Cappadocia for 20 years, I decided to return to my hometown, Pamukkale. We have been continuing these tours for two years here. We aim to enliven the balloon tourism in this district. Tourists get in the line in order to watch the sunrise here and they enjoy the balloon tours."
Akia Ablah, from Africa, explained that she came to Pamukkale for the first time and said, "It is a perfect place. Green and white colors are together here. It is one of the most unique places I have ever seen."Taiyu Too from China said it is her third time visiting Pamukkale and she tells her friends to visit this authentic place.
Thermal waters
Pamukkale offers a relaxing - and medical - experience at its healing waters that have been offering its wonders for thousands of years.
Discovered by the Phrygians thousands of years ago, the healing waters of Pamukkale are popular among those who seek alternative medicine.
The white paradise of Pamukkale offers unique wellness treatment opportunities with its antique hot springs and mineral-rich thermal pools. Pamukkale has been known as a spa town and thermal treatment center for millennia and is especially famous for its white limestone travertines, shaped by calcium-rich hot springs.With water temperature fixed at 36 degrees Celsius regardless of the season, the healing waters of Pamukkale are believed to have healing benefits for cardiovascular diseases, rheumatism, skin and nerve diseases as well as intestinal disorders if it is drunk. The Karahayit region, also known as a city of thermal cures, is the most popular destination for cure-seekers in Pamukkale. The unusual red water of the Karahayit thermal pool, which remains at an average of 60 degrees Celsius all year round, wells up from beneath the calcite rocks and is rich in iron. This red water is believed to help those with rheumatism, asthma, bronchitis and skin diseases.The Hierapolis of PhrygiaThe Ancient City of Hierapolis is a major ancient city in the Aegean region which was placed on the UNESCO World Heritage List back in 1988.
Hierapolis flourished, reaching its peak of importance in the second and third centuries A.D. under the rule of the Roman Empire. However, the city was destroyed by an earthquake in 60 A.D. and rebuilt. Remains of the Greco-Roman period include baths, temple ruins, a monumental arch, a nymphaeum, a necropolis and a theater. Following the acceptance of Christianity by the emperor Constantine and his establishment of Constantinople as the "new Rome" in 330 A.D., the town was made a bishopric. As the place of St. Philip's martyrdom in 80 A.D., commemorated by his Martyrium building in the fifth century, Hierapolis with its several churches became an important religious center for the Eastern Roman Empire.