Carved inside a rock face that rise like a gigantic wall, Taş Mescit (Stone Mosque) is located in the Taşkale village, in south-central Turkey's Karaman.
The village is also known for its hundreds-year-old stone granaries that are also carved inside the stone.
Taşkale was an important center in the late Roman and early Byzantine periods. The village started to be called "Kızıllar" after Turks settled in Anatolia.
It now attracts a lot of tourist attention with its authentic pattern and a steep slope at the entrance to the mosque and granaries.
The Stone Mosque was built as a chapel in the early years of Christianity but has served as a place of worship for Muslims after they moved into the region.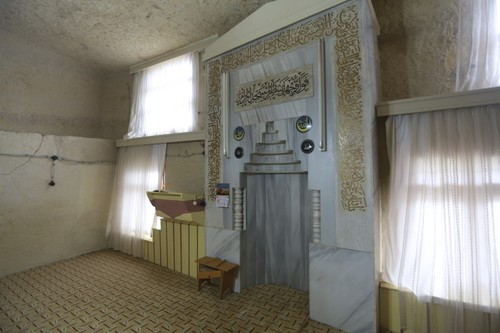 The carved mihrab, which is in front of the main prayer hall, is covered in marble.
The structure was carved inside the rock like nearby stone granaries. Its square-shaped prayer area receives natural light through four gigantic windows. A wooden mezzanine covers half of the entire prayer area while a marble-covered mihrab, the semicircular niche in the wall of a mosque that indicates the direction of prayer, was similarly carved into the rock first. The prayer hall can accommodate 150 to 200 people at a time.
Carved inside rock
Karaman's Director of Culture and Tourism Abdullah Kılıç told Anadolu Agency (AA) that Taşkale is one of the most important tourism centers in the city thanks to its cultural heritage and authentic atmosphere.
The village bears the traces from different periods including Roman, early Christianity, Byzantine, Seljuk and Ottoman. "There are 251 granaries that are thought to have been built by the first settlers. People built with their own hands by carving into the giant rock. Early settlers would live on the lower floors and store grains in the upper floors. Even after the Turks conquered the region, this feature was protected."
Kılıç said that the Stone Mosque started off as an early Christian sanctuary. "There have always been sanctuaries, where people lived as groups at different times in history. People built a chapel and a small church inside. But after Turks settled here, people who established the Kızıllar village began to use it as a mosque. There are many chapels carved into rocks in Anatolia but there only one Stone Mosque in existence today. This is why it is so unique and important."
Mihrab with marbles
Kılıç said the mosque, which is almost 5 meters in height, can be entered through a staircase that has been built and added later.
"The mosque is divided into two parts. There is an area for shoes left and the stairs. The carved mihrab, which is in front of the main prayer hall, is covered in marble. This main prayer area is divided by a wooden mezzanine. The mosque has four gigantic windows."
"The mosque is always open to worship. It is never closed so visitors can come at any time, pray and visit this historical structure. Those who have been to the mosque cannot hide their admiration. It is cool in summer while hot in the winter. It has a natural, simple and peaceful atmosphere. I invite everyone to come see this place," he said.