The ancient city of Aphrodisias, one of the most well protected ancient cities in Anatolia, is expecting a record number of visitors this year after being registered in UNESCO's World Heritage List.
Located in Aydın's Karasu district, Aphrodisias peaked in the Roman period, although it dates back 7,000 years. It is the most famous city dedicated to Aphrodite, the ancient goddess of love and beauty.
Aphrodisias was once a center for sculpture thanks to its sculpture school and nearby marble quarries. Now thousands of tourists every year come to see its unique statues, reliefs and still-standing structures uncovered through excavations.
With its famous Tetrapylon gate, Sebasteion temple, stadium, ancient theater and Turkish bath, the spot differs from other ancient cities with its museum featuring nice examples of statue remnants.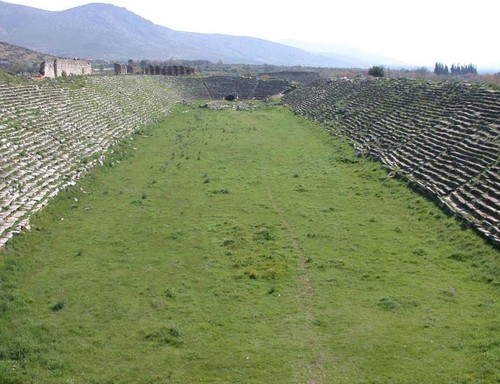 The stadium in the ancient city of Aphrodisias.
Registered on UNESCO's World Heritage List at the 41st World Heritage Committee meeting held last July in Poland, Aphrodisias opened to visitors earlier this year. Last year, nearly 50,000 tourists visited the archaeological site, whose renovations were sped up after Aydın's governorship announced 2018 as "the Year of Aphrodisias."
Karacasu District Governor Güher Sinem Büyüknalçacı told Anadolu Agency (AA) that the UNESCO World Heritage List is an important guide for tourists who use the list as a resource for finding the world's most significant archaeological and ancient sites.
Aims to triple visitor influx
Noting that both the district and the city came to life after Aphrodisias was registered on the list, Büyüknalçacı said the increase in the number of local and foreign tourists makes them happy.
"Nearly 50,000 tourists visited our archaeological site last year. Our aim is to triple this number but we could exceed our goal, as well. Even though the season hasn't started yet, we have already attracted the total number visitors we had last year," the district governor continued.
Referring to the economic benefits that the visitors provide to the region, Büyüknalçacı added: "Our district is not only famous for its archaeological site but also for its pide, a kind of pita. After foreign tourists visit the site, they come to the district and eat pide here. Therefore, other businesses are also able to profit from the increasing tourism."
Özden Atasavun, a guide for Japanese tourists visiting the ancient city, said the number of tourists visiting the area rose dramatically after UNESCO's registration.
Noting Japanese people are very interested in historical tourism, Atasavun continued: "The name of this ancient city has spread around Japan. I think more tourists will come from now on. This place offers as much as the famous ancient city of Ephesus. Our tourists all like it."
Japanese tourist Onura Mothunori explained that it is hard to find the same beauty in his own country and added: "This is why I like this place a lot. It's great that all of the structures are still standing. The sarcophagi located on the road near the entrance are especially impressive. Turkish people should appreciate it. I have visited more than 70 places around the world but I want to come here at least three more times."
Mentioning that they had been traveling around Turkey for a few days, Nakamura Yuko stressed that they found Ephesus the most remarkable. "We are really happy to be here. The history here impressed us deeply. In particular, the agora, stadium and theater area were beautiful."