Eid al-Fitr, or Ramadan Bayram, is less than a week away, which means there will be a three-day holiday filled with joy and extra time to spend with family and loved ones. During bayram, Muslims all over the world pay visit to their elders, exchange bayram greetings and celebrate the end of Ramadan, the holiest month of the Islamic calendar. Since this year's bayram coincides with summer, it is good to have something planned for a quick getaway to relax and have peace of mind.
If you have not yet planned something for this year's bayram getaway, here are some of the heavenly corners of Turkey that you might want to check it out.
AKYAKA, MUĞLA
Akyaka district of Muğla is a destination which can be visited in every season with its authentic architecture, relaxing nature from forests to the sea, entertaining events for those who like to move and beautiful hotels and restaurants. Akyaka, one of the members of Cittaslow organization, is one of the touristic centers that do not surrender to wild housing. A visit to Akyaka starts with a boat tour on the cold Azmak Stream and continues with a peaceful day in nature. It ends with pleasure and entertainment in the district's restaurants which serve delicious seafood. Despite being a "slow city" where you can relax and return to nature, Akkaya also offers something for adventure-seekers: Kite surfing! It is one of the biggest attractions in Akkaya at the Akçapınar Beach which is one of Anatolia's best spots for kite surfing.
The water at this beach, where kite surfing buffs from around the world congregate, is shallow and the wind is high. Every summer, tourists "dance" with the wind that hit their sails. Local and international tourists who are trained for wind surfing enjoy the peace and quiet while dosed up on adrenaline.
KAŞ, ANTALYA
Kaş, with its extraordinarily beautiful bays of blue, cold waters, is one of the most virgin holiday centers in Antalya province. Situated in the westernmost part of Antalya between green mountains and the blue Mediterranean Sea, Kaş bursts with natural beauty. Prominent for its diving tourism, Kaş is a holiday paradise, which has many cultural and archaeological areas around. It is an ideal place for a peaceful escape. You will be away from the stress and rush of daily life meeting the sincere, local people. During your visit to Kaş, you can enjoy delicious seafood along with boat tours, diving activities and cultural and historical tourism. If you happened to pass through Kaş during your getaway, do not forget to enjoy the 18-kilometer-long Patara Beach and the famous Kaputaş Beach with its turquoise waters.
HATAY
The city of Hatay, which is known as one of gastronomy capitals in Turkey, has a rich history. In the city, where people from different religious groups live together with great tolerance, buildings of different religions still stand here. You can also visit one of the special mosaic museum of the world here. What makes Hatay a unique place is that it is the junction of different culture where Muslims, Christians and Jews live together. Hatay also blends Turkish, Arabic, Assyrian and Anatolian cultures which reflect in the lifestyle of the city. Moreover, recognized by the U.N. Educational, Scientific and Cultural Organization (UNESCO) as a World City of Gastronomy, Hatay, where several cultures have lived together peacefully for centuries, is better known for its rich, delicious cuisine that is a manifestation of its cultural life. If you happened to find yourself in Hatay, do not make the mistake of leaving the city without tasting its delicious food.
CAPPADOCIA , NEVŞEHİR
​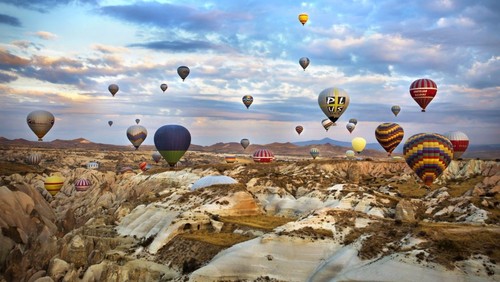 Cappadocia is one of the must-see places in the world with its extraordinary geography, interesting fairy chimneys and unique atmosphere. The first settlement in the region dates back to the Paleolithic period. Once home to Hittites, it was one of the important centers of Christianity in the next periods. Cappadocia presents visitors many activity opportunities with its rock-carved homes and churches, balloon tours at dawn, trekking routes, horse riding and safaris with all-terrain vehicles (ATVs). The region, which draws the attention of foreign tourists from all over the world, has been visited by Turkish people in every season recently. You can also experience unique accommodations here such as their cave hotels. MERSİNThe city of Mersin, one of the longest coastline in Turkey, is a place of transculturation with more than 25 ancient cities. Not getting the share that it deserves from tourism, the city has broken its shell recently. Saint Paul's Well, Church and Waterfall are seeing in this place, which has many places to discover. Besides, Gilindire Cave, Uzuncaburç, Aya Tekla Church, Anemurium Ancient City are among some other destinations one can visit. Mersin is worth discovering with its perfect geography and unbelievable views.
DATÇA, MUĞLA
Datça is one of the precious districts that has the most beautiful and virgin bays of Turkey. Located on an area where the Aegean and Mediterranean come together, Datça has one road for both ways (going and coming). The district has not been flooded by masses yet and has clean coasts and unspoiled nature. It is an important destination for those seeking peace, quietness and real relaxation. Datça guarantees that you will extend your holiday period here. It features many must-see places, such as Knidos Ancient City, Temple of Apollo, Palamutbükü, Hayıtbükü, Kızılbük, Ovabükü, Bencik Bay and Kargı Bays. Enjoy the almost 15-kilometer-long beaches, most of which are Blue Flag, here.
AYVALIK, BALIKESİR
Ayvalık is a place which can be one of the prominent holiday routes in Turkey in the future. With new investments, Ayvalık, which has been seen as a quiet fishing town for years, is transforming. Drawing attention with its historical Greek houses, old churches, nice streets and atmosphere, the district is in a quick renewal process. Cunda Island is a place worth visiting with virgin beaches and a view of the Island of Lesbos. Its location is easy to reach from İzmir, Ankara, Istanbul and Bursa provinces.
ALAÇATI, İZMİR
Alaçatı has become one of the most prestigious holiday centers in Turkey. Its streets, which are dotted with bougainvillea flowers and 100-year-old historical stone houses, are flooded by people in the summer months. It became the new favorite place of those who preferred Bodrum for their holidays. You should spend at least a weekend in Alaçatı. The city has district houses with bay windows, unique boutique hotels, antique shops, designer boutiques, restaurants serving delicious mezes and a colorful nightlife.
SAFRANBOLU, KARABÜK
​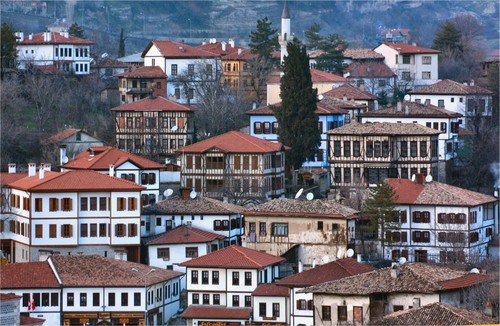 Safranbolu district is one of the most important places in the context of tourism in Turkey with historical values, city culture, traditions and customs, mansions, historical houses and natural beauties. You should see the historical center surrounded by world-famous Safranbolu houses, Safranbolu Yemeniciler Çarşısı Arastası (Hand-Printed Head Scarf Makers Bazaar), Coppersmith's Bazaar and the Mencilis Cave here. Those who are looking for an alternative to the triple sea-sand-sun holiday should add Safranbolu, which is on the list of UNESCO, to their list.