The gondolas purchased by the governor's office and the municipality of Tunceli have been opened to service for people to enjoy Munzur Creek even more.
Tunceli Governor and Deputy Mayor Tuncay Sonel, Deputy Governor Selçuk Yosunkaya, the chairman of the Tunceli Chamber of Craftsmen and Artisans Hıdır Belice and Assistant Mayor Sami Doğan took an inaugural gondola tour.
Speaking to the press after the tour, Sonel noted that he started working in Tunceli 11 months ago when Munzur Creek was in a bad situation.
Tunceli now a city of peace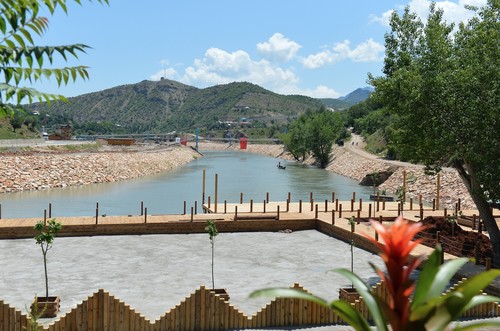 Environmental planning of a 200-000 square meter area was carried out in order to be used by city dwellers. Walking and cycling roads, outdoor swimming pools, piers, cafes, leisure areas and miniature bridges were built. Sonel noted that they turned the space into an area where locals can enjoy themselves with the support President Recep Tayyip Erdoğan and the government.
Expressing that they have been working continuously to transform Munzur Creek into a center of attraction, the governor said, "Our gondolas and tour boats that will serve our citizens on the Munzur Creek have arrived. There is no need to go to Venice anymore. People can enjoy a gondola ride in Tunceli and experience the beauties of our city."
"Tunceli is now a city of peace. Our citizens, tradesmen, and locals are very satisfied. We are trying to reflect the affection and warmth of our government to locals," he added.
He said that they implemented Munzur Creek, Pülümür Creek, the town square, underground market, the animal shelter, art street and the improvement of local employment within a short amount of time.
He also added that they successfully brought in water from Munzur, one of the highest quality water in Turkey with a PH value of 8.45, from 80 kilometers through Ovacık sources to the city center.
"We hope our citizens enjoy these new improvements," the governor said.
Tunceli has changed a lot
Emphasizing that the fight against terrorism was successfully carried out, Sonel thanked the security forces.
Sonel stated that all the works planned in Tunceli were for the peace and security of the city and for the preparation of the future.
He added that the security forces are doing a great job in the fight against terrorism and they, as the government, show affection and warmth to the locals.
"In other words, we try to carry around our children, grandmothers and grandfathers on our back. When visitors arrive here, we want them to say, 'We did not know Tunceli was like this, Tunceli is such a beautiful place.' And it indeed is," he said.
"There is peace now. The occupancy rate at our hotels is high. So we invite our citizens to experience the beauties of Tunceli. Tunceli is not the old Tunceli. It makes us happy that projects that were being spoken about for years but never realized were carried out within a short period of time," Sonel added.
The parks, beaches and gondolas will be provided free of charge for citizens. Like free tea served at parks, gondola rides will also be free of charge.
Meanwhile, Tunceli Chamber of Tradesmen and Artisans Chairman Hıdır Belice noted that the Gov. Sonel's appointment was a great chance for the city and it started a new era.
"Our city has always been mentioned with terror. Its reputation was not good. We now want it to be mentioned with gondolas, tourism," Belice said.
"This is a great step for returning our craftsman, fellow citizens and friends. I am 55 years old and this is the first time I've seen a gondola in my life. This is really pleasing. All locals and citizens will benefit from the free gondolas. It is a nice offer," he added.