A huge carrot statue welcomes you in the center of the district, and you see carrot juice being sold at every corner. This small district is nearly 100 kilometers away from Ankara, and takes about an hour-and-a-half to reach from the city.
As soon as you arrive, you will be in a place that has managed to protect Ottoman architecture, constructions and traditions. Walking around the district is like taking a journey through time. It is also exciting to see that people still live in historical mansions here. You become distanced from the chaos of the city life.
Even though the district is close to Ankara, the city atmosphere has not touched this place.
You can determine your route around the city from the famous Hidirlik Hill which overlooks the district. Do not forget to sip your tea and enjoy the view. This is a small area and you can get around without the need for public transportation or a vehicle.
As the streets intersect while you walk around suddenly Yaşayan Museum, also called the Hamam Museum, will appear before you.
From mansion to museum
If you want to visit Yaşayan Museum, the entrance fee is TL 10 (approximately $2). The museum used to be the Abbaszade Mansion and you can follow traces of Ottoman life. Kaftans and old clothes are exhibited in the mansion, which dates back to the 19th century.
You can have your photo taken wearing such clothes. One of the enjoyable features of the museum is its interactive atmosphere which allows you to do handicrafts, such as marbling and print. In another room, storyteller aunts tell you traditional stories.
You should not return without visiting the İnönü Stream in Beypazarı. The stream is within a valley carved from rocks and hard to climb on both sides. It has a rich view with its natural plant cover and cultural remains. There are caves there was used to be utilized in the past in the valley. However, it is not possible to visit these caves.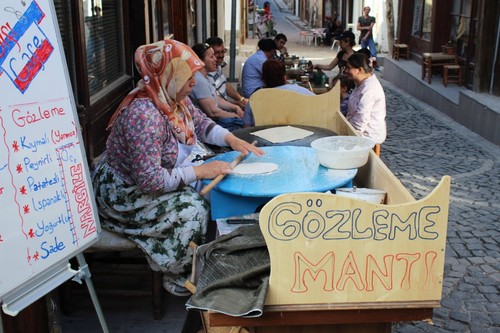 A local woman prepares "gözleme," a kind of pastry with different ingredients from cheese to minced meat.
Birds and butterflies
More than 100 bird species and 60 butterfly species live in the valley. You can drink your tea and take a break at the facilities in the valley surrounded by greenery. Those who come to the valley can camp or go for a walk.
Suluhan is a two-story building which was constructed in the classic Ottoman inn style at the beginning of the 17th century. The inn, which is named after the fountain in the middle of it, has five stone arches, and the upper part is decorated by geometrical shapes. There are 26 rooms and 54 stores with a prayer room and caravan inn. The inn, which had been used as a caravanserai for years, was restored in 1995. The rooms inside open out onto a yard through either a door or a window. It is one of the must-see places in Beypazarı.
Handicrafts in the district
If you go out of the museum and continue to discover the district, you will be welcomed by smiling craftsmen on the streets. It is impossible to starve during your journey with the craftsmen who always offer something to visitors. Handicrafts are really precious in the district, which you can clearly see when you visit rug and silver workshops. When visiting the Beypazarı Public Education Center, you can see the weaving process of silk rugs painted with madder root. It is surprising to see the efforts that go behind rugs of various colors and patterns. Silver processing is also very common. You will want to buy beautiful jewelry after visiting Gümüşçüler Bazaar, or Silversmiths Bazaar.
Famous Beypazarı kurusu
This small district has many symbols and icons. Carrot and black mulberry juice that you see on every counter compete with the famous Beypazarı sparkling water.
Beypazar kurusu, a dry buttery biscuit, should also be tasted. The history of Beypazarı kurusu, which can be keep you full for a long time, dates back to the nomadic Oghuz Turks. You can eat the biscuit as a snack, it is made of flour, butter, milk, salt and yeast. The cuisine of Beypazarı is not limited to just biscuits. Homemade dry baklava, which has 80 wafer layers, and sarma, which is a dish of leaves rolled around a filling, with olive oil accompany you on your visit. You can choose whichever flavor is most pleasing to your mouth, tasting samples before buying.