The ruins of Madenşehri, Değle and Üçkuyu are located on the slopes of the Karadağ volcano 50 kilometers north of the Karaman province in a region referred to as "Binbirkilise," meaning a thousand churches, and offer great potential for tourism with their rich heritage and unspoiled nature.
Hosting different civilizations over thousands of years, Karadağ's slopes carry the marks of various civilizations from the Hittites to the Ottomans.
The region with numerous churches and monasteries is referred to as Barata Antique City in some sources but its name in the ancient period is not fully known. Today, it is referred to as "Binbirkilise" and was a center of episcopalianism.
Christian pilgrims from Europe to Jerusalem visited the region's saints and the area is referred to as one of the three most important centers of the late antique period. The churches, monasteries and tombs built between the 4th and 9th centuries A.D. offer rich cultural heritage for religious tourism.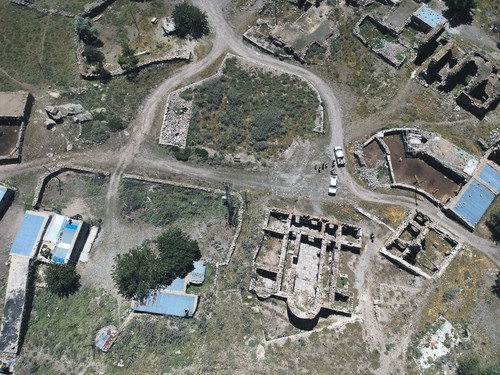 An aerial view of the Binbirkilise area in Karadağ.
Speaking to Anadolu Agency (AA), Provincial Director of Culture and Tourism Abdullah Kılıç noted that the history of Karadağ dates back to 10,000 years ago and is an important holy area in history.
Pyramid memorial tomb unearthed
Underlining that the region hosted many civilizations, Kılıç said that traces of Hittites, Roman Empire, Early Byzantine, Seljuk and Ottoman Empires can be seen in the area and that it is possible to encounter military and civilian structures throughout Karadağ along with religious structures. Therefore it is called "Binbirkilise."
"In 2015, with the presidency of Karaman Museum Directorate, we carried out rescue excavation and cleaning works at Madenşehri, Değle and Üçkuyu. Many churches appeared distinctly with the excavations. In these works, at Madenşehri, a pyramid monumental tomb, never seen in Central Anatolia region before, was excavated. We believe it belongs to a commander who lived in the region. There is a ruin next to it, which is believed to have been used as a temple. We think that religious ceremonies were held in that period in these areas," said Kılıç.
Kılıç pointed out Karadağ's proximity to important trade routes and added that the structures in the area were mostly from the Hellenistic and Byzantine period and were on ancient roads and routes.
He also said that the area was a center of episcopalism and was visited by St. Paul, one of the apostles of Jesus to give speeches, sermons and teach. "It was a training and faith center where priests were trained. It was a pilgrimage center for Christians. As its name suggests, there are hundreds of ruins of religious buildings. We believe that there are buildings waiting to be uncovered with excavation and cleaning works. I believe many mysteries will be solved with these works," noted Kılıç.
People lived without harming nature
Kılıç also said that the structures in Karadağ have a unique architectural structure and no materials were brought from outside.
"Civilizations that lived here were content with the blessings of the mountain. In every building, they used rocks and sand of the mountain. It is still the same today. When you look at the villages here, you can see that the historical ruins are mixed with the houses. Settlement areas are unique and authentic. It is like life goes on, on the pages of history. People lived without harming nature. There was no interaction from outside. They solved their own problems with their own solutions. This doubles the importance of the region. Karadağ hosts unspoiled nature, rich flora, jade, wild animals, perfect for nature tourism along with its culture and faith tourism," said Kılıç.
Kılıç said that they were working on helping ensure that Karadağ find the place it deserves in tourism by starting to promote it.
There are projects with Mevlana Development Agency and the Ministry of Culture and Tourism.
"Currently, a master plan of the region is being prepared. Environmental planning, buildings for accommodation and sales locations are ongoing" noted Kılıç. He also said that it is a transition point and is close to Çatalhöyük. The region is suitable for passages to Cappadocia and the Mediterranean. Therefore, it draws the attention of tourist guides explained Kılıç.
"Construction of a 13 kilometer road between Dinek village and Üçkuyu is now road meant to help tourism, with the agreement between the Ministry of Culture and Tourism and the Ministry of Transportation. There are various visitors but these visits do not necessarily mean revenues. We are working to introduce locals to tourism and for meeting the needs of visitors. I invite everybody who wants to see different locations to come and experience Karadağ," said Kılıç.