We have been looking forward to the summer months for a while now, however, the summer heat has become suffocating. The heat of the big cities and crowds makes one on the lookout for alternative locations. The place I want to tell you about is a spot where you can enjoy the summer months in nature and coolness. It is Sapanca.
Sapanca, only an hour and a half away from Istanbul, is a district in Kocaeli. Its climate is similar to the Black Sea area climate: high hills, lush green trees and a huge lake. There are many water sports offered on the lake. You can rent a boat and go fishing, you can also spend an enjoyable time paddle boating on the lake. The place I like to visit the most by the lake is ByFo. This place, on one of the most beautiful bays of the lake, is paradise. A heating stove has been set up inside, which is used during fall and winter months. It's very peaceful. The barbecue and pies must be tasted here. You can spend a day purifying yourself from stress by enjoying the hammocks, reading and looking at the scenery around you.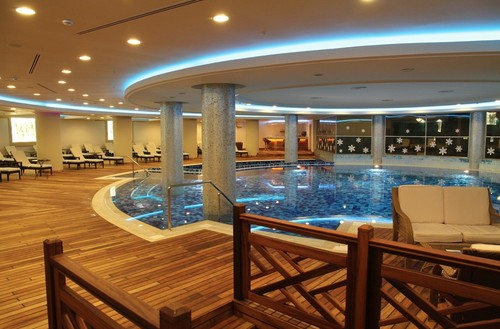 NG Sapanca Hotel's pool area.
As you go up from the lake towards the hills, you begin to witness the thousands of different green shades of Sapanca. This is why the town is swarming with Arab tourists, especially the Maşukiye region. It is a favorite for people who like to go on picnics. Waterfalls, tiny lakes and green areas create a wonderful atmosphere. There are many facilities where you can have a barbecue or eat fresh trout. My favorite of these facilities is Naturköy. It has a track where you can ride ponies, a small zoo, a rope bridge and even a climbing wall for people who like climbing. You can enjoy off-road excitement with your own SUV or by renting a quad bike. Paint ball, on the other hand, is another option. While you are in Naturköy, don't forget to buy the natural honey sold here and you can also go to Sapanca Center where you can see the many places that sell natural honey.
When you arrive in Sapanca you may want to spend the night there. There are many lodging-houses, bungalows and boutique hotels. My first suggestion out of these is the NG Sapanca Hotel. This central hotel is in demand. The hotel, adorned with marble and chic furniture caters to a luxury lifestyle. Its pools offer thermal facility features, which are full of remedies. Its outdoor pool is in demand as much as its indoor pools. There is also a walking track in the hotel. The hotel is enjoyable in the summer as well as the fall season.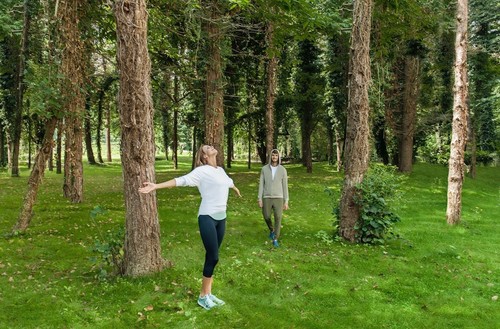 Natural spaces allow visitors to jog, exercise and partake in various fitness activities.
The hotel, with its 287 rooms, has many awards and quality certificates. The pool area where you can look outside is quite enjoyable. I suggest you try the "forest therapy" activity at the hotel. Proven to strengthen the immune system, forest therapy is also good for attention deficiencies and hyperactivity seen often among children. In addition, forest therapy balances blood pressure, decreases stress, lowers blood sugar, increases energy levels and prevents insomnia. If you are going to visit the hotel on the weekend, you must make a reservation two weeks in advance.
My other suggestion is the Richmond Hotel. The hotel, right next to the lake it gets attention due to its location. You feel like you are at the sea shore when you are actually at the lake shore. The hotel is simply decorated with pastel tones and is quite relaxing. It offers a high segment quality atmosphere, away from luxury. There are no details and ornaments here that would tire the eye. The decoration and service completely focus on relaxation. As much as the hotel's outdoor pool, its spa area is also ambitious. What caught my attention the most in the spa was the sauna made from special logs brought in from Finland. This sauna, different than the ones you would normally see, is also a two story structure. You can relax in an area surrounded by logs. I suggest you to try the hot stone massage and the sand massage. Owned by Belgin Aksoy, founder of Global Wellness Day, the hotel reflects her spiritual richness. I suggest you to visit it at the first opportunity you get.

Tips of the week

TOP 3 HOTELS OF THE WEEK
- Amanruya / Bodrum
- Alavya / Çeşme
- Casa Lavanda / Şile
TOP 3 RESTAURANTS OF THE WEEK
- Brava / Bodrum
- Kapha / Çeşme
- Spago / Nişantaşı

TOP 3 PEOPLE TO FOLLOW
- Mina Üstün / PR Manager
- Kaan Çetinkaya / Architect
- Mete Aktuğ / Artist