Turkey is a gastronomical heaven that attracts thousands from around the world annually. Every region of Turkey has its own unique cuisine that has been enriched over time by past civilizations and people from different ethnic backgrounds.
Throughout history, Anatolia has been a bridge between Asia and Europe. Anatolian cuisine, which is based on the Turks' roots in Central Asia along with the imperial cuisines of the Ottoman and Seljuk empires, has picked up aspects from every culture that settled in the region over the centuries. In the end, Anatolia's gastronomy culture became a melting pot that mesmerizes gourmets with its diversity and rich flavors.
Unfortunately, Western knowledge of Turkish cuisine is limited to döner kebabs, which is really a shame given the fact that Turkey is one of the most gastronomically richest countries in the world, rivaling both France and China.
If you are adventurous and brave enough to try new flavors, we invite you to take an ambitious tour in Turkey's gastronomy capitals where there's something for everyone.
GAZİANTEP
The heart of culinary arts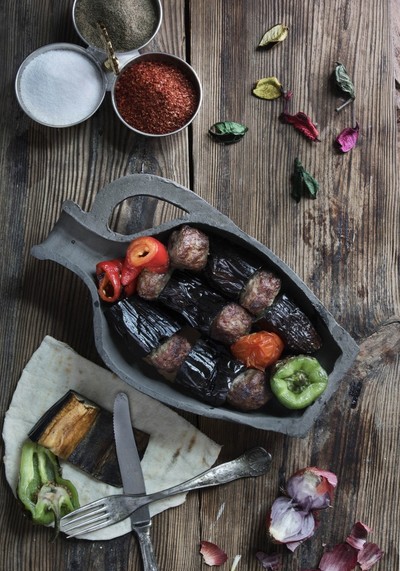 When gastronomy is in question, you cannot find a more fitting place than Gaziantep. Located in the southeast of Turkey, Gaziantep is well-known for its long gastronomic history that can be traced back to the Iron Age. To honor the cuisine of Gaziantep, the city was included in UNESCO's Creative Cities Network in 2015 and since then, the world has been intrigued by its traditional meals.
Gaziantep's cuisine mirrors the rich culture and history of the city. Located on the ancient Silk Road trade route, the city has been a hub for merchants from all over the world for centuries.
Apart from its traditional ingredients, the city's cuisine includes mostly meat, vegetables and baked goods from other regions of Turkey brought by immigrants to the region, as well as many foods that originate from our southern neighbor, Syria.
Although the city is notorious for its mouthwatering meat dishes, pistachios and its legendary desert baklava are the superstars of Gaziantep cuisine.
Must-eats: Sarımsak kebab, lebaniye soup and pistachio baklava.
ANTAKYA
For surf and turf fans
With a coast on the Mediterranean, the southeastern town of Antakya is always a delight to visit. With a history dating back to ancient times and Crusaders, the city offers a layered cultural heritage that is reflected in its cuisine, as well.
Rather than Turkish heritage, the culinary arts of Antakya bear the traces of Levantine culture. Antalya cuisine offers plenty of meals, where beef and lambs are mainly used.
The culinary arts of Antakya offer a bit of every ethnic group that has ever lived or continues to live in the city. While you can find the best examples of Mediterranean cuisine in one restaurant, the next may offer the most delicious kebab you have ever had. If you ever visit Antakya, you should also have a Turkish breakfast, which is famous for its variety and keeping you full almost all day. Must-eats: İçli köfte, Antakya-style humus, Oruk meatballs and ekşi aşı soup.
KONYA
Home of the Mevlevi Order
Located in the heart of Anatolia, what the culinary arts of Konya offer is quite different from the one offered in the southeastern part of the country. Konya is the spiritual capital of Turkey. The city is home to Mevlana Jalaluddin Rumi, one of the greatest humanist philosophers and poets of all time.
The city, which was once ruled by Greeks, Romans,
Byzantines, Seljuks and Ottomans, offers a balanced mixture of a diverse cuisine; however, it is still dominated by the imperial cuisine of the Seljuks. Despite the Ottoman cuisine's heavy reliance on spices, Seljuk cuisine is more abrupt, using the flavors of the main ingredient in as rich and pure a manner as possible. The modesty of the great people who lived in the region has in a way influenced Konya cuisine. Roasted lamb is a prime example. Lean, unmarinated lamb is typically roasted in a tandoori oven in its own juices and fat, owing its flavor only to itself.
Must-eats: Meat bread, okra soup and tirit.
TRABZON
A selection of Black Sea cuisine
The Black Sea region of Anatolia distinguishes itself from the rest of the country with its culture and climate as well as its culinary arts. As a seaside town, Trabzon's cuisine is mainly dependent on fish. The most famous dish and most important ingredient of Trabzon cuisine is hamsi, or Turkish anchovies. One can find a variety of dishes featuring hamsi, sometimes in surprising combinations, including pickled hamsi. Apart from hamsi, corn and pastry products are widely used in the city's cuisine.
Must-eats: Fried hamsi, kale soup and kuymak.
İZMİR
Capital of Aegean cuisine
To try the Anatolian take on Aegean cuisine, İzmir is the place to go. If you know your history, you might have noticed that all great Greek civilizations were born in İzmir or near it, which makes it rich in culture as well as cuisine. The first Turkish recipe book was written during Umurbey's time in the Aydınoğlu principality that lived in the İzmir before the Ottomans. Otto, the first king of Greece, also compiled recipes from İzmir and its vicinity.
The fundamental factor that caused İzmir cuisine to be very rich is the combination of a mild climate and soil composition as well as the migration and trade routes that passed through the region. It is also important to mention that this city is the cradle of civilization and this fact is clearly reflected in the lives of the people that occupied the land throughout the history.
İzmir's cuisine is rooted in Anatolia itself but was enriched with Aegean and Mediterranean cuisines. Hosting a large Greek community for centuries, the city adopted the Mediterranean cuisine, so it is not surprising that olive oil is the "miracle drink" for those in İzmir. Olive oil is known to be the source of health, beauty and part of a nutritious diet.
The influence of İzmir's ethnic minorities is reflected in the fish and seafood dishes of the region's cuisine. Aside from a variety of fish dishes, there are also many mezes made with shrimp, crab, scallops and squid.
Pastries are also prominent in İzmir's culinary art, with the queen of every breakfast table in the city being "boyoz," made of flour, sunflower oil and tahini and often filled with ingredients like meat, cheese or spinach. This landmark of a pastry has become part of İzmir's identity, but it was originally brought to the region by Sephardic Jews in the 15th century. Must-eats: Boyoz, kumru, stuffed zucchini blossoms and mezes.
ADANA
A city that lives and breathes food
If we could only use one word to describe the cuisine of Adana, it would be "hot." Located in the south of Turkey, Adana is a place like no other. Divided down the middle by Seyhan River, Adana might seem like a serene place but beware. Its locals are known for their quick temper, and the city gets so hot during the summer that by noon the streets are usually completely empty. All of these characteristics definitely manifest themselves in the culinary arts of the city. The locals like their dish hot and spicy. The city lives for food. At every turn, you bump into a kebab or home-cooking restaurant to fill your belly in the most delicious way possible. The city's cuisine combines Mediterranean, Arabic and Anatolian inspiration with local ingredients. The meals often showcase local bulgur, a rough, cracked wheat with a dark color. Red pepper, spices and tahini seasoned local greens and peppers are used as ingredients in most dishes. Lamb and other meats are often featured in hot, spicy, fatty, traditional dishes, as well. Apart from the traditional meals of Adana, the city is also famous for its street food, where you can grab a delicious bite while out and about.
Must-eats: Adana kebab, adana börek and yüksük soup.