Turkey is a beautiful country with various cycling routes suited to every physical fitness level, along with the perfect views that allow you to surrender to nature, leaving the comfort of your home behind.
If you want to hit the roads with your bike you have two options: You need to either organize your team with your friends or join a cycling tour.
Mesmerizing tracks in Muğla, Cappadocia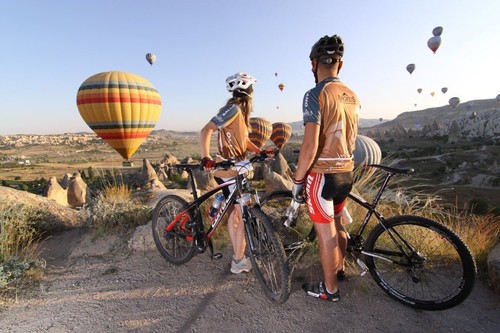 Muğla Bike Foundation organizes cycling tours for groups in the region. Founded in 2009, the foundation holds Gökova Bike Tours and Cycling Tour from Caria region to Lycia region. People attend these tours from abroad as well. The 286-kilometer Gökova Cycling Tour, which continues for five days, starts from Muğla province and ends in Bodrum district, passing over Ula, Akyaka, Akbük, Ören, Datça and Aktur districts. The 172-kilometer Lycia Cycling Tour starts from Muğla again and reaches Fethiye district's Ölüdeniz neighborhood over Köyceğiz and Dalaman districts in four days. Cappadocia is also one of the most beautiful bike tracks in Turkey. In fact, there are some tourists who come to Turkey only for riding bikes in Cappadocia and cycling through this mesmerizing fairy-tale like world. An international cycling festival is held here, as well. You can ride a bike with your team or by joining tours on the 43-kilometer track here.
Destination: Black Sea Region
Another good cycling route that will offer new experiences is in the Black Sea region. You cycle in the plateaus of the nearly 90 kilometer track up in the clouds. Starting from Çamlıhemşin district of Rize province, the track follows Elevit, Tirovit, Palovit and Amlakit plateaus. Thousands of cycling routes, such as 245 kilometer Thrace, 114 kilometer Gallipoli, 331 kilometer Amasra-Sinop, 87 kilometer Mount Ida, 95 kilometer Kapıdağ Peninsula, wait for you in not only Turkey but also abroad. With some online research you can find tours offered for the routes you want to try. Or else, you can follow the routes suggested by Gökhan Kutluer and Fatih Muslu, two biking lovers.
From Marmaris ​to Bozburun
Folding bikes which have become popular recently are the favorite of Fatih Muslu. Discovering the areas around the ports which he anchors at by riding the folding bike he carries in his boat, Muslu explains his 56 kilometer route which starts from Marmaris Martı Marina and finishes in Bozburun: "Firstly, I recommend you to walk the steep slope which starts from the sea level to the road level in the marina. Trying to climb this slope without warming your muscles up can cause joint pains and even injuries. After leaving the marina, you can ride toward Orhaniye Village on the south, turning right. You will arrive at the village after 2 kilometers. Then, you can enter the village if you want or you can continue on the main road by the sea. With a short climb and downslope, you will arrive at Turgut Village," says Muslu
From Turgut Village to Selimiye Village
"On this route, there are some slight climbs until 5 kilometers in. There is no other climb after this. However, there is a harsh downslope.
On the slope during your descent down from here, you may be thinking of how you will climb the route back up, but it will not be difficult as you think. At the end of this ride which you will enjoy the perfect view and then arrive at Selimiye Village. You can continue on to the direction of Bozburun or ride back, as you wish, after a swimming break here."
8 km between Selimiye Village and Bozburun
About this route, Muslu says: "In this stage of your ride which is the most difficult one, you will ride up a 200-meter high altitude from the sea level.
The slope which starts from the entrance of Selimiye will lead you to a perfect view after almost 4 kilometers. You can go to Bozburun, riding down here, which takes 45 minutes to ride up, in just 15 minutes."
Joyous routes from Italy
Dedicating his life to bikes, so to speak, Gökhan Kutluer works in the biking sector in Italy. His story titled "Bulut Fabrikası" ("Cloud Factory"), which comprises of 17 stories and focuses on this transportation vehicle, has been adapted into a theater play recently. He told us about Italy's Bergamo city, where he lives, and the bike routes around it.
"Bergamo is located on the southern foothills of the Alps; when you go 8 or 10 kilometers north, west or east from the city, the climb to the mountains known as the front Alps starts. Most of the climbing routes which are proper for every biker type is close to the city. Selvino, Bedulita, Valcava, Nese and Roncola are just some of them. If you wish, you can ride toward Lecco, Iseo, Garda, Edine or Como lakes and try to climb the large and small hills. If you choose Como, do not return without trying Modanna del Ghisallo. If you like day-tours like me, you can rent a car from the airport, which is 10 minutes away from the city, and try climbing Stelvio, Gavia and Mortirolo, which are the most famous routes in Italy, by going to Bormio town, which is three hours away from Bergamo. These mountain passages are suitable for riding from May to November," Kutluer said.