Northern Iran's Bandar Torkaman city in Golestan province attracts domestic and foreign visitors with its tent bazaars where the city's Turkmen population sell their traditional foods and handmade items.
Turkmens, who make up a significant portion of Bandar Torkaman city's population, sell traditional handcrafts such as hand-knotted carpets and kalpaks – a headwear common in Central Asian and Caucasian countries – made from rabbit skin and sheep's wool.
Traditional Turkmen kalpaks are one of the most popular items in the bazaar, along with the headscarves worn by the Turkmen women called "yalık."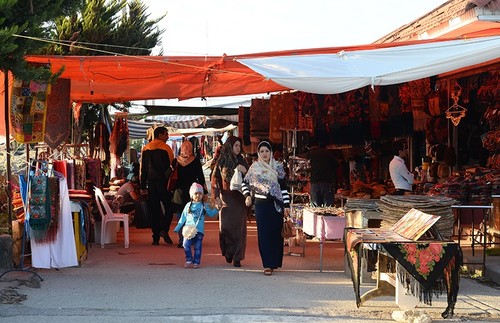 Speaking to Anadolu Agency, one of the salesmen of the bazaar Ezim İri said: "Kalpak is the ceremonial cornet of the Turkmens. It is produced in white and red colors. It is commonly worn in wedding ceremonies and important days."
İri added that traditional felt rugs called "nemed," which are famous for their durability and for keeping moisture away, are among the top-selling items in the bazaar.
İri also said that although their business in the bazaar is affected by the latest economic crisis in Iran, the handmade products that are unique to the region still attract tourists coming from other cities as well as those from foreign countries.
Bandar Torkaman, which means "Turkmen harbor," was one of the most important port cities located on the historical Silk Road. However, the port lost its importance as water levels in the Caspian Sea decreased, preventing ships from berthing in its harbor.
Bandar Torkaman city is the capital of Torkaman county. It has the most crowded Turkmen population in Golestan province, along with the Gonbad-e Qabos city. The province is home to 2 million people with Sunni Turkmens making up 40 percent.