Turkey has finally welcomed winter. Although western and southern parts of Anatolia are still soaking up the last bits of autumn, snow has fallen in the eastern part of the country - and it has continued to fall big time.
One of the most popular ski resorts in Turkey, Erzurum's Palandöken, recently opened with a huge party. The ski resort, which welcomes thousands of domestic and international tourists every year, enables its guests to enjoy skiing, even after the sun goes down.
Erzurum, a winter delight
Located in eastern Turkey, it is always a delightful experience to travel to this city. A dreamy place for winter holidays, Erzurum stands out not only for its slopes but also for its history and delicious local dishes that will sweep you off your feet.
Established in Roman times, and once a Silk Road city, Erzurum offers a nice journey through history with its historic landmarks, such as the 13th-century Çifte Minareli Medrese (the Twin Minaret Madrasah) and the Grand Mosque. If you are interested in more recent history, you can always stop by historical Erzurum, a real gem for photographers.
For foodies who want to fuel up before hitting Palandöken's slopes, Erzurum offers a nice variation on rich Anatolian cuisine. Curd and sheep cheese are the most famous ingredients of Erzurum's cuisine, which is eaten at every course of a meal. Ayran meal, yayla soup, herle meal, kesme soup and paça soup are some of the famous foods specific to central Erzurum and villages. Cağ kebab, which has become one of the symbols of the city, is another popular dish.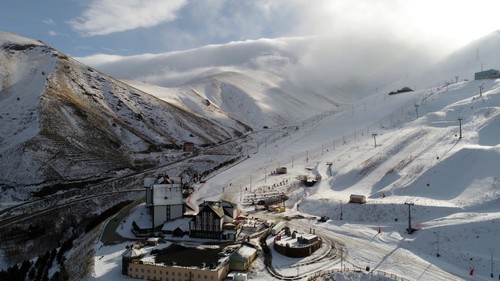 Longest ski tracks in Turkey
Palandöken Ski Center stands out among ski centers for its unique trails, seeing a countless number of local and foreign tourists every year. With enough capacity for 12,000 skiers, the center has 24 trails that are among the longest and steepest in the world. While beginners can enjoy eight easy and mid-level tracks, for enthusiasts who want to push the limits, there are three advanced-level tracks as well. Holding the title for having the longest ski track in Turkey, Palandöken, which hosted the University Winter Games in 2011 and the European Youth Olympic Winter Festival in 2017, offers local and foreign visitors a true skiing experience. The summit of the 3,000-meter mountain bears the name Büyük Ejder (The Great Dragon).
Appealing to skiers of all skill levels, Palandöken provides some advantages as it is very close to the city center and airport, unlike other resorts. Palandöken Ski Center is only 20 kilometers from the airport and 4 kilometers from the city center, making transportation easy. It also offers guests the opportunity to see important cultural and historical places in the city.
Fun for four seasons
Palandöken might be a winter paradise, but it is getting ready to be a tourist attraction throughout the year. While Palandöken hosted 80,000 annually about four years ago, the ski resort's popularity increased in the recent years, and Palandöken hosted more than 750,000 visitors last year. As the winters are longer in the eastern part of Anatolia, ski lovers are able to enjoy the slopes starting from December until April.
However, authorities are trying to turn Palandöken into a year-around attraction for guests with new facilities and accommodation.
Erzurum Metropolitan Municipality Mayor Mehmet Sekmen said with the unmatched natural beauty of the region, Palandöken has been a favorite spot for nature lovers and those who want to spend time away from the chaos of big cities.
A sky lounge opened its doors last year at 2,700 meters above sea level in Erzurum's Palandöken Ski resort and promises its guests dinner with a unique landscape view. Built over a pinewood ground, the facility is resistant to sun, snow, cold temperatures and wind. Those who ski and enjoy the landscape day and night will have the chance to watch other skiers and have their meals in a restaurant with a full view of Erzurum. The sky lounge is also open throughout the year for those who would like to enjoy the immense beauty of Palandöken Mountain.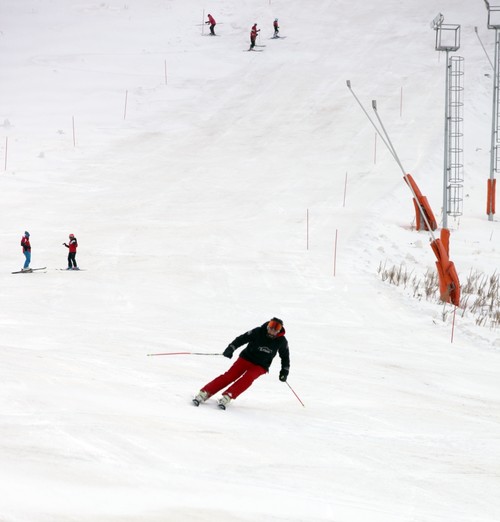 Palandöken to host competitions
This year, Turkey will be a host country for a number of skiing competitions, both local and international.
Ali Oto, president of the Turkish Ski Federation, said the competitions will involve various branches including skiing, snowboarding, ski jumping and biathlons. The competitions will be held at ski resorts in Bitlis, Bursa, Kayseri and of course, Erzurum's Palandöken. The most outstanding international competition will be the Balkans Cup. The competition season will kick off with the Palandöken Cup, which will start on Dec. 14.