Heeding to his doctor's suggestions that he rest, Erdoğan joined the congress through a 16-minute video conference in which he delivered a series of messages emphasizing that his government will never allow for illegitimacy nor dominion over elected or appointed officials.
"I greatly wish I could have been in your presence today in order to experience this exuberance together. However as you know, I recently completed the routine final phase of an operation which I first underwent on November 26th, and as a result I am recovering at home upon doctor's orders. Last week, we partially returned to our regular routine. Hopefully as of this week, we will return to our regular schedule and will continue to serve the nation with increasing momentum.
The AK Party has no other guide besides the Turkish nation
The AK Party is not representative of a certain community. The AK Party is not the party of the elite and it is definitely not the party of criminal organizations. The nation is what guides the AK Party. It is the nation's tremendous conscience; it is its common sense. We have never acted on simplistic political calculations in order to benefit the AK Party's political gains.
If today Turkey is reaching an advanced stage of democratization and transparency, and continues to exert an unrelenting fight against criminal and terrorist organizations, then that is entirely the result of the AK Party's decisive will, courage and determination.
In democracy, the limits of legislation, its execution and judiciary authority are predetermined. Any attempt to supersede these limitations is a usurpation of authority and an infringement on national will.
Every initiative that does not have the public's backing is illegitimate in the eyes of the law and constitution. We will never allow for illegitimacy in this nation, nor will we ever bring down those elected or appointed.
Nobody need conjure up visions of chaos or conflict. The institutions of this country have been working together in unprecedented harmony and motivation. The judiciary, police, military and intelligence work in full coordination and devotion to the state in fulfilling their duties.
I invite this nation's intellectuals, writers, press and especially its politicians to act with increased common sense and responsibility. Those who prefer provocation will end up in embarassment. Those who try to redirect the government and the assembly's austerity, prudent initiatives and steps taken to elevate the national will, will eventually experience great shame.
MODERN AND DEVOUT YOUTH
The errors committed in this country in the past have resulted in a heavy price paid. We are not willing to have the public pay a heavy price again. That's why we focus on our youth. We envision a youth that most importantly stands up for national values and shapes the future according to inspiration gained from the past. I am talking about a modern and devout youth," Erdoğan said.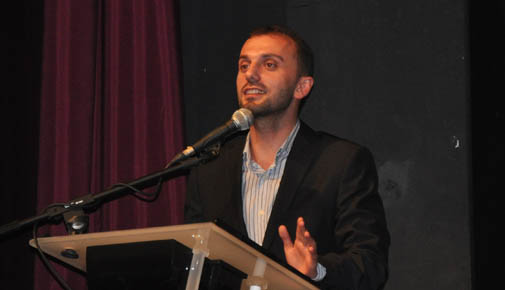 Prime Minister offers his gratitude to youth branch leader Erkan Kandemir…
During the video conference address, Prime Minister Erdoğan thanked the AK Party Istanbul Youth Branch leader Erkan Kandemir for his service by stating, "May God bless you. Best wishes to you in the future and on your political path." Kandemir has stepped down due to his age and will be replaced by Gıyasettin Gergin.