ISTANBUL
— The police have responded with tear gas and water cannons to groups which insisted on celebrating 1 May on Taksim square in spite of the government decision banning Labor Day rallies at the Taksim square for security measures. Clashes have broken out between police and protestors in Istanbul as trade unions and campaigners defy a ban on holding a May 1 Workers' Day in Taksim Square.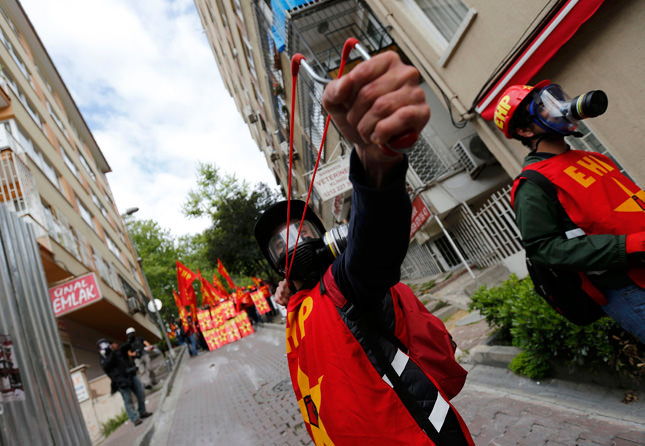 Police have already used water cannon and tear gas against stone-throwing protestors in the Besiktas and Okmeydani areas of the city. Rioters in the Sisli district were reportedly seen breaking up paving stones for ammunition. The police warned the demonstrators who tried to march to the Taksim square to retreat. After demonstrators insisted on marching to the square, the police responded with tear gas and water cannons. Demonstrators were seen throwing smoke bombs and molotov cocktails at the police.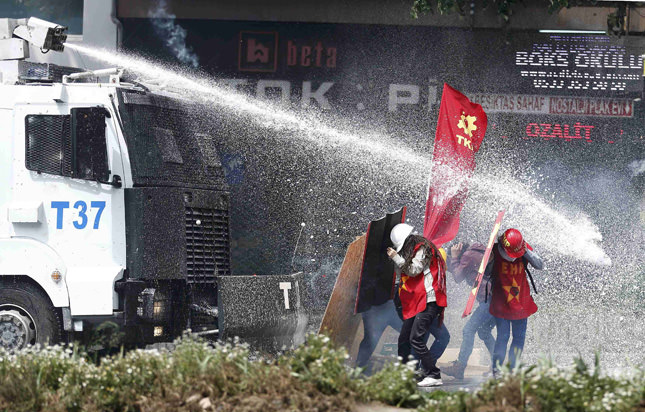 Earlier in the morning an opposition party MP was tear-gassed by police after leading a sit-down street protest in Besiktas, close to Taksim Square. Some masked demonstrators have tried to access the square from side streets but have been blocked by security forces. Several injuries among protestors have been reported in Besiktas, with ambulances treating people at the scene. At least five demonstrators were detained by plain clothed police.
Lawmakers from the main opposition People's Republican Party (CHP) outside the Sisli offices of the DISK trade union body have been urging police to allow a march to proceed to Taksim Square.
Almost 40,000 police are on duty in Istanbul today; many have been flown into Istanbul from across the country. Major public transport routes in the city have been affected by security operations with trams, buses and cross-strait ferries being cancelled. Turkey is expected to see May Day events in more than 30 provinces today, including Ankara, the country's capital.
Istanbul's governorate said on Wednesday night that it would allocate 300 free buses to take people to an 'approved' protest site at Yenikapi, several miles from Taksim Square. The Istanbul governorate has allocated two such sites in the city for May 1 rallies.

A bomb warning was phoned into one such rally point in Kadıköy on the city's Asian side, but a police search revealed no device.

Taksim Square was a focal point for protests which erupted last year, which saw thousands of anti-government protestors clash with police. Trade unionists and other campaigners have claimed that a ban on gathering at the iconic site contravenes both the Turkish constitution and European human rights legislation.
Two hundred members of two unions were allowed to enter Taksim Square this morning to lay a wreath commemorating the deaths of 36 people during a May 1 demonstration in 1977. The site has symbolic status for trade unionists and labor activists in Turkey. On May 1, 1977, as some 500,000 people gathered the square to celebrate Labor Day unidentified gunmen fired on the peaceful crowd. Thirty-six people died in the rioting and fighting which followed. Taksim Square remained closed to Labor Day demonstrations between 1977 and 2010.
The Istanbul governor's office said on Wednesday that the square would be closed to May Day demonstrations due to intelligence reports which claimed that "illegal terrorist organizations" would provoke violence against security forces. Turkish Prime Minister Recep Tayyip Erdoğan has stated that the government would not allow unions to hold demonstrations and rallies in Taksim. Calling on unions to refrain from violence, Erdoğan said: "May 1 has a history of 124 years in Turkey, and we honor it with the honor it deserves. "I hereby call on all unions and all other involving organizations not to clash with the state on the day of solidarity and peace."
However, union leaders have promised to defy the ban: "We will be at Taksim to oppose an irrational and unlawful ban," Kani Beko, chairman of the Confederation of Progressive Trade Unions (DISK), said in a press conference held in Istanbul on Wednesday. Lami Ozgen, Chairman of Confederation of Public Sector Trade Unions, along with Mehmet Soğancı, President of the Union of Chambers of Turkish Engineers and Architects, and Osman Özturk, a member of the Turkish Medical Association, stood with DISK chairman Beko at the press conference.