MANISA
— The coal mine fire in the west of Turkey has killed 301 miners.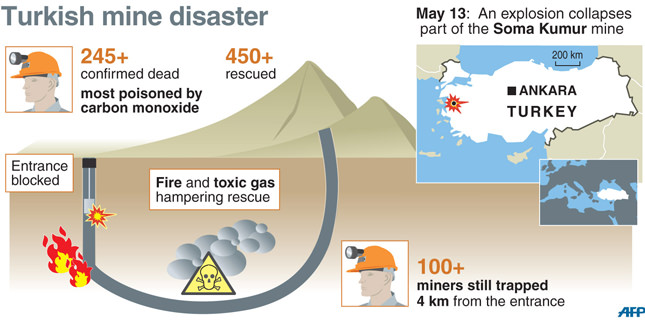 Hopes of rescuing any more trapped coal miners from a mine in western Turkey are fading, according to officials, after nine were evacuated Wednesday morning.
"We are worried the death toll may rise,'' said Energy Minister Taner Yıldız. He said oxygen continues to be pumped into the coal mine in Soma, where a fire continues to burn.
An explosion and fire in the district of Soma in Manisa province followed an electrical fault on Tuesday afternoon.
Yıldız said 363 miners out of 787 who work at the privately-owned mine have been accounted for, including those who died and the 80 people rescued with injuries - four of them in critical condition.
Autopsies have been carried on 72 bodies and funerals will be held for the victims, said Yıldız. Identification of the workers' bodies will be carried out until noon Wednesday, officials said.
An exact cause of the blast has yet to be officially announced. Yıldız said the deaths were due to carbon monoxide poisoning and ruled out the possibility of firedamp or methane gas explosion.
The explosion took place during a shift changeover, Yıldız already underscored, heightening concerns that the death toll may rise.