ISTANBUL
— Three people, including two policemen, are injured Thursday when fighting erupted between police and a group of protesters in the Okmeydanı district of Istanbul.
Around 10:30 am local time, a group of protestors held a demonstration to protest the Soma coal mine tragedy in the Turkish western city of Manisa, as well as the death of Berkin Elvan. Elvan was an Istanbul teenager fatally injured during the 2013 Gezi Park protests and died March 11 after a coma lasting 269 days. According to hospital sources, the condition of one protester is critical.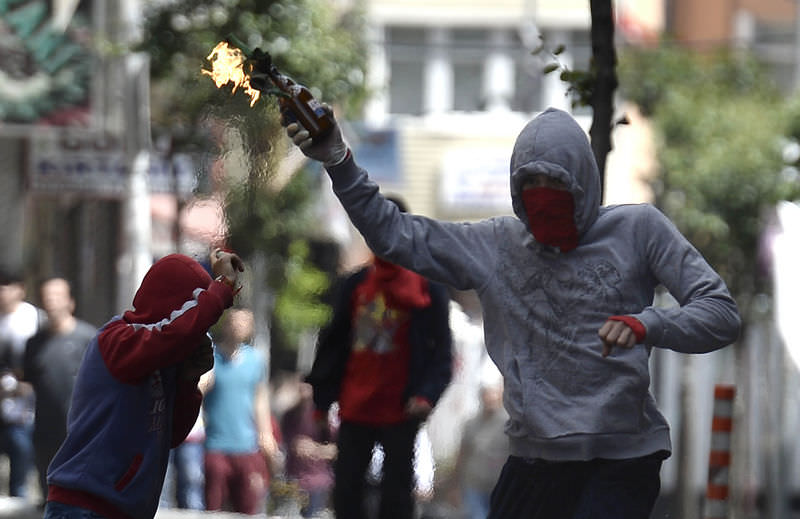 Demonstrators wearing red masks tossed Molotov cocktails and stones at riot police who attempted to disperse them. One Molotov cocktail landed on an armored police vehicle, setting it on fire. A policeman inside exited the vehicle and fired into air as rioters approached.
One of the injured was a passerby hit by live ammunition according to the Turkish media but it is not known who fired the shots. The injured man was reportedly going to a funeral at a nearby site.
Okmeydanı, a central district of Istanbul, has seen riots perpetrated by radical groups affiliated with terrorist organizations in the past months. After the death of Berkin Elvan, those groups took to the streets in violent riots, clashing with police and damaging shops and vehicles after Elvan's funeral was held at a cemevi or Alevi prayer house in Okmeydanı. Burak Can Karamanoğlu, 22, a young passerby, was killed when rioters linked to the terrorist organization, the Revolutionary People's Liberation Party-Front (DHKP-C) shot him dead. On May 1, marked as Labor Day in Turkey, clashes erupted in Okmeydanı between masked protesters exploiting Labor Day activities and riot police. Rioters responded to riot police who fired tear gas and water cannons to disperse their unauthorized rally with Molotov cocktails and stones.