Former Prime Minister Bülent Ecevit was commemorated in the eighth year of his death on Wednesday, in Ankara and other provinces.
A ceremony was held in Ecevit's tomb, located in Turkish State Cemetary in Ankara, with the participation of Kemal Kılıçdaroğlu, leader of the main opposition, Republican People's Party (CHP), and Masum Türker , leader of the Democratic Left Party (DSP). It was the first time that the parties have held a joint ceremony since Ecevit's death.
Rahşan Ecevit, Bülent Ecevit's wife, attended a separate ceremony with Bülent Ecevit Foundation members. Rahşan Ecevit was also absent from the commemoration meeting held by CHP.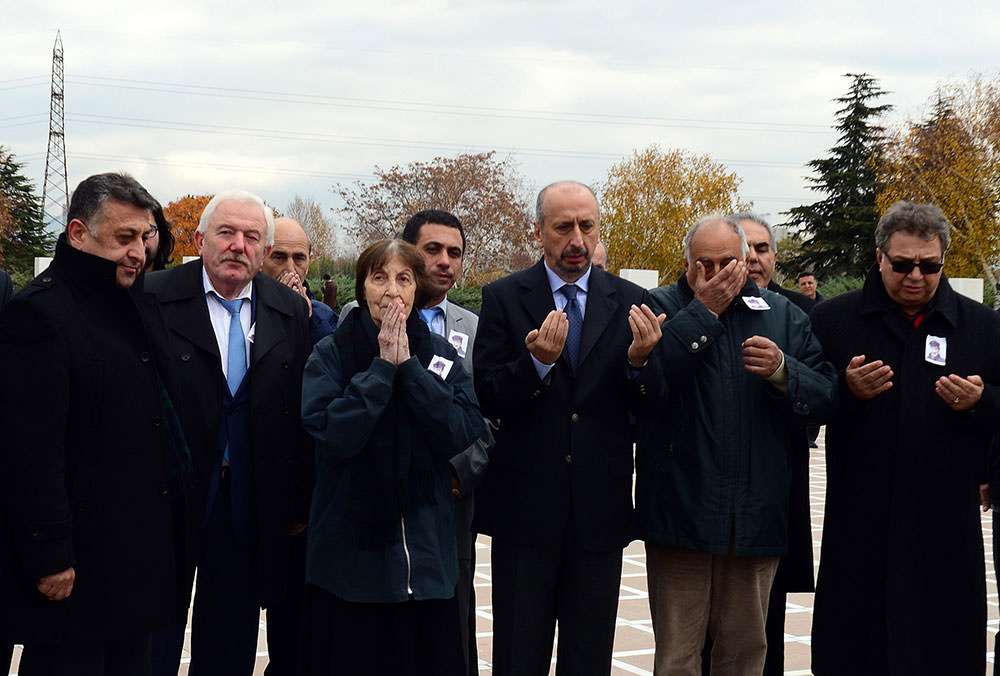 Nicknamed "Karaoğlan" (which literally translates as 'Black Boy' in Turkish) when his popularity was at a peak in Turkey's highly polarized political atmosphere of the 1970's, Bülent Ecevit, was one of the most influential and respected Turkish politicians. He is also famous for his poems, political publications, and translations from Sanskrit, Bengali and English.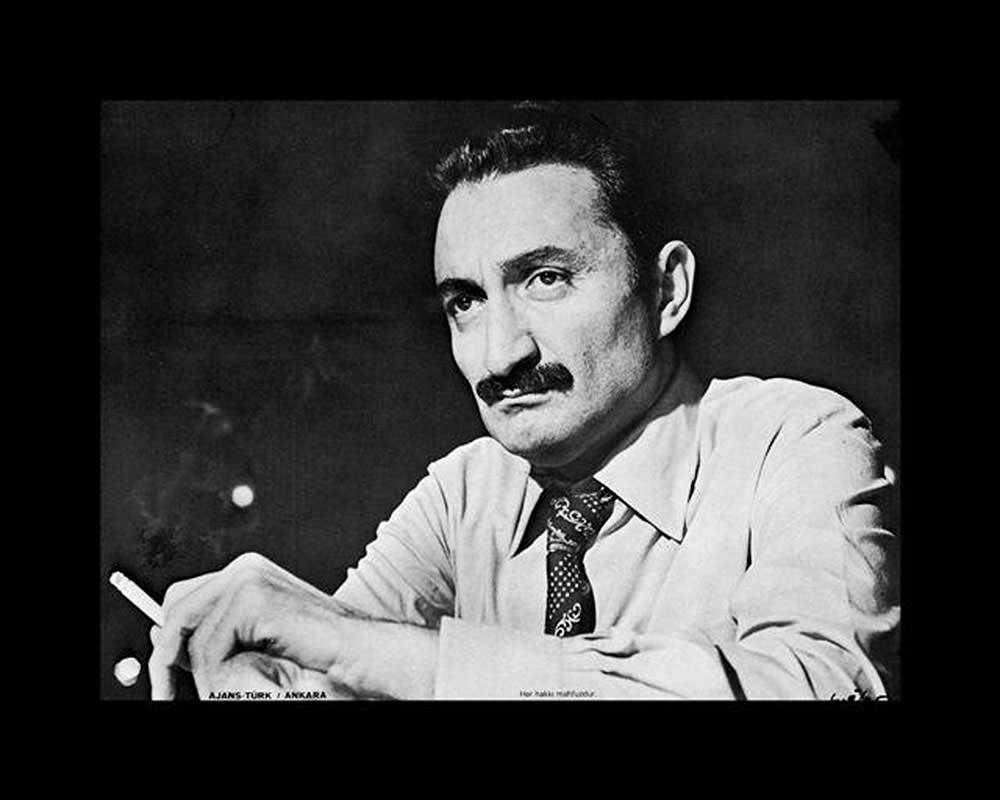 Starting his career as a journalist and translator, Ecevit was elected deputy from CHP in 1957. He served as Minister of Labor between 1961-1965 in İsmet İnönü's cabinet, founded after the coup d'etat in 1960, and contributed to the legislation of the right to strike and collective bargaining for Turkish workers. Ecevit became the general secretary of CHP in 1966 and one of the leading figures of "Left of the Middle" policy that re-positioned the party in the newly emerging left wing of Turkish politics.
The public and party support which he gained from his opposition to the 1971 military intervention enabled him to defeat İnönü -the former president of Turkey during the single-party era, who was a former liberation war commander- in the 1972 caucus. He became the leader of CHP, leading the party to two election victories in 1973 and 1977 with the highest votes that a left-leaning party has ever received in Turkish history with 41.4 percent. However, he was forced to form short-lived governments in the form of coalitions with right-leaning parties or by making highly criticized political "transfers" from other parties, as a result of the failure of the CHP to win the majority in parliament. During his first term as Prime Minister in 1974, Turkey intervened in Cyprus, thus giving Ecevit another nickname, "Conqueror of Cyprus."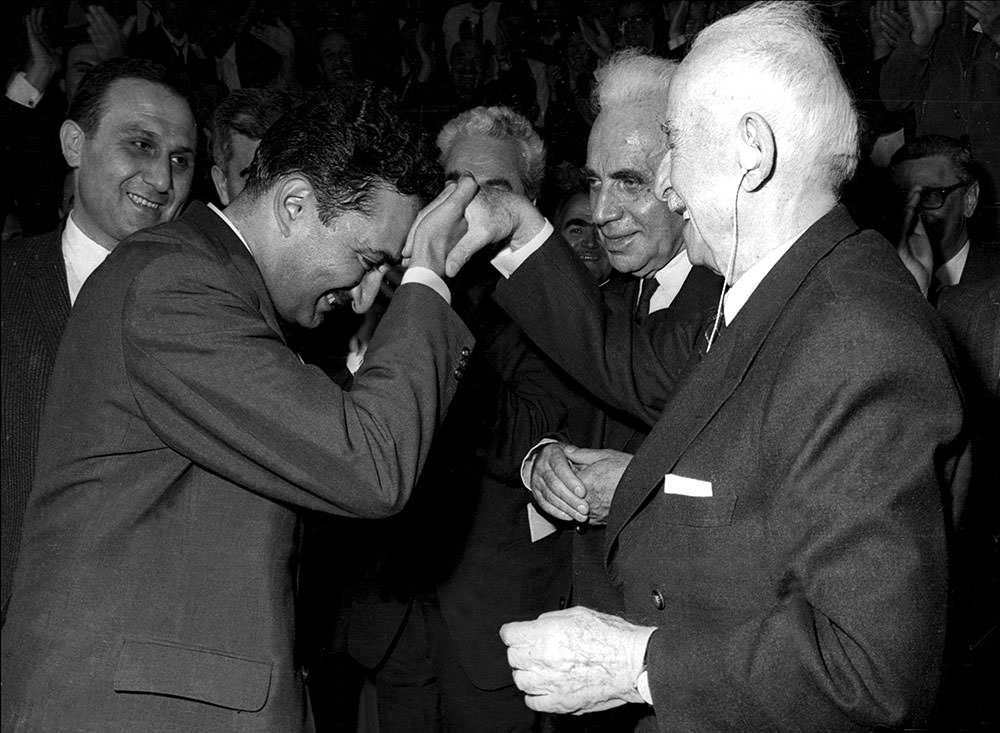 Ecevit kissing İnönü's hand as a sign of respect
Ecevit served again as Prime Minister for two short lived governments in 1977 and 1978, but failed to implement effective policies to curb economic crisis and ideological terror, and failed to find political compromise to allow the state to function - just like his counterpart, Süleyman Demirel, of the center-right Justice Party (AP) who formed right-wing "front" governments, - which were used as a pretext for 1980 military intervention.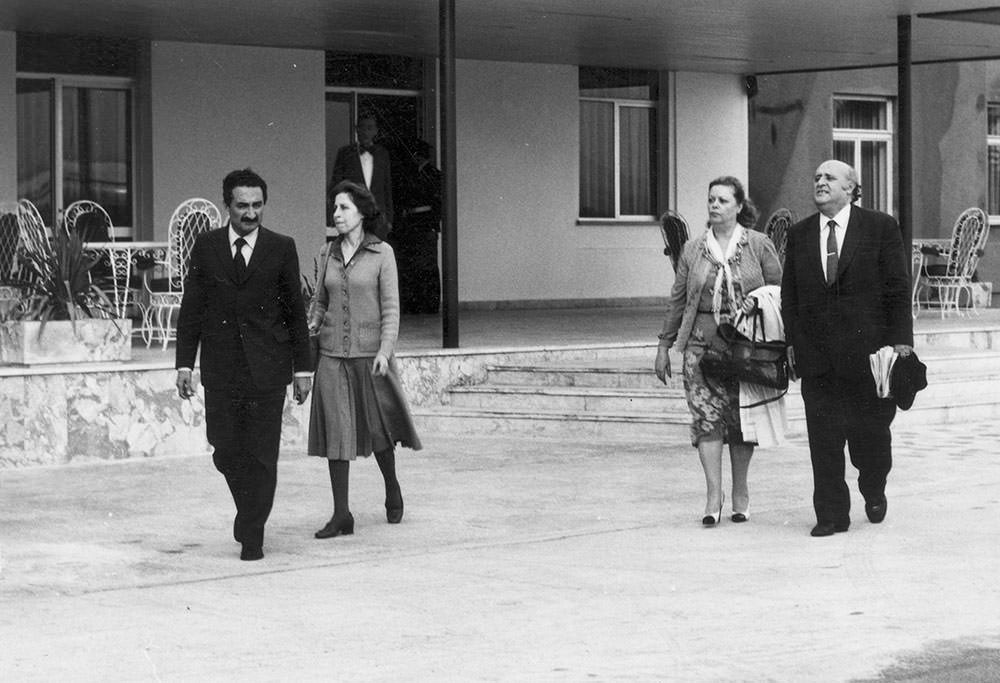 Rahşan - Bülent Ecevit and Nazmiye - Süleyman Demirel were taken under house arrest in Hamzakoy Military Facilities following the coup
Along with other politicians of the time, Ecevit was banned from politics after the coup, but he served a longer jail time for his active opposition against the military regime. He returned to politics following the 1987 referendum, lifting the ban on pre-intervention politicians and became the leader of DSP, which was founded by his wife Rahşan in 1983. His staunch position towards unity between center-left parties was widely criticized by the public and probably prevented a chance for a left-leaning government in 1990's.
Known as an honest and uncorrupt veteran politician, Ecevit came into prominence again during the turmoil of 1990's, and DSP became the largest party of the left in the 1995 elections. Following the Post-modern coup of 1997, he became a coalition partner and Deputy Prime Minister with in the center-right ANAP government. Ecevit served as the caretaker Prime Minister and led the country to the 1999 elections after the government failed to pass a motion of censure. The capture of PKK leader Abdullah Öcalan, along with Ecevit's stance as a politician, secured his party, DSP, a victory in the elections with 22.2 percent of the votes.
Ecevit's last term as Prime Minister continues to remain a hot political debate. An uneasy three party coalition was founded by DSP, MHP (right-wing Nationalist Movement Party, which had a bitter rivalry with Ecevit's CHP during 1970's) and ANAP. Besides the political rivalries within the coalition, the government had to cope with an almost bankrupt economy, separatist terrorism and human rights issues, the heavy influence of the military within the politics. Matters were not helped by two massive earthquakes in 1999, which killed thousands of people and devastated a large part of Turkish industry. The government somehow managed to deal with these problems and implemented important political and economic reforms in line with the EU accession program and IMF's structural adjustment program.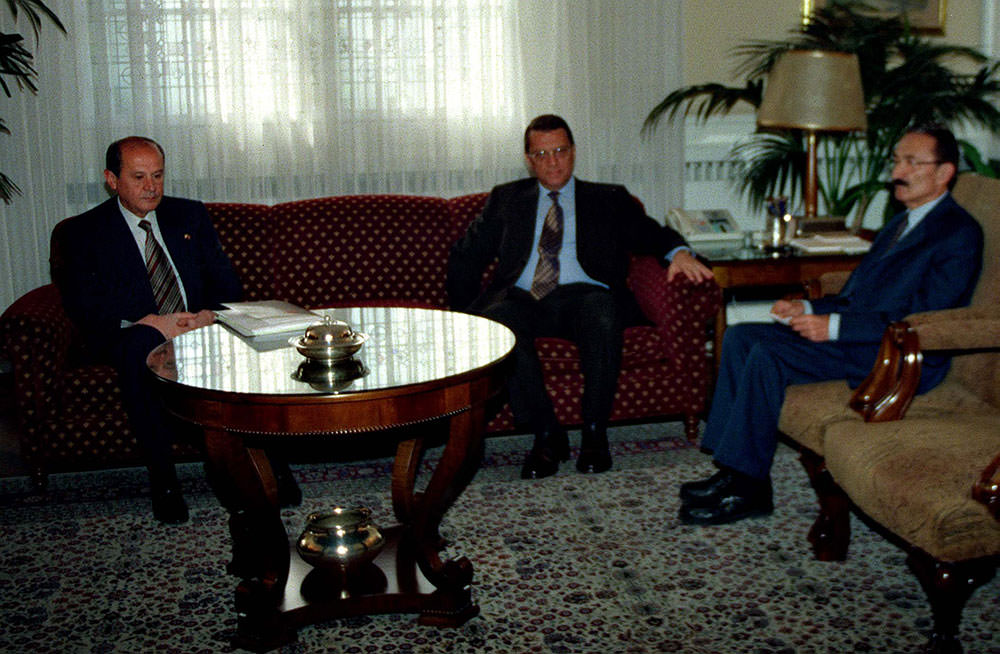 Ecevit with coalition partners, Devlet Bahçeli (MHP) and Mesut Yılmaz (ANAP)
However, the lack of political stability resulted in continuous economic and political crises. These peaked in 2001 after a heavy argument between Ecevit and President Ahmet Necdet Sezer turned into a large political and economic crisis, resulting in a market crash and bankruptcy of eight Turkish banks in 2001, which followed the previous bankruptcy of nine other banks in 1999 and 2000.
Ecevit's deteriorating health was the final blow to the coalition as his party split into three factions and the government had to call for an early election in 2002. All of the parties of the previous parliament were unable to exceed the 10 percent national threshold - with DSP receiving only 1.2 percent of the votes -which gaveway to the only two existent parties since 1946, AK Party and CHP, being represented in the parliament. AK Party founded the first single-party government since 1991.
Ecevit retired from politics in 2004, and died in 2006. He was buried with a state funeral with over a million attendants.