Turkey will welcome 2015 with a cold front, as a gradual drop in temperatures across the country and the onset of snowfall heralds a week of harsh weather conditions.
Weather forecasters warn of strong precipitation across the country on Tuesday and the following days, along with a considerable decline in temperatures.
Istanbul saw its first snow on Monday, while heavy snowfall is expected on Wednesday. Rainfall and strong winds already engulfed the city on Monday, leading to cancellations in flights and ferry services. Temperatures will drop as low as 2 degrees Celsius on Tuesday, with a weather pattern characterized by sleet driven from northwestern Turkey taking over the city. Other northwestern cities will see a drop in temperatures to as low as 2 degrees Celsius, including Balıkesir, Bursa, Yalova and Çanakkale.
Severe winds reaching a speed of 80 kilometers per hour will likely affect Istanbul on Tuesday and Wednesday. Southwesters gusting over the city have already taken their toll on daily life on Monday.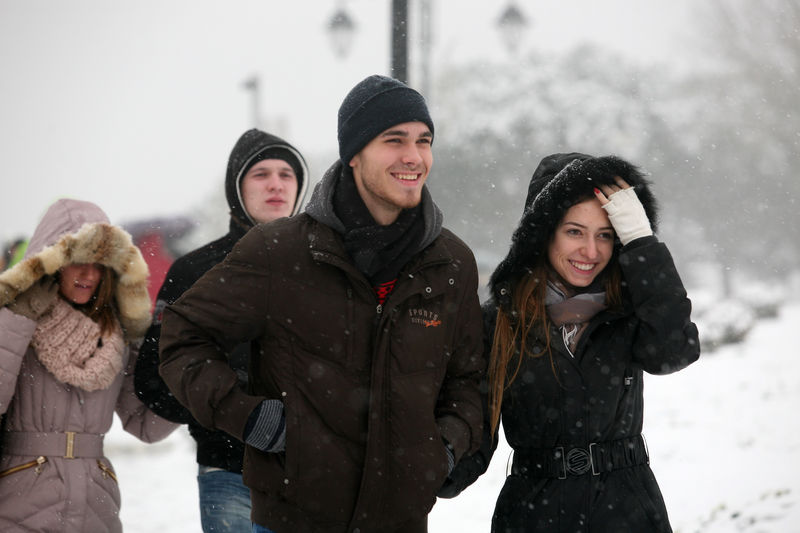 An unidentified woman lost her balance on the seashore in Zeytinburnu district and fell into the Marmara Sea, and waves washed her away into the open sea. The witnesses informed authorities about the incident, and the maritime police came to the scene, finding her unconscious. She was transferred to a nearby hospital but could not be saved.
Ferry services between the city and the littoral cities along the Marmara Sea were cancelled. Winds uprooted trees in the district of Bakırköy, where a driver of a minibus narrowly escaped from being crushed by a falling tree. Strong winds also tore down the railings of an overpass in the district of Kadıköy, and sank a boat in Beykoz.
Cold weather and snow have already hit other parts of the country. In the eastern province of Van where temperatures decreased to as low as minus 20 degrees Celsius and Muradiye waterfalls were partially frozen yesterday.