Turkey has organized a mass funeral prayer and an official state ceremony for its 9th President Süleyman Demirel on Friday, in the Turkish capital Ankara.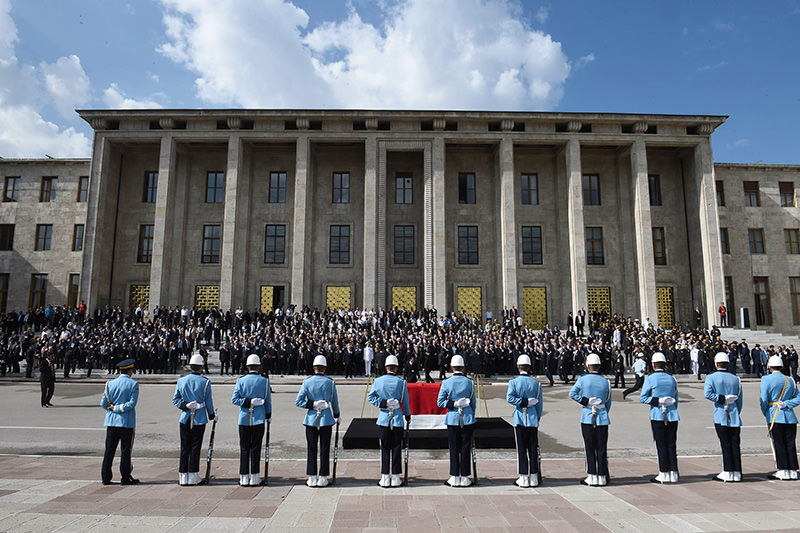 After a funeral ceremony took place outside Demirel's house in Güniz Street in Ankara, Demirel's body was taken to the Grand National Assembly of Turkey ("TBMM" in Turkish) accompanied by sirens and a convoy. The coffin was later transported to the Kocatepe Mosque in the city center for a mass prayer.
Demirel will be buried in his hometown, Isparta on Saturday.
Among those attending the Friday's ceremonies were President Recep Tayyip Erdoğan, Parliamentary Speaker Cemil Çiçek, Republican People's Party (CHP) leader Kemal Kılıçdaroğlu, Nationalist Movement Party (MHP) leader Devlet Bahçeli, Ahmet Davutoğlu, who is currently serving as the interim prime minister after the June 7 elections, Chief of General Staff Necdet Özel, Turkey's eleventh President Abdullah Gül, former Prime Minister Tansu Çiller, ministers and many other politicians, as well as Demirel's family members.
Preident Erdoğan and Demirel's brother Şevket Demirel made speeches in honor of the former president following the reading of a biography of the former president during the state funeral.
Erdogan stated that Demirel had provided valuable services to Turkey during half a century in all areas of politics and within the state administration.
"Süleyman Demirel was politician and a statesman with his own unique style," Erdoğan said. "He was a living history who witnessed both Turkey's beautiful days and dark days."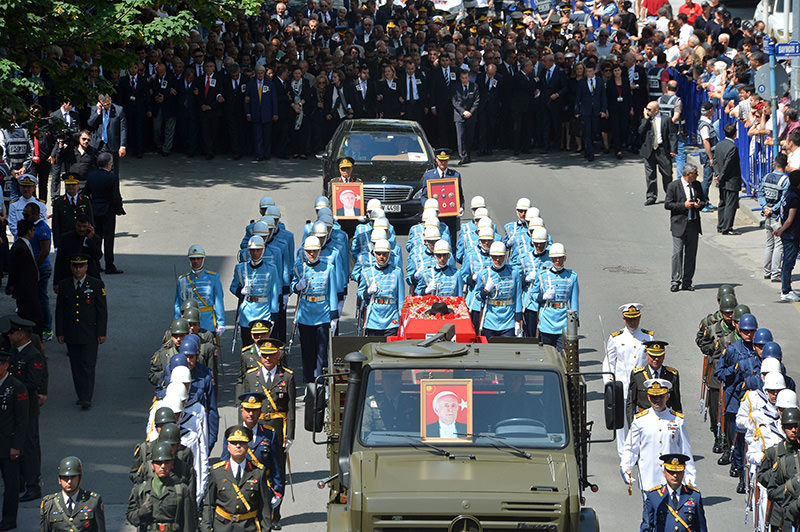 Turkey's 9th president, Süleyman Demirel, passed away at 91 on Wednesday in Ankara. Hospitalized on May 13, Demirel's health condition worsened late on Tuesday.
According to the staff at Güven Hospital where the former president was being treated, Demirel passed away at 2:05 a.m. The cause of death was announced as heart and respiratory failure.
Serving 12 years as prime minister in five different terms, Demirel was one of the most influential figures in Turkish politics. He was known for his unique and swift responses to the press and his many nicknames, the most famous being "the Father."
Born in 1924, Demirel was the last surviving politician among his contemporaries such as Alparslan Türkeş (1917 to 1997), Bülent Ecevit (1925 to 2006) and Necmettin Erbakan (1926 to 2011). Kenan Evren, the seventh president and leader of the 1980 coup staged when Demirel was prime minister, recently died on May 9. Coming from a peasant background, Demirel worked as a shepherd while attending school, and during his career, he was nicknamed, with both positive and negative connotations, "Çoban Sülo" – Süleyman the Shepherd.
Related:
Turkey's 9th President Süleyman Demirel passes away at 91