A group of 70 Serbian nationalists harassed a collective iftar gathering on Sunday evening, i.e. the fast-breaking meal for Muslims during holy month of Ramadan, in Bosnia and Herzegovina's Doboj city.
The group chanted the name of the war crime defendant Ratko Mladic, a former Bosnian Serb military leader accused of committing war crimes, crimes against humanity and genocide. The group also shouted, "Kosovo [which declared independence from Serbia in 2008] belongs to Serbia."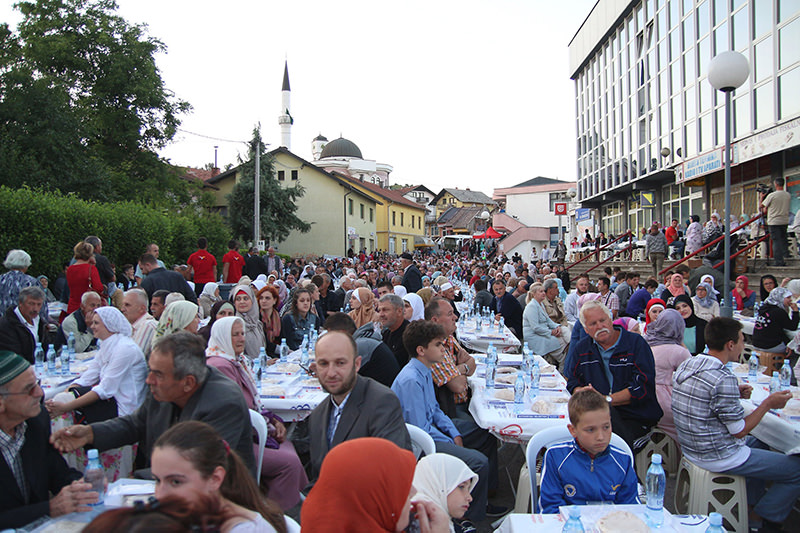 The collective iftar dinner was organized by the Istanbul municipality of Bayrampaşa in front of the Trnjak mosque in Bosnia and Herzegovina's Doboj city. Just as the imam of the Trnjak mosque was addressing the attendees –about 1,000 people– gathered for the iftar, a group of 70 people showed up nearby the mosque, trying to disrupt the organization's dinner.
The group also shouted slogans against the first Chairman of the Presidency of the Republic of Bosnia and Herzegovina, Alija Izetbegović. Following the incidents, riot police were dispatched to the scene to ensure security.
Bayrampaşa municipality has been organizing iftar gatherings for the last 11 years in Balkan countries. Accordingly, the municipality has been dispatching a convoy of trucks to the designated countries, under the slogan "Brotherhood does not know boundaries." The municipality calls the convoy "Abundance convoy." After stopping by Bosnia and Herzegovina, the convoy will also visit Bulgaria, Macedonia, Serbia, Montenegro, Greece, Kosovo, and Albania, organizing various cultural events at these places.
The convoy is expected to cover a distance of 60,000 km by the end of its tour. The convoy consists of four trucks, two buses, four minibuses, one generator vehicle, and one outside broadcast truck.