One policeman was seriously injured in PKK's bomb attack on Kayapınar Huzur Police Station in central Diyarbakır, southeastern Turkey late on Tuesday.
The masked terrorists attacked the Turkish police station with improvised explosive devices at 22:00 p.m.
The injured police officer who was standing guard outside the police station was taken to the Dicle University's Medical Faculty Hospital with an ambulance.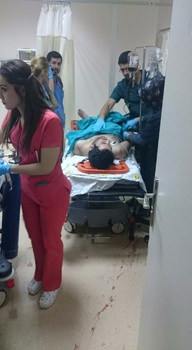 While the crime scene investigation team continues to investigate, a large-scale operation was launched with special operation forces to capture the group of masked PKK terrorists.
Turkey has been hit by violence since a suicide bomb attack by a suspected ISIS supporter killed 32 activists in Suruç on July 20.
The Turkish government has intensified its counterterror operations following the recent attacks carried out by the PKK, which is recognized as a terrorist organization by the U.S., the EU and Turkey.
Formed in 1978, the terrorist group has been fighting the Turkish government for an independent state until the early 2000's. The group then shifted its goal to autonomy in predominately Kurdish inhabited regions of Turkey.
The PKK announced on July 11 that the cease-fire which was declared via a message from the PKK's imprisoned leader Abdullah Öcalan in 2013 has ended.
Turkish security forces have arrested hundreds of people with suspected links to ISIS, the PKK, and leftist groups, detaining over 1,300 people across the country, according to a recent statement released by the Prime Minister's Office.
The Turkish Air Force has been carrying airstrikes against the PKK in northern Iraq and the ISIS militants in northern Syria.
According to military sources, 261 terrorists were killed in Turkey's airstrikes against PKK's hideouts and camps in northern Iraq.
The PKK is also accused of using civilians as human shields in its camps.