Sare Davutoğlu, wife of Prime Minister Ahmet Davutoğlu, early on Wednesday helped deliver the baby boy of the wife of a military officer who was slain by ISIS last month.
Davutoğlu, a gynecologist by profession, flew to the southern city of Gaziantep to assist Seher Nane, the wife of noncommissioned officer Yalçın Nane, who was killed by gunfire from the Syrian side of the Turkish-Syrian border in July. Davutoğlu had personally pledged to the young woman that she would accompany her through labor during a visit to the grieving family last week with the prime minister. He had told the mother that her baby would not grow up without a father as he would be "a child of the Turkish nation."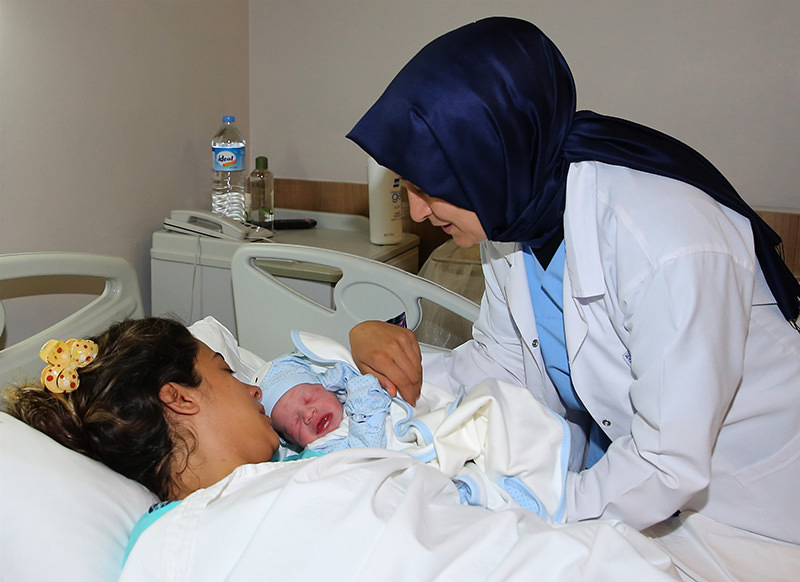 Davutoğlu rushed to the hospital after relatives of Nane announced around midnight that she had gone into labor. Nane gave birth to a baby boy, named after his father, around 2:30 a.m. After the C-section birth, Davutoğlu met the mother and the newborn again in their hospital room. The prime minister also congratulated Nane by phone after the birth. The mother thanked Davutoğlu and the prime minister for being with her during "difficult times."
"I thank [Sare Davutoğlu]. She cared for me and helped with the birth of the baby. I feel better because she was here," she told reporters.
Though her husband's political career threw her into the spotlight and led her to change her daily routine, Davutoğlu still continues practicing in her clinic in Istanbul and personally attends births. She also works on several health charity projects.
After the officer was killed by ISIS terrorists, Turkish military named its anti-terror operation "Operation Martyr Yalçın" which it conducts against ISIS and PKK positions in Northern Syria.