Artvin, a northeastern province on the border with Georgia, was rocked by floods and landslides on Monday evening. Eight people were confirmed dead in the disaster but authorities said there may be three more victims as a 5-year-old boy and two women still remain missing.
Victims were residents of villages in Hopa, a district littoral to the Black Sea that saw what officials described as the heaviest rainfall in 50 years. It is estimated rainfall reaching up to 261 kilograms of water per square meter struck the district. At least 17 people escaped injured from the floods and landslides, which devastated houses, flooded roads and blocked access to remote villages.
Search and rescue crews were deployed to the area to find the missing people and deliver aid to the affected population in the district of about 34,000 people.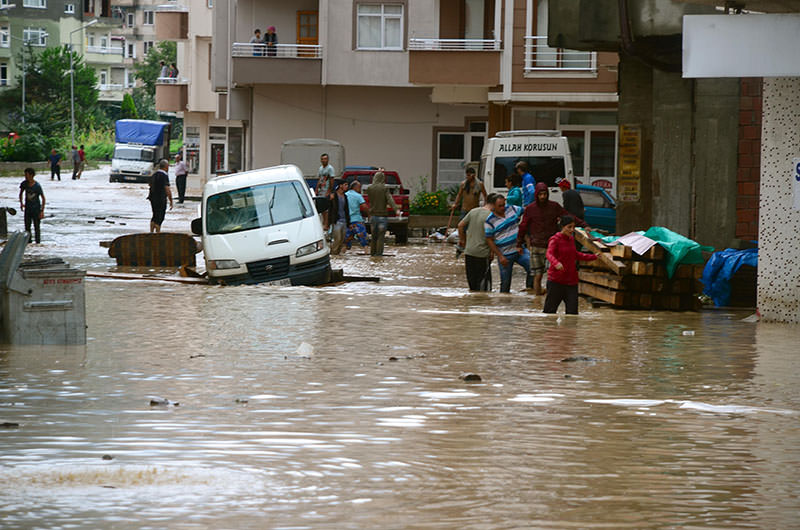 The ground floors of buildings were particularly affected by the floods, with efforts to drain the floodwater still underway on Tuesday. Debris from the landslides also damaged houses.
Among the victims was an elderly woman living alone in a four-story building. Also, a landslide buried a father, a son and one of their relatives in a house in Yoldere village. A couple and their 41-year-old daughter were also killed, when their house was buried by a landslide.
The province's Arhavi and Borçka districts were also hit by the disaster, though the damage was less severe and no casualties were reported.
Though it decreased in intensity, rainfall was still battering the affected districts on and more precipitation is expected in the next few days.
Forestry and Water Affairs Minister Veysel Eroğlu visited the site of the disaster and stressed that authorities had already issued a warning about expected heavy rainfall. He said four months' worth of rain fell in the area in just six hours. Eroğlu said they mobilized a fund of TL 10 million ($3.42 million) to offer immediate aid to areas hit by floods and landslides.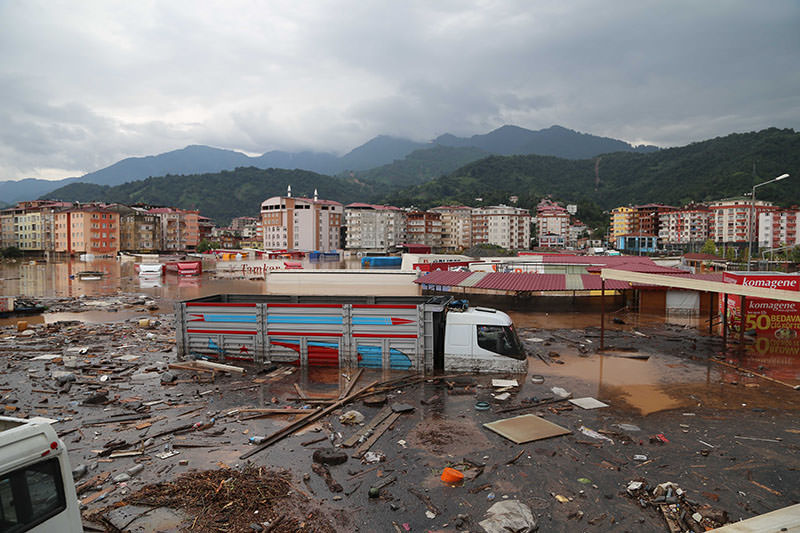 The heavy damage and a relatively high death toll are blamed on faulty housing developments. Buildings constructed on streambeds were among the most affected in the floods and landslides. Speaking to A Haber TV, Professor Mikdat Kadıoğlu, an expert in meteorology and emergency management, said better development planning was needed to prevent further disasters and building settlements in riverbeds and nearby areas should be prevented. He noted that although the mountainous geography in the region challenged building houses in safe locations, housing plans should at least be changed to build houses with elevated foundations to prevent flooding.
Kadıoğlu highlighted that the Black Sea region where Artvin is located is known for heavy rainfall throughout the year and is full of short streams in inclined territories. "You are subject to landslides if you build houses on the outskirts of slopes, and to floods if you build on river beds," he said. Kadıoğlu said housing transformation in the vein of a transformation plan for old buildings prone to damage in a possible earthquake in other cities, may be considered, and houses could be reinforced or relocated.