German Federal Interior Minister Thomas de Maiziere said Friday that the European Union should set up a refugee camp in Turkey where immigration requests could be processed. In an interview with Euronews, de Maiziere said this step could both answer questions of housing refugees and easing the refugee crisis that Europe has long been struggling with. "We can benefit from EU funds to set up this refugee camp and we can decide who can come to Europe," he said. The EU has already reserved 469 million euros for Turkey as part of its immigration policies. According to Emre Gönen, an EU specialist, de Maiziere's suggestion is politically groundbreaking.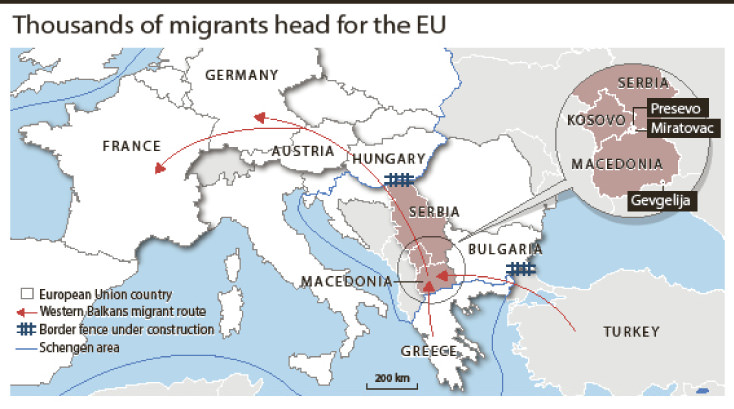 "I find this suggestion quite important. Firstly, it is the first time that Germany has made a move before France on a political issue and, secondly, it means that Turkey has been accepted as a 'salvation country,' " he said. Gönen also said one of the reasons that Germany has offered this suggestion is to create an image that the EU is not insensitive to the migrant crisis and is eager to solve the migrant problem. Maiziere's proposal comes as Europe was rocked by two migrant tragedies, which killed more than 70 people each.
More than 70 corpses were found in the back of a parked truck in Austria on Thursday, and another migrant boat sank off Libya, deepening the migrant crisis and uncovering new tragedies by the day.
An abandoned refrigerated truck was found by an Austrian highway patrol near the Hungarian border with fluids from decomposing bodies seeping from its back door. Austrian police on Friday announced that 71 migrants were found dead. "One can maybe assume that the deaths occurred one-and-a-half to two days ago," Hans Peter Doskozil, police chief in Burgenland, the state on the Hungarian border where the truck was found, said at a press conference, adding that "many things" indicated the migrants were already dead when the truck crossed the border.
Austrian highway maintenance workers alerted police after noticing "decomposing body fluids" dripping from the vehicle, Doskozil said. "Among these 71 people there were 59 men, eight women and four children, including a one- or two-year-old girl and three boys aged eight, nine or 10," he told a packed news conference.
Hungarian authorities detained three men in relation to Thursday's gruesome discovery, a Lebanese-Hungarian national who owned the truck and two other men, one Bulgarian and one Hungarian, who were driving the vehicle. The three men are thought to form "the two lowest rungs of an organized crime network" and were likely to lead to other perpetrators, Doskozil said. He added that one set of Syrian documents was found in the refrigerated truck, leading investigators to believe that the dead migrants were refugees fleeing via the Balkans from war-torn Syria.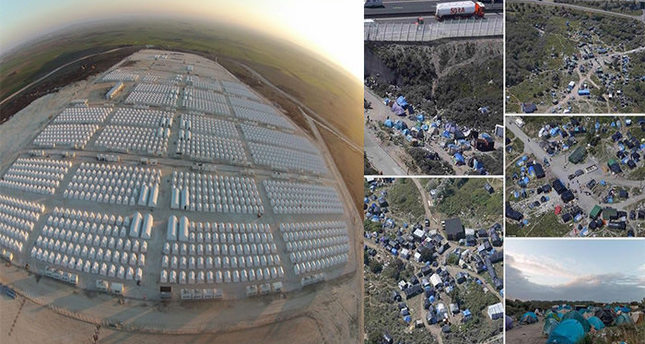 The striking difference between Europe and Turkey's handling of the refugee situation in their countries is clearly portrayed in this photo, where the left represents a shot from a refugee camp in Turkey's southern district of Şuruç, while the image on the right were taken of make shift camps where migrants in the French city of Calais are forced to spend their time until they get a chance to flee to the U.K.


Meanwhile, Libyan rescue workers recovered 76 bodies from a capsized boat crammed with migrants trying to make it to Europe. However, the United Nations High Commissioner for Refugees (UNHCR) said as many as 200 people on two boats were feared dead. "Until now, 76 bodies have been retrieved from the sea and 198 people have been rescued," Mohammad al-Misrati of the Libyan Red Crescent told Agence France-Presse (AFP). Libya's coast guard initially said 30 people had died in the disaster that unfolded on Thursday near the western port of Zuwara. "There are still people missing but we don't know how many," Misrati said, adding that the figures of the dead and rescued came from the local Red Crescent branch, medical facilities in Zuwara and the Libyan coast guard. Red Crescent teams wearing protective white clothing and masks on Friday collected bodies that had washed ashore on a Zuwara beach, placing them in orange plastic bags and carrying them to ambulances.
German Chancellor Angela Merkel said at a summit on the west Balkans in Vienna: "We are of course all shaken by the appalling news. This reminds us that we must tackle quickly the issue of immigration and in a European spirit – that means in a spirit of solidarity – and find solutions." EU leaders have struggled to get to grips with a crisis that has seen nearly 340,000 migrants cross the bloc's borders this year, not counting August, and many have come from conflict zones in Iraq and Syria. Millions of other refugees have sought refuge in places like Lebanon, Turkey and Jordan. Merkel said Friday that EU leaders could hold a special summit on the migrant crisis, but that such a gathering "must be able to take certain decisions."
Making dangerous trips for a long time, once refugees arrive in Greece or Italy, they still face long and dangerous journeys to their final destinations. From Greece, the primary route involves trips by foot and train through Macedonia, Serbia and Hungary before heading into Western Europe. Balkan countries have criticized other European countries for not sharing the burden. Most migrants use Balkan countries as a transit route and want to reach more prosperous European countries such as Germany and the U.K. UNHCR encouraged European countries to do more to share the burden of the international community in the migrant crisis with Syria's neighboring countries.