The PKK terrorists, who are carrying out a bloody terrorist campaign against civilians and Turkish security forces and inflicting serious damage on roads, health services, homes, the local shops, vehicles and everything else on the streets, also use the internet and social media to spread false information and depict the Turkish state as a perpetrator through the use of fabricated and outdated photos.
On Friday, the number of civilians killed by PKK terrorists rose to 21, as the PKK attacked police officers having breakfast at a restaurant in southeastern Diyarbakır province and killed the 22-year-old waiter Şeyhmus Sanır, reportedly of Kurdish origin.
Another strategy of the terrorist group is spreading false information about the situation in eastern and southeastern Turkey by using social media as a means to provoke people by circulating fake images as if they were taken in Cizre, and other parts in the east, in an attempt to create chaos in the region and blame the state for 'incidents' that never happened.
According to İbrahim Altay, the ombudsman of Daily Sabah and Sabah newspapers, social media creates a new type of a public sphere, which allows people to freely express their critical views. However, he noted that this freedom may be exploited by provocateurs, scammers, and terrorist organizations, which are aware of the power of social media and use it as a means to distort people's views.
Referring to the Gezi Park incident, and the December 17 and 25 coup attempts, Altay stated that many examples of such manipulation took place during those periods. "They tried to cause public indignation by making false news and using photos which were taken in other places at other times, as if they were taken during those periods" Altay said, and added that a similar attempt is currently being made by PKK terrorists and their supporters, under the scope of the incidents which take place in the Cizre district located in the southeastern Şırnak province.
"What is even sadder is the fact that journalists fall into this trap and use such deceiving articles and images in their newspapers and websites, as if they were real" Altay said, and called on all journalists to approach social media in a skeptical manner to avoid reporting false news. He underscored that it is crucial to check the source of allegations and search for evidence and proof, before reporting.
"Otherwise, journalists will also become a tool of terror propaganda" Altay told Daily Sabah.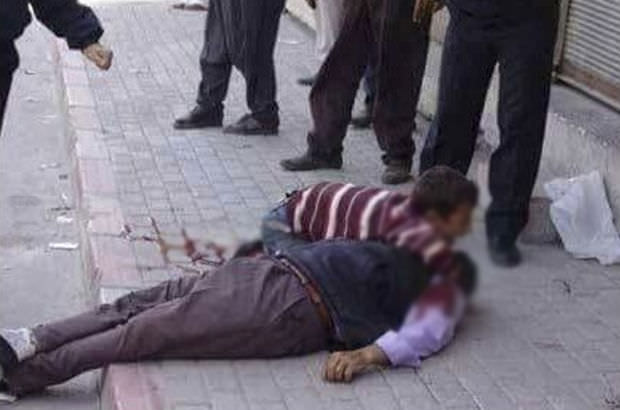 This photo, which was taken in 2008 related to a murder case in Tarsus, has been shared on social media by the PKK with a caption claiming that it was a photo of a civilian killed by security forces in Cizre.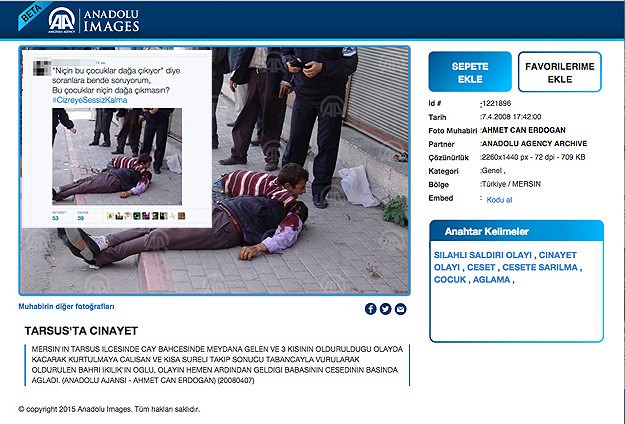 A look at Anadolu Agency's archives shows that the photo was taken in 2008, in the Tarsus district of southern Mersin province.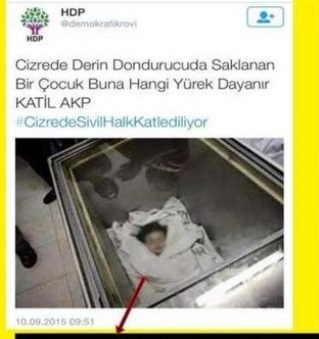 Another image initially shared by the Peoples' Democratic Party (HDP) on Twitter, which circulated on the web, social media and other media outlets, features the dead body of a child in a freezer. The twitter account of the HDP claimed that the child in the freezer had lost her life in the Cizre protests and cannot be buried because of 'police terror.' However, the photo was actually taken on August 4, 2014 and it shows the dead body of a Palestinian child, Raghad Masoud, who was stored in a freezer, previously used to store ice-cream, because the Kuwaiti hospital morgue was full at the Rafah refugee camp in southern Gaza Strip.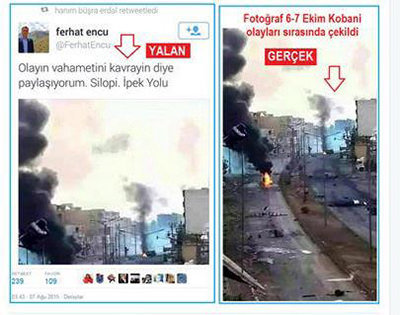 This image was shared by HDP Deputy Ferhat Encu, who claimed that the photo was taken in Şırnak's Silopi district, which he claimed was 'under attack' by Turkish security forces. However, the image actually dates back to Kobani protests of October 2014, when PKK supporters killed 35 civilians. Meanwhile, a large number of social media users are attempting to counteract the false information with posts underlining that the images are fake, out-of-context or related to different incidents.
Hundreds of other examples could be found on social media outlets, claiming that the photos were taken in Cizre, when in reality they were taken in other parts of the world at completely different times, which can be easily found out by a simple image search on the internet.
PKK terrorists recently killed a doctor working in Diyarbakır's Kulp district to prevent health services from helping locals. According to the statement of the Ministry of Health, three health officials have been killed by PKK attacks. A health official, Eyüp Ergin, a pharmacist, Yunus Koca and a doctor, Abdullah Biroğul have been killed by PKK terrorists.
The terrorist group is also accused of violating international law by using civilians as "human shields" in Cizre and other districts in southeastern Turkey
The outlawed PKK has shifted its strategy to spread terror in urban areas by creating a state of chaos by digging ditches, piling up arms, preventing health officials to provide services and aiming to draw security personnel into clashes to manipulate public perception.
The PKK - designated a terrorist organization by Turkey, the U.S. and EU - renewed its terrorist campaign against the Turkish state in the aftermath of the July 20 suicide bombing in Suruç district that killed 33 people.