Sergeant major Ahmet Karavelioğlu, 25, who is serving the military in Hakkari, was unable to make it to his own wedding in Osmaniye's Kadirli district due to road safety. As the groom was not present, his family and the bride carried on with the wedding with his photograph in his place.
Speaking to Anadolu Agency, the father of the groom, Hamza Karavelioğlu, said that the wedding ceremony took place in the presence of relatives of both the bride and the groom.
He said that his son has been serving as a sergeant major for three years and got engaged about a year ago. Talking of his disappointment with the situation, the father underlined that terrorist attacks do not do anyone any good. He said, "My son is not beside me during the happiest day of our lives. My son could not attend his own wedding - the date was set and the invitations were distributed – as the roads to Osmaniye from Hakkari are not safe for him to travel on. I call on the Republic of Turkey to stop this curse called terrorism."
Ahmet's mother Fatma Karavelioğlu said that her son is protecting the country. She said, "I do not have my son right next to me but there is nothing we can do about it. Although my son was granted permission to leave from his superiors, we had to go on with the wedding without him. I am very proud of my son. My biggest wish is to see the end of this terrorism."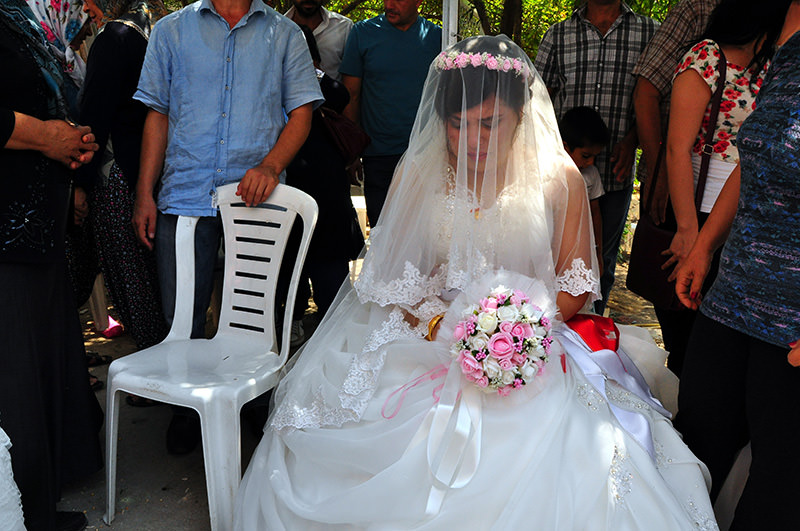 The bride, Fatma, 21, expressed her sadness on her husband being unable to join her during their wedding and cried for most of the ceremony. Although the chair of the groom was empty, the relatives of the bride and groom and the locals continued to celebrate the marriage for three days and nights with drums and clarinets.
Following the wedding, the bride got into the wedding car, which was ornamented with Turkish flags, and she went home alone without her husband.