A Russian fighter jet was shot down Tuesday morning by the Turkish Air Forces as part of the rules of engagement and violation of airspace in the Kızıldağ region near Turkey's Hatay province close to the Syrian border.
The presidency confirmed the downed SU-24 fighter jet belonged to Russia and was shot down after violating the country's airspace. The warplane went down in Syria's northwestern Turkmen town of Bayırbucak near the border en route to bombing the Syrian opposition-controlled area. The jet's two pilots reportedly ejected with parachutes. Two Russian helicopters were seen in the area in search efforts for the two pilots and the wreckage. Turkmen fighters claimed that they shot both pilots while they were descending to land.
After the event, footage in which one of the pilots was seen severely injured has been shared on social media. The Russian pilot was reportedly dead before he was captured by Turkmen fighters around the area.
Meanwhile, one of two pilots of the downed jet was picked up by the Syrian army, Russia's ambassador to France said on Wednesday.
President Recep Tayyip Erdoğan chaired a security summit on Tuesday evening to discuss the latest developments, presidential sources said. Prime Minister Ahmet Davutoğlu, the head of the armed forces Chief of General Staff Gen. Hulusi Akar, National Intelligence Organization (MİT) head Hakan Fidan and some ministers attended the meeting at the Presidential Palace complex in Ankara's Beştepe district, sources reported.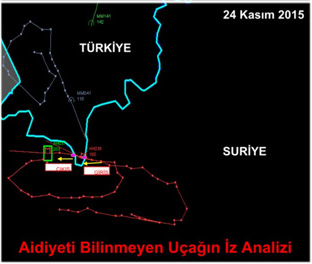 The downed fighter jet was warned 10 times in five minutes, according to a statement released by the Turkish Armed Forces (TSK). After the fighter jet failed to comply two F-16s were deployed to shoot down the aircraft.
The downed fighter jet was warned 10 times in five minutes, according to a statement released by the Turkish Armed Forces (TSK). After the fighter jet failed to comply two F-16s were deployed to shoot down the aircraft. Akar briefed Erdoğan about the situation following the crash.
Akar along with Foreign Minister Feridun Sinirlioğlu also briefed Davutoğlu.
Following the event, NATO is in "close contact" with Ankara and watching the developments, an official said Tuesday. "NATO is monitoring the situation closely. We are in contact with Turkish authorities," the official reportedly said.
The statement came after it was revealed that Turkey is getting ready to launch an initiative concerning the incident with NATO and the U.N. on instruction from Davutoğlu to the Foreign Ministry.
A U.S. official said U.S. forces were not involved in the downing of the Russian jet, which was the first time a Russian or Soviet military aircraft has ever been publicly acknowledged to have been shot down by a NATO member since the 1950s.
Asked to confirm Turkish accounts that it warned the Russian pilots 10 times before engaging and that the Russians did not respond, another U.S. official, U.S.-led coalition spokesman Colonel Steve Warren told Tuesday in a Pentagon news briefing: "I can confirm that. Yes."
The downing of the warplane was not an action against any specific country but a move to defend Turkey's sovereign territory within the rules of engagement, a senior official told Reuters on Tuesday.
"Everyone must know that it is our international right and national duty to take any measure against whoever violates our air or land borders," Davutoğlu said in a meeting in Ankara.
Later on he also had a phone call with his British counterpart David Cameron to discuss the latest developments.
Turkey summoned Russia's charge d'affaires to the Foreign Ministry, Sergei Panov on Tuesday. Panov, was called to a meeting with Foreign Ministry Deputy Undersecretary Ahmet Muhtar Gün, according to the ministry.
Although the Kremlin released a statement saying that it is still premature to forecast any worsening of Russian-Turkish relations until the situation is clarified, contrary to the hesitant position of envoys in the wake of the incident, Russian President Vladimir Putin said the issue will have serious consequences for Russian-Turkish relations.
Putin claimed that the downed Russian plane did not pose any threat to Turkey and called Turkey's decision to down the Russian warplane a "stab in the back."
Reuters also reported that Russian Foreign Minister Sergey Lavrov canceled his Turkey visit on the day of the incident and advised Russian citizens not to visit the country due to Turkey having a terror threat no less than the one in Egypt.
Gülnur Aybet, the head of the Department of Political Science and International Relations at Bahçeşehir University, said Putin's statements should be taken into consideration within domestic politics. She said: "Making such a harsh statement is quite usual for someone who is allied with Iran and [President Bashar] Assad in Syria. They will try to understand what happened here and Turkey will do its best in Russia's finding out of this issue."
"We are at the brink of a very serious crisis," she said.
Regarding airspace violations, Moscow claimed that it could prove the jet had not left Syrian airspace.
However, the TSK released a path analysis of the downed Russian jet, showing the entry and exit of the plane into Turkish airspace, its path traced by the red dotted line.
Murat Yeşiltaş, the director of security studies at the Ankara-based Foundation for Political, Economic and Social Research (SETA), said that Russia's operations on Turkmens are an example showing how Russia is in efforts to test Turkey's reaction.
"There have been Russian violations of Turkish airspace prior to that, however Turkey had found a solution with diplomacy. It seems Turkey's attitude has now changed and voiced its discontent with strong rhetoric in recent days. Ankara's attitude is clear that it does not want to see operations on its borders anymore."
Previously in October, Russia had violated Turkish airspace in two separate incidents. Turkey, which has the second-largest army in NATO, scrambled two F-16 jets on Oct. 3 after a Russian aircraft crossed into its airspace near its southern province of Hatay.
In a second incident on Oct. 5, the Turkish military said an MiG-29 fighter jet – an aircraft used both by the Russia and Syrian air forces – had harassed two of its F-16s by locking its radar on to them as they patrolled the border.
"I do not think that the crisis will increase. Neither Turkey, the U.S., Russia nor NATO want to have a crisis at this juncture. Entering a war or having a hot clash will not happen," Arda Mevlütoğlu, a defense industry expert, said.
He also suggested that Ankara wanted to stay behind its previous statements regarding the security of its airspace by downing this plane: "Turkey had said: 'We had shown tolerance to you, but you did not heed it. You shall see that this is not a joke.' "
Relations between Ankara and Moscow have been at loggerheads since Russia began operations in the Bayırbucak Turkmen region in northern Syria. Just last week, the Foreign Ministry summoned the Russian ambassador to lodge a complaint over the airstrikes.
At the time of the Russian violation of Turkish airspace in October, Davutoğlu said Russia had admitted to "mistakenly" entering Turkey's airspace.
He warned in an interview on Habertürk TV that Turkey's rules of engagement were clear: "The Turkish Armed Forces are clearly instructed. Even if it is a flying bird it will be intercepted."
Davutoğlu, however, insisted that the violations would not cause tensions between Turkey and Russia. "The Syrian issue is not a Turkish-Russian crisis," he said.
While stressing that the two countries were allies, Erdoğan said at the time: "If Russia also loses a friend like Turkey, with whom it has made much collaboration, it will lose much."
Erdoğan said an attack on Turkey would be an attack on the entire NATO alliance, of which Turkey is a member.
Esra Biçer contributed to this report.