At a time when growing a beard is sufficient to brand someone as a DAESH member in some foreign media outlets and easily manipulated social media websites, Ali and İsmail Kember were called many names.
Two brothers running Ciğeristan, a popular Istanbul restaurant, hosted some 20 international journalists on Monday in an effort to shed light on a disinformation campaign in the media and on social media websites where they were alternately called "Homs emir of DAESH," or two senior members of the militant group allegedly shuttling back and forth between Syria and Turkey.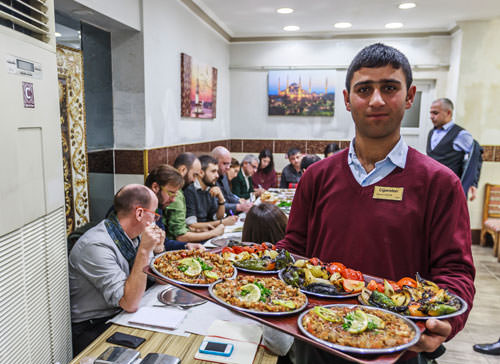 The restaurant, known for its delicious liver skewers, became popular last year when a photo of then prime minister, President Recep Tayyip Erdoğan's son, Bilal Erdoğan, taken by the owners, was circulated on social media channels, attempting to portray Bilal Erdoğan as someone who has links with DAESH, simply because the Kember brothers have beards.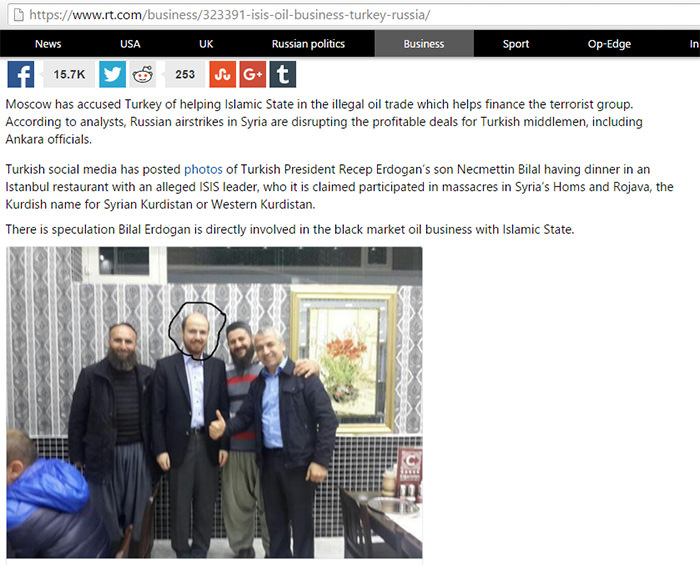 The photo, circulated by the opposition and the Gülenist outlets in Turkey, soon grabbed the attention of international media outlets, which apparently forgot to do a thorough fact check while conveniently captioning the photo as "Bilal Erdoğan with DAESH members." Since then, it was revealed time and again in Turkish media that the two men were far from being members of the militant group and were just simply two businessmen. But the Russian media, in light of the Turkish-Russian tensions following the downing of a Russian fighter jet violating Turkish airspace last month, apparently decided to reintroduce the allegations against the two men.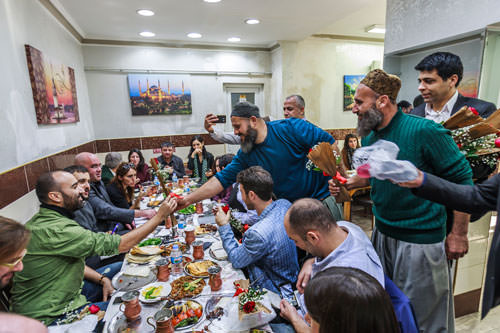 Russia Today (RT), known for close links to the Russian government, used the photo recently, as part of a defamation campaign against Turkey.
During a lunch in the restaurant in the city's Aksaray district, the two brothers who hail from the southern city of Adana told their life story and how their facial hair made them the target of the allegations.
Telling the story behind the photo they said, "We opened the restaurant in 2006. Many celebrities, businessmen and politicians come here. Bilal Erdoğan also came here about a year-and-a-half ago to eat. Just like when the presidents of your countries' or their families visit a restaurant in your country, it becomes a matter of pride for the restaurants, for us too, when Bilal Erdoğan visited us, it became a matter of pride for us and we decided to take a photo with him," they told visiting foreign journalists in the hope that their image would not be a token item in any news story on Turkey and DAESH.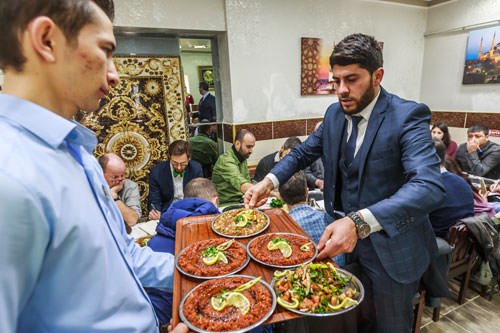 "When the photo circulated on social media, it was abused and distorted with a negative connotation. We don't want people to believe this. We do not have any links to any terrorists or terror groups or condone their acts in any way," they added.
During the press conference, the journalists could not make sense of how such fabricated evidence was widely used by the international media. "You can't take anything Russian media says," a foreign journalist said during a small chat between the reporters.
Borzou Daragahi, BuzzFeed Middle East correspondent was among the journalist at the press conference. Speaking to Daily Sabah on what he thought of the 'liver' restaurant, "I don't do liver" he said but added the owners are "nice people, very friendly."
A freelance journalist who preferred to remain anonymous also highlighted the friendly and fun atmosphere in the restaurant.
"The lunch was great. Ali and Ismail were a delight. If the organizers wanted to highlight the comedy of some of the more ridiculous allegations against Turkey, they succeeded. Kunefe was particularly good," she said.
Answering the question, "How did you feel when you were linked to DAESH?" by one of the foreign journalists, Ali Kember replied: "When this photo came out there was no DAESH, there was al-Qaida. Back then they linked us to al-Qaida. After that, whenever there were elections, media outlets placed this photo next to their headlines to be used as a defamation tool against the government."
The two men's lifestyles are actually far from DAESH ideology, which claims to adopt a strict Islamic lifestyle. They were musicians with a band between 1993 and 2000, but decided to quit when they opened the restaurant.
"We were like Cat Stevens of Turkey. Cat Stevens also has a beard," Ali Kember said, referring to notable British singer who converted to Islam and added that they don't need to defend themselves against such untrue allegations.