A harsh winter apparently did not deter hundreds of migrants from heading to Turkey's Aegean coast to reach Greece – as experts expected – as the discovery of the bodies of 24 migrants on beaches Tuesday demonstrated. The casualties added to hundreds of others who died en route to Europe where more restrictions are being imposed on refugees as they arrive seeking asylum.
Turkish authorities on Tuesday found the bodies of at least 36 migrants, including several children, washed up on beaches and floating off its western coastal towns of Ayvalık of Balıkesir province and Dikili of Izmir province after their boats sank while crossing the Aegean Sea to EU member Greece.
It is believed that those victims found in Ayvalık were among a group of migrants who departed from Dikili to reach the Greek island of Lesbos, but strong winds and waves caused the bodies to drift further north. A pregnant woman and children were among the victims. Authorities said the migrants were of Afghan, Syrian and Algerian nationalities.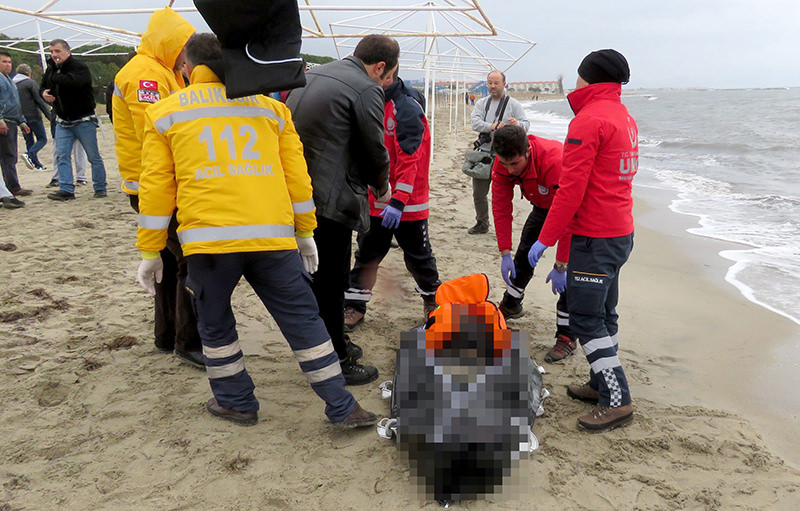 Namık Kemal Nazlı, the district governor of Ayvalık, said the search and rescue work would continue after they recovered 12 survivors, but the death toll may increase. "We don't know the exact number, but we know there were multiple boats sinking," he told reporters. The Turkish coast, especially the shores of provinces likes Çanakkale, İzmir, Muğla, Balıkesir and Aydın, provide a launchpad for refugees seeking shelter in Europe, due to its proximity to islands of Greece – the main gateway to the continent from Turkey by sea. According to the latest figures, the Coast Guard intercepted more than 91,000 migrants off the country's Aegean and Mediterranean coasts as they headed to the Greek islands last year – the six-times the number of people detected and stopped by the Coast Guard in 2014. Coast Guard figures reported by Turkish media show that 279 people died en route to the Greek islands when their boats sank in 2015.
As winter set in, many predicted that the refugee influx would decrease, but more migrants have arrived on Turkish beaches, according to media reports. They race to join more than 800,000 people who reached Europe via the Aegean Sea last year, clinging to their hopes of survival with life vests and dinghies, which often turn out not to be seaworthy. Sadly, life vests do not provide the protection they hoped for, as was made evident on Tuesday – almost all migrants whose bodies washed ashore were wearing life vests.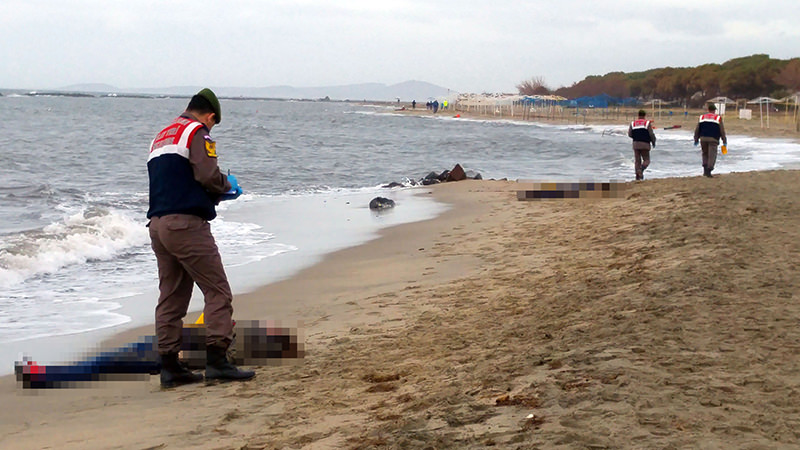 The images of bodies lying on the beaches were reminiscent of another tragedy last year that killed a 3-year-old Syrian boy named Aylan Kurdi and triggered an emotional response across the world, which forced Europe to reconsider its restrictions on migrants. Kurdi's lifeless body was found lying face down on the beach in the southern district of Bodrum last September, quickly becoming a symbol of the plight of migrants risking everything to reach the European shores – although he was neither the first nor the last child to drown in the Aegean Sea. A 2-year-old boy was the first known child casualty among migrants this year after his body was found on Saturday following the crash of a dinghy into rocks off a Greek island as he and others struggled to reach Greece from Turkey.
Both Turkey and Greece struggle to cope with the surge of refugees. The Coast Guard constantly patrols the long stretch of the coast in search of refugees and their smugglers, just like their Greek counterparts who are looking to intercept migrants before they reach the islands.
Countries in Europe are facing the largest refugee flow since the end of World War II, and have stepped up measures on the borders to curb the influx – despite this dealing a blow to the unity of the continent where borders merely serve as landmarks and citizens of European Union member states can travel freely between countries. The EU reached an agreement with Turkey to provide the country with funds to handle the issue. But a worsening conflict in Syria with the rise of DAESH, a similar crisis in Iraq with DAESH expanding its operations and a comeback by the Taliban in Afghanistan coupled with a high rate of poverty may further increase the number of migrants flocking to Europe.
To curb the refugee flow to an extent, Turkey is repeatedly calling for the establishment of safe zones within Syria for displaced people. The international community remains reluctant, however, and Russia's increasing airstrikes that kill civilians are reducing the chance of implementing the plan.
Police seize hundreds of fake life vests

At the same time as the discovery of bodies washing ashore, police were raiding a warehouse in the city of İzmir where more than 1,260 fake life vests were confiscated in an operation against sellers marketing them to migrants who opt for cheap vests for their risky travels. Ironically, young Syrian refugee women were among those working on the production of the vests sold to their compatriots for a fraction of the price of more expensive vests. Confiscated vests bore the logos of better-known brands, though their content was nothing more than a Styrofoam-like cheap material that rather adds weight to the vest and therefore pulling the user further to the bottom of the sea than keeping them afloat.
Experts say poor quality life vests are among the chief reasons for the high number of casualties among migrants. A standard vest produced in line with standards help people to stay afloat for at least 12 hours and has several versions for each size while fake vests barely keep a small child afloat. The original life vests are on sale for at least TL 75 ($25) while fake vests are offered for prices as low as TL 20. As the flow of migrants to İzmir increased last year, a new sector of fake vests had thrived and even clothing stores started selling vests and other materials such as rubber boats to prospective migrants to Europe. Police occasionally carry out operations against sellers and sometimes, collect fake vests from migrants, a common sight in İzmir and other Aegean cities.