The number of Syrian refugees living in Turkey has exceeded the sum of population of the 15 least populated Turkish provinces.
In a graphic prepared by Haberturk Business with UNCHR and TUIK data shows that the total population of registered Syrian refugees stands at 2.620.553 which constitutes 7.000 more than the number of people living in the 15 least populated provinces in Turkey.
The entire Syrian refugee population in Turkey now outnumbers the population of all provinces except Istanbul, Ankara, Izmir and Bursa. A relatively small portion of Syrian refugees in Turkey are in refugee camps while 2,450,000 of them are living in cities.
Hosting almost half of the 4.2 million displaced Syrians in the region over the past three years, Turkey has borne the largest share of the refugee burden.
Contributing nearly $9 billion to humanitarian aid during the ongoing Syrian crisis, Turkey's aid for Syrian refugees has been 20 times more than the aid received from international organizations, according to the Prime Ministry Disaster & Emergency Management Authority (AFAD).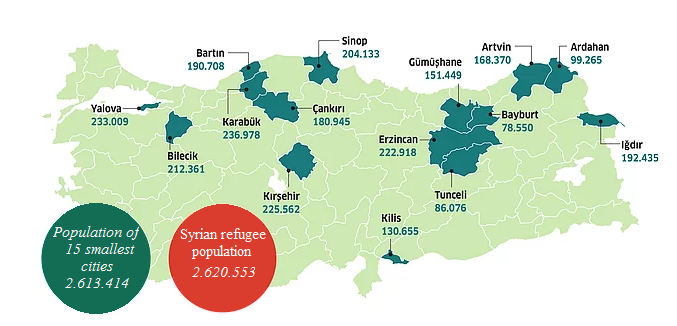 The UN refugee agency has only granted $455 million to Turkey for refugees.