Republican presidential hopeful Donald Trump has made waves with his election campaign, but his shift into politics has also turned the spotlight on his unsavory business practices as his enterprises face multiple lawsuits.
Fahrettin Özdemir, a Turkish contractor, claims he is one of the victims of Trump who did not pay him the $64,000 he was supposed to for a decoration job in one of his properties in the United States. Özdemir says "trickster" Trump evaded payment for several jobs he did for him nine years ago and he was unable to file a lawsuit as the Republican front-runner resorted to the "common trick" to avoid payment of declaring bankruptcy.
Özdemir, who hails from northern city of Giresun, entered the construction business in 2000 in the United States to which he immigrated years ago. "My company was contracted for painting jobs, drywall work and reparation in golf course facilities and casinos. We finished the jobs but they did not pay us," he said in an interview in his Turkish hometown. Özdemir says Trump already declared bankruptcy four times for his companies. "He does this in order not to pay contractors or banks he received loans from," Özdemir claimed. "I have no right to claim payments since he declared bankruptcy."
The only thing Özdemir received from Trump was a photo of the smiling real estate tycoon posing with Özdemir's Turkish business associate Alaattin Kılıç and construction workers.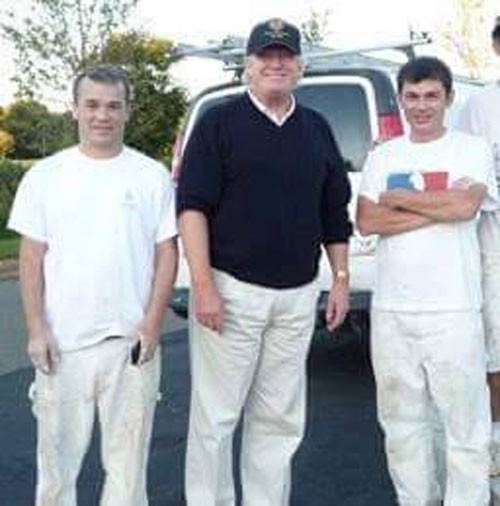 "He loves money and moneyed people and is racist when it comes to Muslims and [migrants]. Muslims and foreigners like us are also people he hurt most," he said.
Trump is already at the center of several lawsuits for his business practices, and reportedly owes at least $250 million to banks for various real estate projects.
Trump University, a now-defunct online education company faces a lawsuit for misleading students. An Agence France-Presse (AFP) report quoting a state attorney general says 10,000 students enrolled in real estate courses at the for-profit university with high tuition fees for lessons they were never taught.
Another lawsuit by Jamaican fashion model Alexia Palmer claims Trump Model Management LLC lied to the government in its work visa application that said she would be paid a salary of $75,000 a year, according to Reuters. Palmer claims she only received a meager payment for three years she was under contract. Palmer's lawsuit claims that Trump Model Management took 80 percent of her earnings instead of the 20 percent stipulated in the agreement she signed.