Bartholomew, the head of the Fener Greek Patriarchate, who accompanied Pope Francis in his visit to Lesbos Island in Greece, said he was deeply appreciative of the help Turkey was providing to refugees fleeing war. Speaking to Doğan News Agency, Bartholomew reminded that there is no other country that has taken in more refugees than Turkey. "Turkey hosts nearly 3 million refugees while Greece also hosts 50,000 despite the financial problems in the country," he said. He added that in order to solve this problem, it is necessary to stop the war in Syria as he called on all political and religious leaders to make efforts to do so.
Bartholomew also commented on the EU-Turkey deal saying, "Even though some say it is not the best agreement, I believe the two sides have reached the ideal agreement in today's conditions." Bartholomew said he has been deeply affected by what children experienced as refugees. "When I looked into their eyes, I felt deep sadness. They have been undergoing this desperate journey at such a young age even though they are innocent and some lost their lives drowning in the sea," he said. When they asked refugees to speak about their wishes, Bartholomew said they saw that most of them hope for peace and want to go back to their homes to live in peace.
Pope Francis and Bartholomew prayed for those who lost their lives in the Mediterranean and left the island.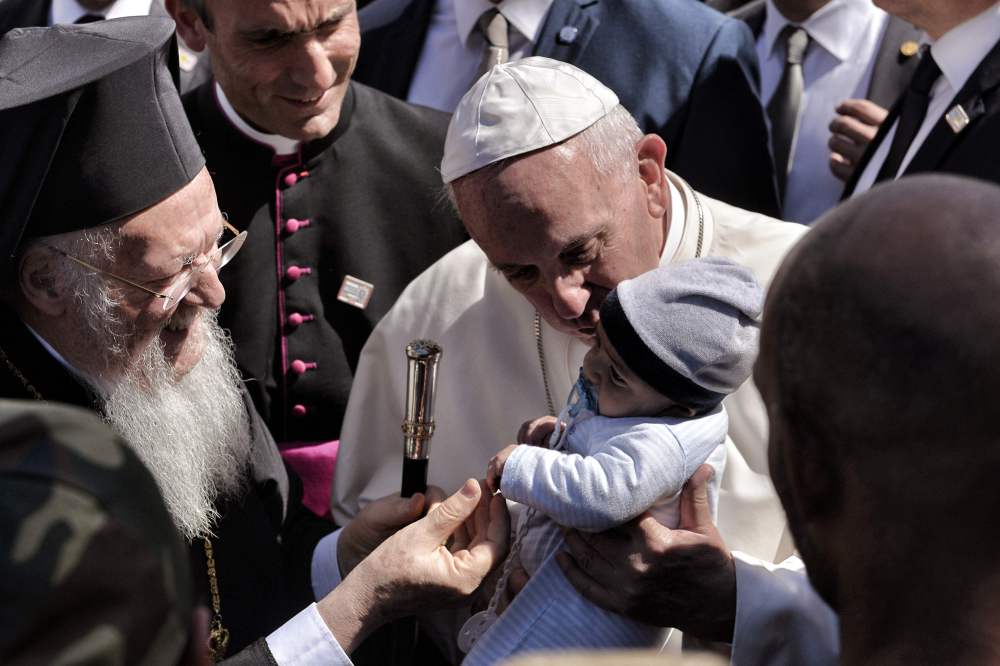 Pope Francis escorted by Patriarch Bartholomew kisses a baby as they arrive in Moria, Mytilene on April 16.
Meanwhile, in an extraordinary gesture both political and personal, Pope Francis brought 12 Syrian Muslims to Italy aboard his plane Saturday after an emotional visit to the Greek island of Lesbos, which has faced the brunt of Europe's migration crisis.
Refugees on the overwhelmed island fell to their knees and wept at his presence. Francis decided only a week ago to bring the three refugee families to Italy after a Vatican official suggested it. He said he accepted the proposal "immediately" since it fit the spirit of his visit to Lesbos. "It's a drop of water in the sea. But after this drop, the sea will never be the same," he said of his gesture, quoting one of Mother Teresa's phrases.
During the five-hour trip, Francis implored European nations to respond to the migrant crisis on its shores "in a way that is worthy of our common humanity."
The pope visited Lesbos alongside the spiritual leader of the world's Orthodox Christians and the head of the Church of Greece. Francis insisted his gesture to bring the 12 refugees to Italy was "purely humanitarian," not political. But in comments on the flight home, he urged Europe to not only welcome refugees but better integrate them into society, so they are not left in ghettos where they can become prey to radicalization.
The Vatican said the three Syrian families, which including six children, who came to Rome will be supported by the Holy See and cared for initially by Italy's Catholic Sant'Egidio Community. They were treated to a raucous welcome Saturday night in Rome, with drummers thumping, a crowd applauding and the three mothers receiving a single red rose.
"I thank you for what you have done," Nour, a mother of a 2-year-old, said of the pope. "I hope this gesture has an effect on refugee policy."
Nour and her husband, Hasan, are both engineers who lived in Zabatani, a mountainous area near the Lebanese border that has been bombed. Two of the three had their homes bombed, said Sant'Egidio's refugee chief, Daniela Pompei. She said the three families had been given Italian humanitarian visas and would now apply for asylum. Francis said they were selected not because they were Muslim, but because their papers were in order.
Francis seemed particularly shaken by the trauma the children he met at the detention center suffered as a result of their experiences. At a ceremony in Lesbos to thank the Greek people, Francis said migrants are human beings "who have faces, names and individual stories" and deserve to have their most basic human rights respected. "God will repay this generosity," he promised.
Earlier, Tsipras said he was proud of Greece's response when other European nations "were erecting walls and fences to prevent defenseless people from seeking a better life."
General Directorate of Migration of the Interior Ministry released the latest figures on Syrian refugees, millions of whom fled to Turkey since the war in Turkey's southern neighbor broke out five years ago. Turkey currently hosts close to 3 million refugees from Syria, with 145,000 arriving in the first three months of 2016.