World Refugee Day on Monday was an international occasion to draw attention to the status of refugees around the world. In Turkey, home to nearly 3 million refugees from Syria and other countries, the day was marked with a commemoration of those refugees, traveling as illegal immigrants, who died en route to Europe. Another event boosted the morale of refugees from Syria. In Istanbul, a group of nongovernmental organizations and Office of United Nations High Commissioner for Refugees (UNHCR) jointly organized an event for Syrian families. Children joined their parents at a popular picnic spot in the Zeytinburnu district, for an event where playgrounds, educational workshops, plays and dance shows offered respite from the uncertain lives the refugees live.
In the western city of İzmir, which was once a favorite destination for refugees aiming to illegally cross into Europe from Turkey, the day was marked with a more somber tone. The mayor and a delegation of officials visited the graves of those who drowned while trying to cross to nearby Greek islands aboard dinghies.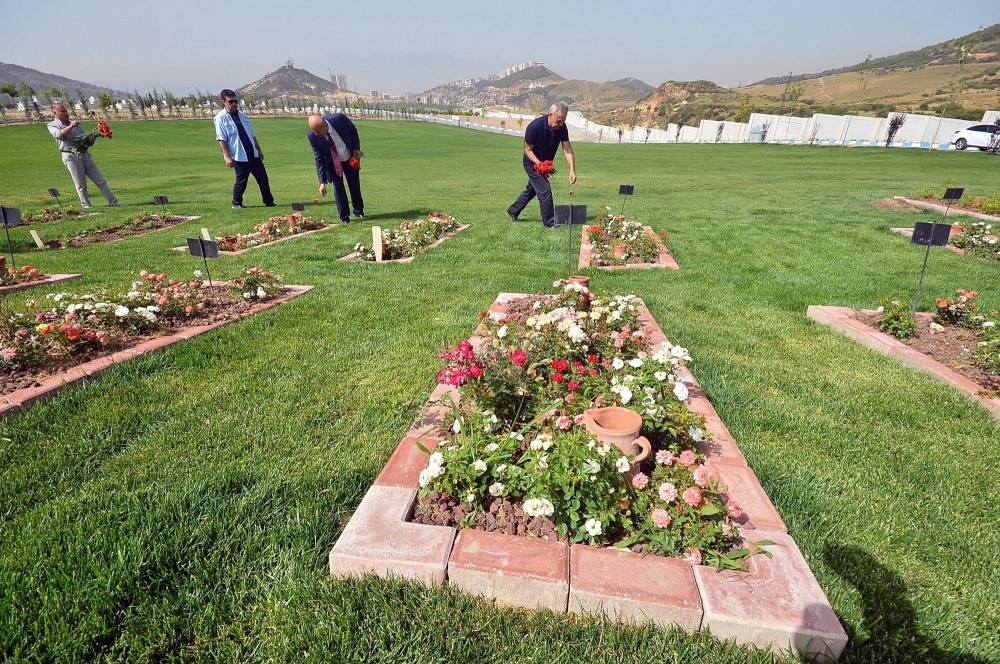 People visited the graves of migrants died en route to Greece in the western city of İzmir.
Visitors left flowers on the graves of these deceased refugees, of which only 158 were identified and thus have a headstone, where the bodies of hundreds more are buried.
Turkey hosts more than 2.7 million Syrian refugees, and only a tiny fraction stay in the refugee camps near the border with Syria. The rest are dependent on aid and the little income that they earn through work permits that Turkey introduced earlier this year. The country of 78 million has been praised for its hospitality toward refugees despite its limited means, while Ankara has criticized the international community for taking in only a relative few refugees. Turkey was one of the first countries to open their doors to Syrians displaced by war and sever their ties with the brutal Assad regime, which has violently suppressed opposition. Five years on, Turkey remains a safe haven for refugees, who have streamed into the country with few possessions, little to no money and no place to call home. The country accepted a deal by the European Union to curb the flow of migrants into the continent and agreed on the readmission of migrants that arrived in Greece by a March deadline, in return for the transfer of refugees from camps in southern Turkey to Europe.
Turkey is burdened with refugees from its open-door policy as the country struggles for economic growth, but the burden will likely continue as the conflict in its southern neighbor is further aggravated by Russia's active role helping the Syrian regime and rise of DAESH battling for control of Syrian cities. Further deterioration of the situation in the country could trigger a new influx of refugees. Although it has dwindled now thanks to the EU-Turkey deal, the possibility of reaching Europe in pursuit of a better life attracts more Syrians to Turkey, which is embattled with the highest number of refugees in the Middle East.
Figures show only 260,373 refugees are staying in refugee camps in Turkey's border cities while all the other nearly 3 million either live on their own in rented houses, squat in old buildings or live in makeshift tents. Wealthier Syrians open businesses catering to their community while the poor hope to eke out a living any way they can now that the government introduced temporary work permits for refugees earlier this year. The majority of refugees are men and more than 1.3 million are below the age of 19, raising concerns that a so-called lost generation of Syrians will face a bleak future.
Turkey has built 26 "temporary accommodation centers" - refugee camps - for refugees in 10 cities near the border.
Although Ankara rightly boasts of having the largest number of refugees from Syria and is praised by the international community for the refugee camps' quality, it complains of a lack of international help to share the burden. Ankara has repeatedly called for establishing a "safe zone" in Syria for internally displaced people and a transition period in the war-torn country without Assad to end the conflict and reverse the flow of refugees to Turkey and other countries.