The Sivas massacre, an arson attack on the city's former Madımak Hotel that killed 37 people, mostly Alevi intellectuals and artists, was commemorated on its 23nd anniversary on July 2 in Turkey's central Anatolian province.

The commemoration events started with local authorities, including the Governor Davut Gül and Mayor Sami Aydın, laying carnations in memory of the victims of the Madımak Hotel massacre, which was converted into a culture center years after the incident.
Gül told the reporters present at the former hotel, "We came here due to an event that happened 23 years ago resulting in 37 citizens losing their lives which led to very ill effects at the hearts of Sivas, Turkey, and even the world."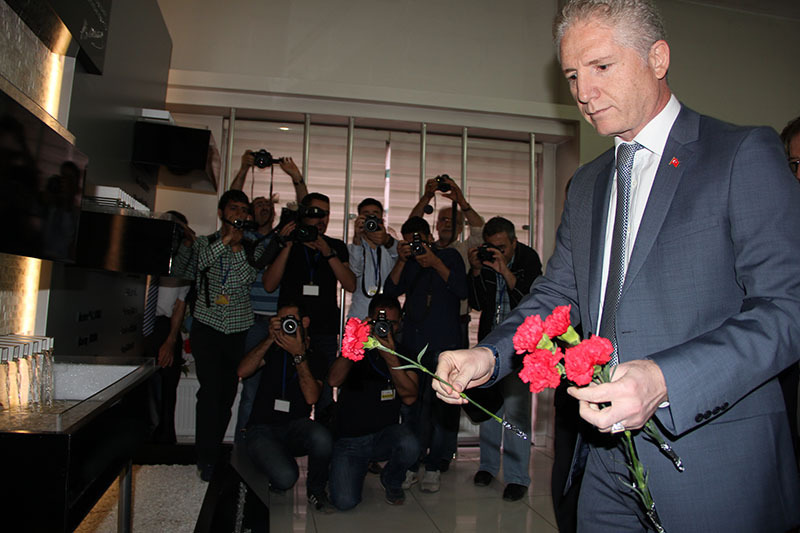 Sivas Governor Davut Gül laying carnations in memory of the victims at the former Madımak Hotel
Gül indicated that Sivas since suffered a lot as the incident led to stigmatization of the people in the city. "The city of Sivas and its people have nothing to do with this incident," he said, emphasizing that the people in Sivas have always lived together in brotherhood, friendship and peace.

Dozens of people - mostly Alevi Muslims - gathering for a cultural event were killed when a group of extremists set fire to the hotel in which they were meeting. Two of the attackers also died in the blaze.
The victims had gathered to celebrate the life of famous poet Pir Sultan Abdal when angry protesters surrounded and attacked the hotel.
In July 2014, the State Auditing Board issued a report that found grave negligence by the authorities in the handling of the incident.
According to the report, officials failed to take adequate safety precautions to prevent the attack, which could have been clearly anticipated.