Pro-democracy Turkish-Americans are set to gather in Saylorsburg, Pennsylvania, where the leader of Gülenist Terror Organization (FETÖ), Fethullah Gülen, resides, on Saturday to protest the failed coup attempt against Turkey's democratically elected government on Friday night.
The coup attempt was also protested in various European cities, including London, U.K., Sarajevo, and cities of Germany.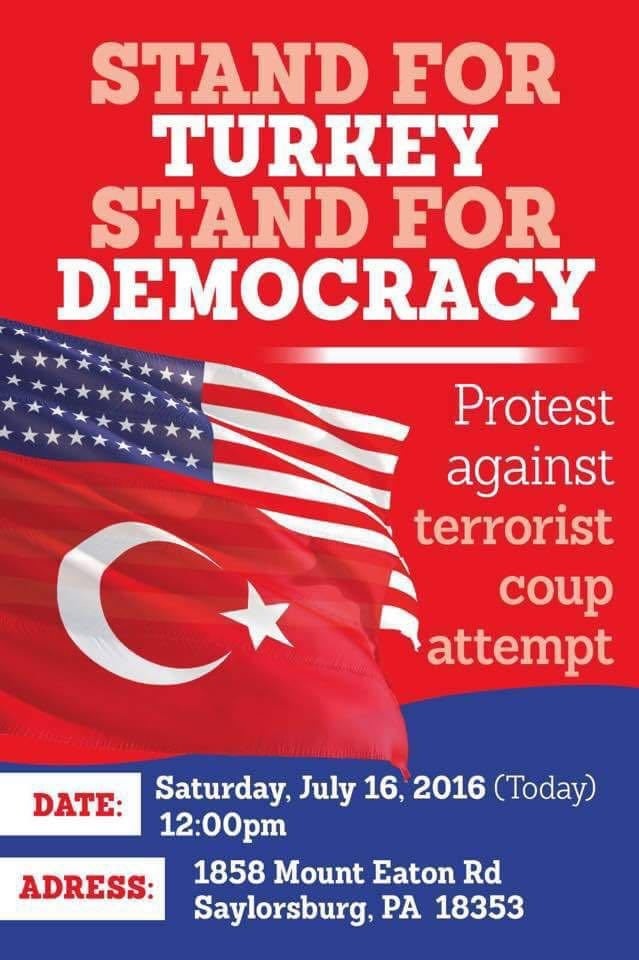 Large groups also gathered in New York City and Canada's Toronto to protest the military coup attempt against the government.
After the soldiers were repelled in many parts of Istanbul, Izmir, and the capital Ankara, where most of the soldiers were positioned, around 1374 pro-coup members of the military were detained across Turkey, while 60 people, including civilians, were killed and over 100 others were injured. Meanwhile, 29 colonels and five generals taking part in the coup attempt were removed from duty by the Ministry of Interior on early Saturday.
Turkey's Prime Minister Binali Yıldırım acknowledged late Friday a group within Turkey's military was engaged in what appeared to be an attempted coup, as army units blocked entrances to Bosporus and Fatih Sultan Mehmet bridges connecting Istanbul's European and Asian sides, while military jets were flying over the capital Ankara.