At least 54 people were killed and 94 others were wounded when a suspected Daesh terrorist bombing targeted an outdoor wedding celebration in the southeastern Turkish province of Gaziantep on Saturday night, the province's governorate said.

The initial death toll was acknowledged by the Gaziantep governorate as 22 on early Sunday. Later in the morning, the death toll quickly rose to 50. Four others among the heavily wounded succumbed to their wounds on Monday, bringing the death toll to 54.
The identities of at least 44 victims were determined as of Monday, while they were interred in ceremonies held the day before. Accordingly, 31 victims were males and 13 victims were females. As the barbaric attack was carried out in a street wedding with most attendees being women and children, 29 of the victims were under the age of 18.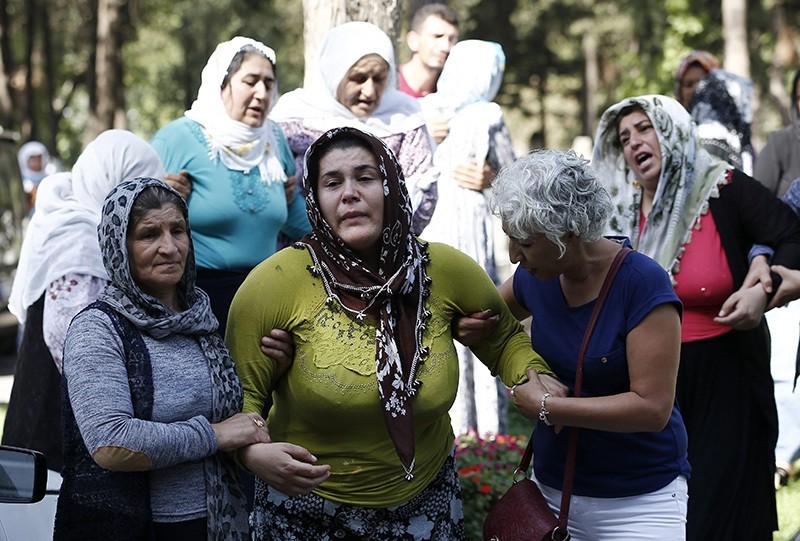 Emine Ayhan lost four of her five children in the attack, while her husband was heavily wounded.

Additionally, one of the children killed in the attack was reported to be a Syrian citizen.
Speaking to reporters in Gaziantep on Sunday, Health Minister Recep Akdağ said there were 73 people undergoing treatment from the attack, including 17 in critical condition.

As of Monday morning, 66 people are currently receiving treatment in local hospitals, including 14 people in critical condition.

A written statement by the Gaziantep Chief Prosecutor's Office on Sunday said that police found pieces of a suicide vest in the area where the blast took place, indicating that it was a suicide attack.
The blast took place in a mainly Kurdish-inhabited neighborhood of the city, while local reporters and officials said that the family hosting the wedding is from eastern Turkey. Reports suggest that 300 to 500 people were at the area when the explosion took place.
According to hospital sources, the conditions of the bride and groom-Besna and Nurettin Akdoğan-were not critical, but treatment is still underway.
Gülser Ateş, who was wounded in the attack, said she was had been speaking with her neighbor when the blast happened.

"I don't know what happened. The only thing I know is that my neighbor died on top of me. If she had not fallen on me, I would have died, too. Her body saved me," Ateş said. "I condemn terror. There were innocent children there. No one had done anything wrong."
Şükrü Akdoğan, the groom's brother, said, "We couldn't see anything. Nothing but body parts."
Condemning the attack in a statement, President Recep Tayyip Erdoğan said the attack was likely carried out by Daesh terrorists.
He underscored that there is no difference between the Gülenist terror-cult (FETÖ), PKK terrorist organization and Daesh.
"Our country and nation only have a single message to those who attack us -- you will not succeed!" President Erdoğan stated.
Prime Minister Binali Yıldırım also condemned the attack, and said that Turkey will continue to combat all types of terrorism with determination.
Deputy Prime Minister Mehmet Şimşek said that the explosion may have been caused by a suicide attack, adding that the death toll might be higher than reported.
"The aim of terror is to scare the people but we will not allow this," said Şimşek, who also represents Gaziantep in the Turkish parliament.
"It is barbaric to attack a wedding," he told Turkish media outlets.
Gaziantep borders Syria's Aleppo province, where intense clashes between Daesh and U.S.-backed SDF and opposition groups have been continuing for weeks in the towns of Manbij and Jarablous.
Four years ago on Aug 20, 10 people were killed and 66 others were injured in a car bomb attack carried out by PKK terror organization in Gaziantep. This coincidence also raised questions whether this date was specifically chosen.
Deputies of the province departed for Gaziantep after the blast, while Prime Minister Binali Yıldırım instructed several ministers to head to Gaziantep.