American actress Lindsay Lohan visited a Syrian refugee camp in Turkey's southeastern province of Gaziantep's Nizip district on Saturday.
Lohan visited the refugee camp along with Gaziantep mayor Fatma Şahin, Nizip sub-governor Harun Sarifakiogullari.
"European countries and the United States should take more responsibility for the refugee crisis, and Turkey must be supported at this point," she said.
She said that during her visit she met very strong people, children and their difficult circumstances affected her.
"I met some children who lost their father and I also met some women who lost their husband in here. We should not forget that we could do more," Lohan said.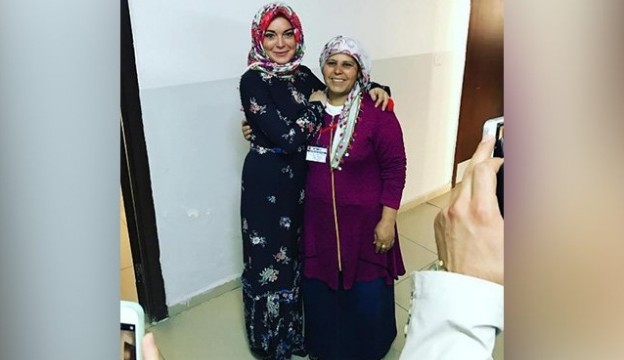 Lohan, wearing a headscarf gifted by Syrian refugee women. (AA Photo)
She sang several English songs with refugee children and she played with them during her visit.
Turkey is hosting the largest number of Syrian refugees in the world -- 2.7 million -- and has so far spent around $10 billion for the refugees in Turkey.
Syria has been locked in a vicious civil war since 2011, when the Assad regime cracked down on pro-democracy protests-which had erupted as part of the Arab Spring uprisings-with unexpected ferocity.
The Syrian Center for Policy Research, a Beirut-based NGO, has put the death toll from the six-year-old conflict at more than 470,000.