State-run broadcaster Turkish Radio and Television Corporation (TRT) officially launched its first English-language channel TRT World late Tuesday.
The channel had launched its first test broadcast back in May, 2015 and on Tuesday, November 15, 2016 it held its official gala at the Beştepe National Congress and Culture Center in Ankara.
Speaking at the gala, President Recep Tayyip Erdoğan wished success to the channel and said: "I believe TRT World will be Turkey's window to the world".
"If the [July 15] coup had prevailed, they [coup plotters] would've shut down Turkey's only English-language channel TRT World, and hence silenced our voice to the world," he added.
Erdoğan also lashed out at foreign media for leading black propaganda against Turkey in the fight against the Daesh terrorist organization, stating that Turkey was one of the countries who led the fiercest fight against all kinds of terror.
FETÖ, the Gülenist Terror Group, is accused of attempting to topple the democratically elected Turkish government in the July 15 coup attempt, in which 246 people were killed and 2,200 were injured.
TRT World aims to "spread the voice of Turkey to the world," TRT President Şenol Göka had said in May, describing the channel's objectives.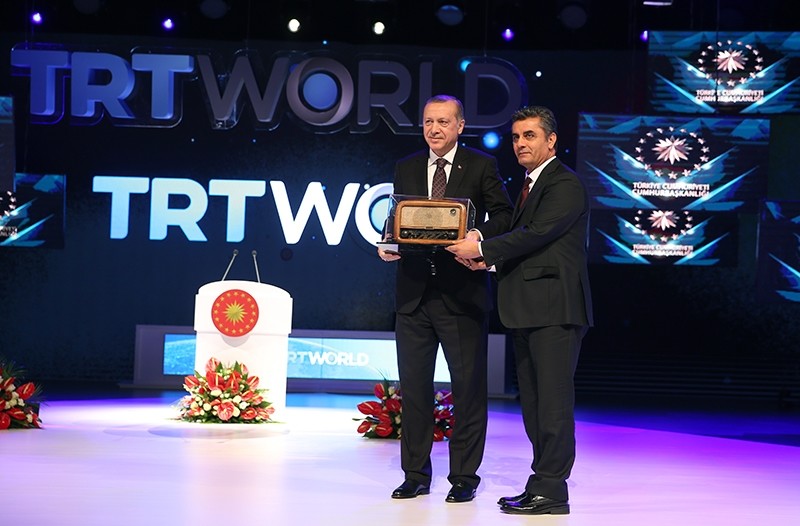 TRT Deputy Director-General İbrahim Eren had also said that TRT World would offer a different perspective than major news stations such as CNN, Al-Jazeera and the BBC.

"It will offer Turkey's point of view on current events. Rather than promoting Turkey, we aim to show the audience how we interpret the current affairs."

TRT, which expanded its operations under the Justice and Development Party (AK Party) government in the past decade in line with the government's ambition to become "a soft power" and reach out to a wider audience.
The channel is the latest addition to 15 others operated by TRT, including an Arabic-language and Kurdish-language channel, as well as TRT Avaz, which mainly broadcasts to Turkic republics in former Soviet territories.
The Istanbul-based channel will have studios in Kuala Lumpur, Washington, D.C. and London.