Mustafa Sarı, 34, was at first declared missing in 2013 when a coal mine in the Kozlu region of the Black Sea province of Zonguldak collapse. His son, Doğukan Sarı, 13-years-old at the time, waiting at the mine entrance, crying for his father was broadcast around the nation. The boy, fearing the worst, had demanded from those around him to tell him the truth. "In the 2013 accident, I went to the mine the moment I heard about the accident. I waited there, believing they were hiding my father's death from me. I had no hope, because I was still young. I told them that I want to see his body, dead or alive. Then my father emerged alive. I was incredibly happy. I can't describe what I felt at that time. I can still remember the moment he emerged alive."At the 2013 mine accident in Kozlu, Sarı was one of those who were rescued, unlike eight others who died.
However, Sarı was not so lucky in another accident on Monday at another coal mine, this time located at the Kilimli region of the same province.
His son, Doğukan, 16, said he had hoped this father's luck would continue. "But it didn't."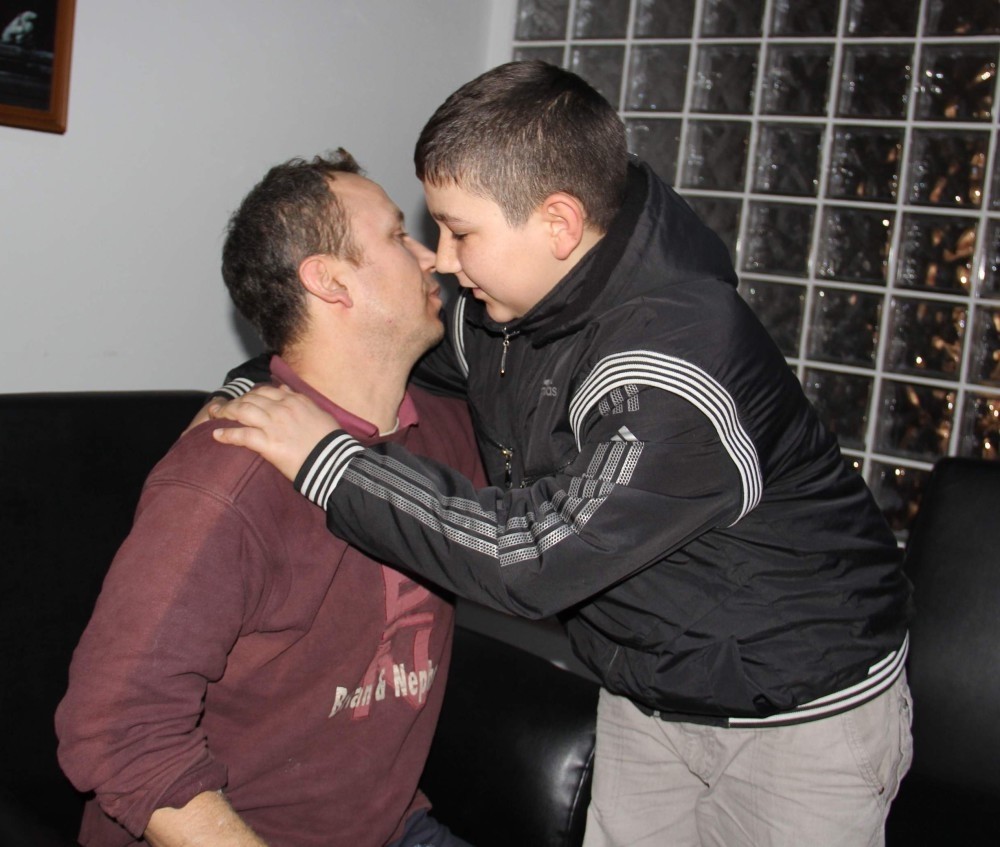 Doğukan Sarı said he will provide for his family after the death of his miner father. He had celebrated his father's narrow escape three years ago (below).
Doğukan said the family was told of the accident four-to-five hours after it happened because the mine's rescue teams had hoped to find him alive. "We, myself and the rest of the family, went to the mine at around midnight."
The boy, failing to hide his tears, said: "I thought he would escape this time too. While we were waiting for him, they called me near to the stove to get warm. I told them I would wait at the gate until my father emerged and we would get warm together. I believed he would come. But they brought out his dead body."
Mustafa Sarı was the only casualty of the accident.
His son said ever since the 2013 accident, the entire family had constantly feared its repeat. "Every time he went to work, there was always this fear that he might get stuck down there. Many times, I asked him not to go. He told me, 'I'm close to retirement. If I work above the ground, I can't retire so early. Once I do, I can get another job above ground plus get the pension.'"
According to Turkish labor law, people working inhazardous occupations, like mining, can retire much earlier than normal.
Doğukan, who tried hard to put on a brave face, said, "I was very afraid at the first accident because I was small. I wouldn't be able to take care of the family. But now I'm all grown up. No matter what, I can look after my family. Back then, God took pity on us and allowed out father to return home. My father had the opportunity to bring us up and now he's gone."
He said it was not good to be the child of a miner. "I am proud of him. May god protect him and accept him into paradise. Now, it's my duty to look after those he left behind. Strangely, in the past few days before he died, he constantly told me and my brother not to upset our mother and work hard. He told us, 'There will be no help from others. Work a lot.' That's exactly what I'll do."