A ceremony was held for 43-year-old Fethi Sekin on Friday in İzmir, Turkey's third largest city to see a major terror attack attempt in recent memory, when two militants from the PKK targeted the city's main courthouse. It is the latest terror attack to hit Turkey, which has seen a surge in attacks, as the country has stepped up a crackdown on a diverse array of terrorist groups, from the PKK to Daesh, which have killed hundreds in suicide bombings and car bombings in the past two years. However, Sekin, an unassuming traffic policeman who was stationed outside the courthouse, prevented a massacre when he took out one of two terrorists before being killed by the other in a shootout captured in dramatic security camera footage.
A large crowd, including the country's Justice Minister Bekir Bozdağ, bade farewell to the policeman hailed a "hero" at a funeral ceremony held in İzmir on Friday, prior to a burial ceremony in his hometown in Elazığ, in eastern Turkey.

Sekin, a father of three, was a policeman for 22 years and assigned to İzmir in 2002 after serving in the country's volatile east where the PKK terrorist group has been sporadically conducting attacks targeting security personnel since the 1980s. Like a number of militants recruited by the PKK, he was an ethnic Kurd and was serving as a Kurdish translator part-time at the courthouse in İzmir.

Around 4:10 p.m. on Thursday, a car laden with explosives approached the parking lot of the courthouse where Sekin was on duty. The parking lot was full of cars belonging to judges and prosecutors expected to leave the courthouse in an hour. Suspicious of the car, Sekin stopped it and at that point the terrorist inside exited the car and started running. The other suspect in another car joined him. Soon, the car exploded as the policeman ran after the two terrorists wielding AK-47 rifles. In moments captured on security camera footage, he managed to shoot one of the militants but later ran out of ammunition during the shootout. As he was running to take cover, the other militant shot him dead. Other police officers who rushed to the scene took out the terrorist who killed Sekin.

Police found rocket-propelled grenade launchers, eight grenades and a large number of AK-47 ammunition in possession of the two terrorists, who apparently came to the courthouse to cause major carnage, as police found another car, apparently laden with explosives, near the scene. Musa Can, a middle-aged court clerk, was near a window of the courthouse when bullets from the shootout hit him. He died at the scene, while nine others were injured.

In response to its crackdown on multiple terrorist groups, Turkey has been plagued with terror attacks and a coup attempt by infiltrators of a terrorist group in the past two years. The last major attack was at an Istanbul nightclub during New Year celebrations, where a suspect with links to Daesh gunned down 39 people before fleeing the scene. Deputy Prime Minister Numan Kurtulmuş told the media after the Istanbul attack that security forces had foiled about 248 attacks in recent months, as Turkey was confronts a wide range of various attacks, from a car bombing that killed more than a dozen of soldiers on weekend leave in the central city of Kayseri to the suicide bombing that targeted police in Istanbul in December.

Speaking at the ceremony for Fethi Sekin and Musa Can at the İzmir courthouse on Friday, Justice Minister Bekir Bozdağ said Turkey would not be daunted in its anti-terror struggle. "The attack here was not only against the courthouse personnel, police officers or against the people of İzmir in general; it targeted all Turkey and aimed to spoil the unity of this nation," he said.

Bozdağ also said Turkey was the only country in the world fighting about 10 terrorist groups at the same time, naming the PKK, Gülenist Terror Group (FETÖ), Daesh and the Revolutionary People's Liberation Party-Front (DHKP-C) among them. He said terrorist groups were "almost working in alternation" to harm Turkey. "The PKK carries out one attack and Daesh does another after them," he said.

The minister said they detained 18 people in connection with the İzmir attack and it was clear the PKK was behind the attack. He said terrorists apparently planned to storm the courthouse from its two entrances after setting off bombs in the car. Bozdağ added terrorists were planning to kill judges and prosecutors, handling terror cases and likely planned a massacre inside the courthouse, as their weapons included grenades capable of tearing down a thick wall.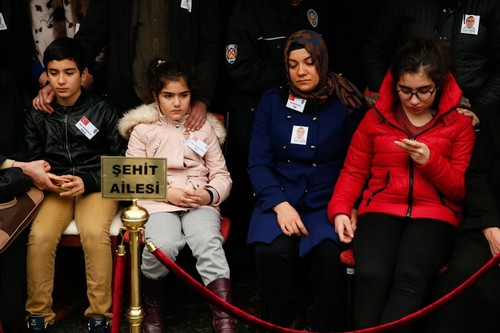 Tributes pour in for Fethi Sekin
Raised in a rural village near a small town as one of seven children with humble roots, Fethi Sekin's only ambition in life was to do his job. Sekin exceeded this level of dedication and responsibility when he refused to seek refuge while under fire in a terrorist attack, choosing instead to bravely face his attackers, pursuing the criminals who would become his killers and colliding head-on with terrorists who shot him while hiding behind a vehicle. As a result of this ultimate display of bravery, Sekin now joins the ranks of Turkey's slain heroes and tributes for him and other fallen officers are pouring in for the officer, who will now be remembered as the smiling, happy man seen in a photo now circulating on social media of the young officer, taken of him next to his police motorcycle while holding his daughter on his shoulders.
Social media users relayed their memories of Sekin online with one woman recalling how the kind-hearted policeman let her park her car in a parking lot allocated for judges when she was late for a trial. Others shared photos of the policeman depicting a proud father watching his 16-year-old son, a football player, in a match.
His name is associated with Hasan Tahsin, another hero in İzmir, a journalist who sparked resistance against invading Greek forces when he fired the first shots against occupying forces in 1919. His story is also being compared to that of Ömer Halisdemir, a non-commissioned officer who, like Sekin, comes from a small town. Halisdemir was one of the heroes of the July 15 coup attempt who shot and killed a pro-coup general as he tried to invade the headquarters of an elite branch of the Turkish army and was killed after the assassination that stalled the coup process that was ultimately foiled hours later.
The İzmir Municipality plans to name a park near the courthouse after the brave policeman while his name has already become a trending topic on Twitter, with thousands praising his heroic actions. The municipality also pledged to erect a statue of the late policeman in the province.