Turkey's first "city hospital," a modern hospital complex providing more access to a diverse array of health services for the public than an ordinary public hospital, opened in Yozgat yesterday. Yozgat, located some 210 kilometers (130 miles) west of the bustling capital of Ankara, is not so much a city as an oversized town with an underdeveloped economy and rising out-migration. However, it is this city of roughly 430,000 people where Turkey unveiled its first "city hospital," a modern healthcare complex jointly built by private and public sectors.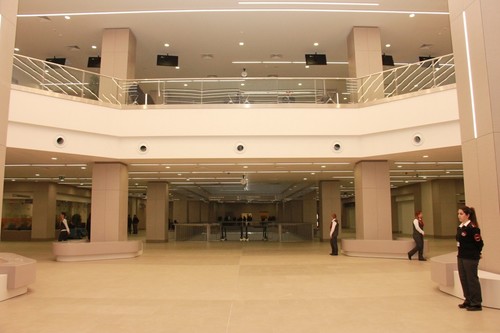 "City hospitals," the latest in Turkey's ambitious healthcare reforms since the Justice and Development Party (AK Party) came to power more than a decade ago, introduces an efficient way to manage the healthcare system by putting the private sector in charge for a limited time. The hospitals also reflect how far Turkey has come, from a crumbling system where public hospitals were clogged with an influx of patients and where the poor were forced to stay until they paid their treatment expenses.
Yozgat City Hospital is currently a fledgling institution with only 17 doctors and 51 nurses on its staff at the moment, but its spectacular interior presents a hotel-like atmosphere, which is a relief for patients accustomed to the grim and narrow halls of the overcrowded hospitals of yesterday. But more importantly, it offers patients more services than those found in a small city and more beds, 475 currently.
The hospital, whose construction was completed in 16 months, will be followed by more than 30 hospitals in 22 cities with a total capacity of at least 43,000 beds as the country aims to complete more such hospital projects across Turkey by 2018. Authorities say the complex in Yozgat will not only serve the town but also the surrounding region.
"It is more like a hotel than a hospital. I really liked it," Ömer Yozgat, a patient who was transferred to the new complex from the only public hospital in the city, told Anadolu Agency.
The hospital has 18 operating rooms and 113 small clinics. It also houses a coronary intensive care unit, cardiovascular intensive care units and other services the public hospitals in small cities generally lack and thus, forcing patients to travel to other cities for better treatment.
Apart from smaller cities like Elazığ, Gaziantep, Konya, Adana, Manisa, Isparta, Kocaeli, Kayseri and Mersin, where city hospitals will also be inaugurated this year, next year the larger cities of Istanbul, Ankara, İzmir and Bursa will also be included in the list. The government says the new hospitals will boost health standards in the country, which also accelerated the launch of smaller public hospitals to reach more of the population.
Mainly built in the suburbs, hospitals aim to improve health standards by significantly increasing the hospital bed capacity and addressing the shortage of doctors. These large hospital complexes will provide services in a diverse range of medical specialties not available in a single hospital in many cities. To ensure the quality of services, the government has adopted a public-private partnership model in the construction and operation of the complexes. "City hospitals" will be leased to private companies, and the government will only pay fees for medical imaging, laboratories, security, maintenance and healthcare worker salaries.
In recent years, Turkey has taken steps to rejuvenate the crumbling healthcare system. Hospitals run by the Health Ministry and Social Security Fund (SGK), formerly known as the Social Insurance Fund, were merged to prevent overcrowding in the latter. The government also cut red tape in the treatment of patients with social security at teaching hospitals. Existing hospitals have been modernized and more than 500 new hospitals have opened all across Turkey.
President Recep Tayyip Erdoğan, who previously served as prime minister of the AK Party, pioneered the "city hospital" concept, which he has described as his "dream for 14 years." In a speech last year during a ceremony to sign a financing deal with private companies for the "city hospitals," Erdoğan stated that the new complexes would limit the transfer of patients to better-equipped hospitals, and offer many services that had for years been difficult to access for people living in smaller cities.