Turkey will work towards the inclusion of the Turkish whistle language and Hıdırellez celebrations in the United Nations Educational, Scientific and Cultural Organization's (UNESCO) Intangible Cultural Heritage List, and the recognition of the ancient city of Aphrodisias in the World Heritage List, Professor Öcal Oğuz, the chairman of the Turkish National Commission for UNESCO, said on Tuesday.
Oğuz spoke at a cultural promotion meeting in Ankara's Çankırı district and responded to questions about Turkey's plans for UNESCO in 2017.
"The Hıdırellez file prepared in cooperation with Macedonia for the Hıdırellez festival's inclusion in the intangible cultural heritage list will be submitted to UNESCO in 2017," Oğuz said.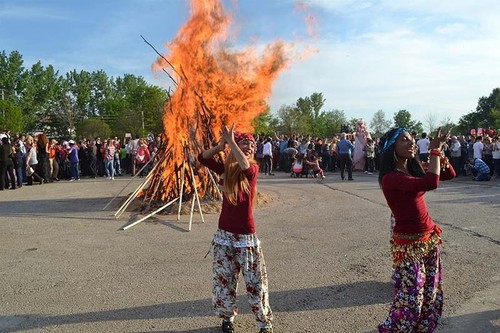 Hıdırellez Day is celebrated as the day on which the prophetic figure Hızır, associated with spring and rebirth, and Prophet İlyas, who is thought to bring rain to arid lands, are said to have met each other.
The whistling language, used by locals in the northern Turkish province of Giresun and the Black Sea region, will also be submitted for review, Oğuz added, noting that it is currently in need of urgent safeguarding.
The language, also referred to as 'bird language' (kuş dili) is currently used by around 10,000 people in the small town of Kuşköy, tucked away in the mountainous Black Sea region of northern Turkey. The language modifies standard Turkish syllables into whistling tones that can be heard from as far as five kilometer away.
For example the phrase, "The Black Sea is so beautiful" (Karadeniz çok güzel) becomes seven whistles with a similar intonation, made with the teeth, tongue and fingers.
In 2011, the Turkish whistling language, which is dying out, was announced as a candidate to UNESCO's intangible cultural heritage list. Other kinds of whistling languages are found in Mexico, France, the Canary Islands and Greece. All of the some 42 documented examples of whistle languages are based on spoken languages.
Turkey is home to many world heritage sites, including an ancient theater, natural wonders and thermal springs.
The UNESCO World Heritage List features 16 sites located in Turkey, as well as 69 nominated sites on the UNESCO Tentative List and 14 elements featured on the list of UNESCO's Intangible Cultural Heritage of Humanity.