A Syrian woman has transformed the stresses of displacement into an opportunity to develop her painting skills. Fatin Bedran, an 18 year old from the city of Hasakah Syria, took refuge with her family in southeastern Turkey five years ago after violence erupted in her homeland.
She and her family escaped the civil war and now live in a house they rent in Şanlıurfa's Ayyubid neighborhood, where her father teaches a painting course to Turkish and Syrian youths at the Center for Peace Research in International Middle East Studies (IMPR).
Bedran started to rapidly gain weight after coming to Turkey, "I began to have problems both in my social life and psychologically because of my weight. I decided to start regulating my diet because of my family's reaction. I cut out evening meals and lost 20 kilos in a short time and my weight fell to 60 kilos. In this way, I am clinging to life again."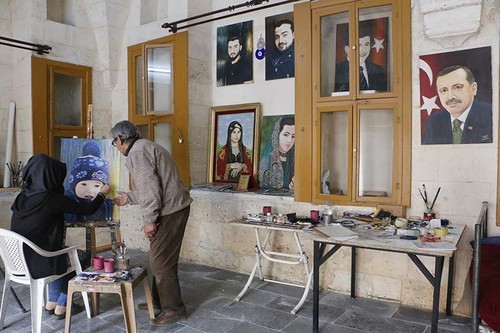 She explained that after she lost the weight, she wanted to fulfill her childhood dream of becoming a painter, so she joined her father's class.
"My father is a master painter, and he teaches here at the IMPR center. When I lost weight, I started to take painting courses with him. I could not finish school because of the war, and I hope that I will become a good painter like my father at the end of this course," Bedran said.
Her father Favvaz Bedran said that the family is happy to be in Turkey and that they are grateful to President Recep Tayyip Erdoğan for providing them with this opportunity.
He also said that his daughter has a talent for painting, and that she might become an excellent artist one day.