A young man who risked his life and was heavily wounded while trying to stop a putschist tank during the Gülenist Terror Group (FETÖ)-linked July 2016 coup attempt, was finally able to return home to his village near Konya after 10 months of hospital treatment.
One of the veterans of the unsuccessful July 15 failed coup attempt, Çetin Yıldız stood up to a tank in Ankara and suffered a near-to-fatal head injury, leaving him partially paralyzed and hardly able to speak. His injuries necessitated months long treatment at the hospital with several operations performed on him.
Yıldız, then 34 years old and living in a village near Konya in central Turkey with his wife and three children, on the evening of July 15 heard Recep Tayyip Erdoğan's call on TV to resist the military coup plotters by taking to the streets and standing up to military vehicles and soldiers. The young man reportedly got into his car and drove as far as to the capital of Ankara to deliver his civic duty. He was wounded while trying to climb a tank in front of the General Staff headquarters.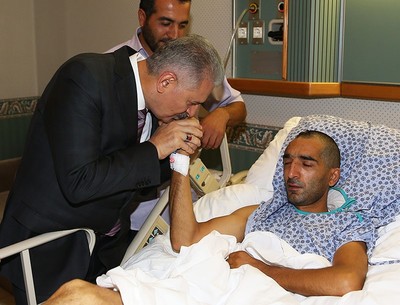 The condition of the July 15 hero was critical as he spent his first days and weeks in intensive care. Although experiencing difficulties in speaking, one of the first tings he asked was whether the putschists had been successful. He could hardly believe his interlocutors when he was told that the coup attempt had been thwarted. Yıldız was only truly convinced when Prime Minister Binali Yıldırım visited him in hospital toward the end of July and assured him that the putschists had been overcome.
Past Saturday, after 10 months of treatment and after undergoing several operations, Yıldız was finally discharged from the hospital and allowed to go home. A motorcade formed by friends and relatives took him home to his village in Konya province, where he was met by a ceremony organized to welcome him and thank for his recovery. The program was attended by members of the local administration, religious authorities and AK party representatives.
"I thank God that I could go down to the place [Ankara] that night. I am very happy for my commander and very proud, it's a good thing I went" Yıldız said during the reception. He also expressed his hope that Turkey would never face such an event again and, as quoted by media reports, added that in his opinion the good side of the failed coup attempt was that it made the country stronger.
Along with Yıldız, some 2,200 people were injured during the coup attempt, whereas 249 people were killed as pro-coup units and aircraft opened fire on security forces and civilians trying to quell the attempt.