Family, colleagues and students bid farewell Saturday to a 22-year-old music teacher killed by PKK terrorists in southeastern Turkey's Batman province.
Şenay Aybüke Yalçın was traveling in a car with her colleagues in the southeastern Batman province when PKK terrorists launched an attack on Friday. The car she was in was hit by stray bullets as terrorists shot with assault rifles, targeting a nearby car belonging to a local mayor in the Kozluk district of the province.
The terrorists' target was another vehicle carrying lawyer Muhammet Işık, the nephew of Mayor Veysi Işık.
Işık was not wounded in the attack, but teacher Şenay Aybüke Yalçın was killed by the gunfire, and another teacher in the same car was wounded.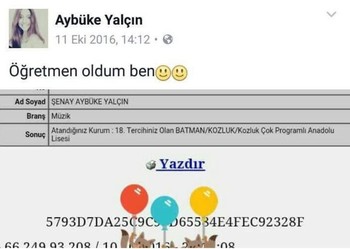 Yalçın had graduated from Nevşehir University's Faculty of Fine Arts last year. Social media users shared images of the young teacher's Facebook post, celebrating her appointment in October to a public school in Batman, her first post.
Many praised the celebratory post of Yalçın over her apparent joy for working in a region which has long been synonymous with terror attacks.
A video for Yalçın's Facebook page, showing her singing the Turkish folk song "Mağusa Limanı" (Famagusta Port), also went viral in social media circles.


A funeral ceremony was held at the Kozluk teachers' lodge on Saturday with the attendance of Yalçın's family, province and district officials, students and colleagues.
Yalçın's body will first be transferred to Ankara for an official ceremony, and then to her hometown Osmancık in central Çorum province for burial.
Mahmut Işık, the manager of Kozluk Multi-Program High School where Yalçın was working, told reporters that the music classroom of the high school will be named after the young teacher, who was buying music instruments for the classroom with her own salary.
Işık said that the locals and the parents in Kozluk support the idea to rename the high school after Yalçın, and said they will apply to province and district officials.
After Yalçın's shooting, the terrorists drove the same vehicle filled with explosives, into a checkpoint near a police station in the district, wounding three people.
The terrorist driving the car was killed in the blast, while the other fled the scene before the blast. Images from the scene show that the explosion blew a crater in the ground outside the police station and broke the windows of homes and workplaces across a radius of around 1 kilometer. Security forces cordoned off the scene and began an investigation.
One civilian and two soldiers were injured in the attack. The wounded were immediately taken by ambulance to the Batman Regional State Hospital, where medical professionals treated their injuries.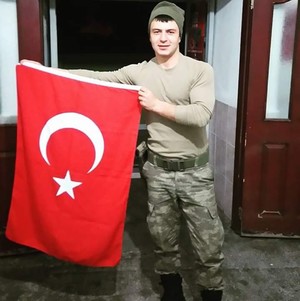 Sgt. Soner Fazlıoğlu, who was heavily injured in the attack, succumbed to his wounds on late Friday at the Dicle University Faculty of Medicine Hospital.
Presidential Spokesperson Ibrahim Kalın offered his condolences to victims of PKK attacks a tweet, including two other soldiers fallen in a separate attack in Şırnak. "Western media outlets that aesthetize PKK terror will not write about these soldiers, nor about Aybüke Yalçın. But they will always live in our hearts," Kalın said.
The PKK is listed as a terrorist organization by Turkey, the U.S. and EU, and resumed its decades-long armed campaign against the Turkish state in July 2015.
Since then, the terror organization has been responsible for the deaths of some 1,200 security personnel and civilians, including women and children, while more than 4,000 security personnel and over 2,000 civilians have been injured.
Southeastern and eastern Turkey particularly suffer from PKK attacks, and along with military and police officers, a large number of civil servants and civilians were killed in armed attacks, car bombings and roadside bombs.