Marked on June 20 every year, World Refugee Day highlights the "strength and courage" of millions of refugees according to the United Nations. They could do with a bit of empathy as well, as one Syrian refugee living in Turkey said. "The world should treat us as human beings and understand our problems," explained Ahmet Kencu, a 44-year-old mechanical engineer who took shelter in Gaziantep with his family.
​
Kenju is among about three million Syrians who fled from the civil war in their country into neighboring Turkey since 2011. For the third consecutive year, Turkey has hosted the largest number of Syrian refugees worldwide, as the number of people displaced from their homes across the world due to war and persecution climbed slightly to a record 65.6 million last year, according to a new U.N. report released ahead of World Refugee Day. Turkey has taken in the largest number of Syrians with a total of 2.9 million at the end of 2015. It has since exceeded three million, the United Nations High Commissioner for Refugees said. This number accounts for around 45 percent of all Syrian refugees in the region, according to the U.N. Syria's six-year civil war remains the largest single cause of displacement, with 12 million people, around two-thirds of the population, either uprooted within the country or fleeing abroad.
Ahmed and his wife Mariam together with their six children were residents of Syria's Idlib before the war broke out. When a bomb fired from a warplane belonging to Bashar Assad's regime forces hit his home, injuring him and his elder son, Kenju decided to leave the country for good. His wounds were still bleeding when they managed to reach the Turkish border and he was hospitalized for a while in Turkey. Once out of hospital, he and his family settled in a refugee camp in Gaziantep's Islahiye but they were not accustomed to living in a camp. Soon, they moved and rented a house in the city.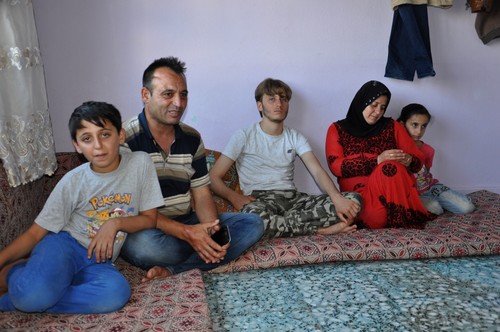 Ahmet Kenju took shelter in the city of Gaziantep with his six children.
"It wasn't easy for us. Without money and job prospects, it is a difficult life. My daughter works in a job with a daily pay of TL 20 ($5.50). My son had to drop out of university," he said. Still, Kenju does not complain much and says he feels at "home" while in Turkey. "It is almost as if we traveled to another town in Syria. We have so much in common with Turkish people except the language," he said. He is grateful to Turkey especially for free health services to refugees. "My youngest daughter was injured in Syria too and needed medical attention. Turkey provides her free treatment," he added. Kenju is also pleased with his relations with Turkish neighbors. "We are on good terms. Everyone treats us well. My children at school get along with local children," he said. Still, he looks forward to returning home. "It looks like the war will go on longer. I am happy here but like every refugee feels, I find it difficult to live in a place other than my homeland," he added.
On the problems the refugees face around the world, Kenju says it is about the empathy. "The world needs to see refugees as human beings and address their problems. Refugees deserve to live humanely. You don't know what it is like to be a refugee if you are not a refugee. But you can end up being a refugee one day. They are like you and do not deserve the inhumane treatment they receive," Kenju said, pointing out the opposition to migrants especially from his country in the West.
The steady influx of migrants, especially from Syria, has rocked the European Union, the main recipient of refugees, giving rise to anti-immigration sentiment aggravated by far-right movements.
In 2016, EU countries granted protection to about 710,400 people, more than twice the figure of 2015, according to Eurostat.
Some 55 percent of the total misplaced persons in 2016 were listed as refugees, while 37 percent were placed in the category of "subsidiary protection," or those who fall short of the criteria for refugee status but who are in danger in their home countries.
Apart from Syrians, Turkey is also a favorite destination for the displaced from other countries embattled with conflicts and poverty. 32-year-old Naser Alizadeh, a father of two from Afghanistan, arrived in Turkey eight years ago after leaving his country shaken by the Taliban violence.
Thousands of kilometers away from his country, he settled in Gümüşhane, a sleepy town in northern Turkey that hosts about 300 migrants from Afghanistan, Syria, Iraq, Iran, Turkmenistan, Pakistan and Eritrea. He traveled to Turkey from Afghanistan "like other refugees fleeing violence."
"There is no war in Afghanistan but violence persists. Just a few weeks ago, 80 people died in a suicide attack. Everybody fears for their lives and they flee," Alizadeh said.
Like Kenju, Alizadeh is pleased with the friendly attitude towards refugees in Turkey and the state aid.
"Turkey is our future. My children go to school here and I want to stay here. My daughter can go to school in Turkey but she wouldn't have been able to if we had stayed in Afghanistan," he said.