The Muslim world will see off Ramadan, the holy month of fasting, over the weekend. A month of giving where the rich, charities and local administrations spearhead an aid campaign for the poor, was also a period when the Turkish Red Crescent delivered humanitarian aid to some 3.5 million people in other countries as well as food packages to 500,000 people in Turkey. Humanitarian aid was delivered to households in 18 countries, from the Middle East and Africa to the Balkans.
In Asian countries, the Red Crescent delivered food to 20,000 people, while 200,000 people received monthly food packages for Ramadan in Syria, the Gaza Strip, Iraq and Lebanon, where conflicts and poverty are rampant and millions are displaced. In Syria's Idlib, which has been devastated by ongoing war, the Turkish charity hosted iftar dinners for Muslims breaking fast in tent camps for the displaced. In Bosnia-Herzegovina, Albania, Serbia and Macedonia, 35,000 poor families benefited from food packages good for one month. Some 100,000 people received aid in African countries including Niger, Ethiopia, Chad, Uganda, Sudan and Kenya on the occasion of Ramadan. For drought-hit Somalia, the charity dispatched an aid ship carrying food for about 3 million people.
Turkish aid agencies reached millions of people across the world with food aid during Ramadan, hosting iftar dinners throughout the month and delivering food packages to households in Africa, Asia, the Middle East and the Balkans. The charity İyilikder provided iftar meals in 15 countries including Bosnia-Herzegovina, Syria, Kyrgyzstan, Niger and Palestine, joining the Sadakataşı Foundation and the Cansuyu Charity and Solidarity Organization that also provide iftar meals for refugees around the globe. In a press conference, Red Crescent President Kerem Kınık said they focused on Africa during Ramadan where they had already started a campaign to deliver food to 10 million people.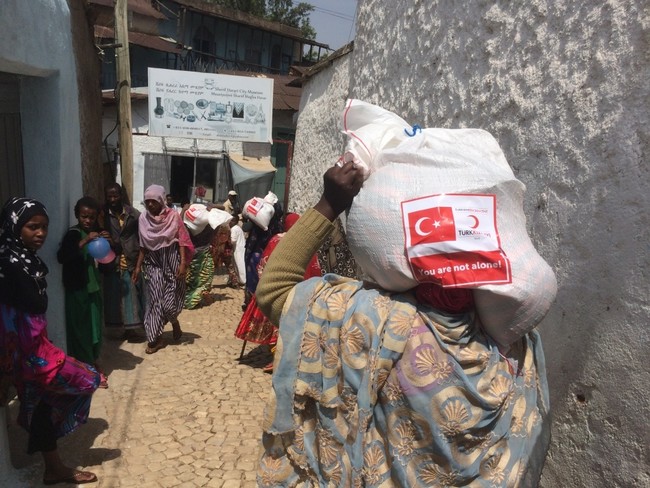 The Red Crescent also sent a ship full of aid to drought-hit Somalia and plans to send more vessels. Turkish aid has become a lifeline for people in Somalia with aid organizations like the Turkish Red Crescent and the Turkey Diyanet Foundation (TDV) reaching out to those suffering from the consequences of civil war and a severe drought that affected as many as 6 million out of the total population of 12 million. Since 2011, the Turkish Red Crescent has been operating in the region and distributing humanitarian assistance by sea and air. The organization also established a refugee camp for 30,000 displaced people in addition to founding mobile bakeries and kitchens. Last March alone, it supplied one ton of baby food and kitchen supplies to the region. Somalia has been suffering from drought since 2011 in addition to decades of civil war and the breakdown of the central government.
In Turkey, the charity continued its regular aid to Syrian refugees. Some 500,000 refugees who took shelter in Turkey have benefited from aid so far. The charity hands out pre-paid cards to refugees that enable them to buy food and other basic needs from grocery stores.